What Makes Day and Night (Let's-Read-and-Find-Out Science 2) (Paperback)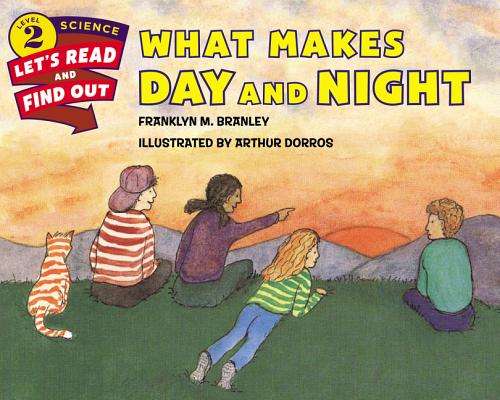 $7.99

Usually Ships Within a Week
Description
---
Read and find out about what makes day and night in this colorfully illustrated nonfiction picture book.
This clear and appealing science book for early elementary age kids, both at home and in the classroom, uses simple, fun diagrams and a guided experiment to explain what makes day and night. This book also includes a find out more section with additional activities to track nocturnal animals and to compare different times of day around the world.
If you lived on the moon, you would have two straight weeks of daylight and then two weeks of night! On earth, we have both day and night in just twenty-four hours, thanks to the quick rotation of our planet. Read and find out more in What Makes Day and Night!
This is a Level 2 Let's-Read-and-Find-Out, which means the book explores more challenging concepts for children in the primary grades. The 100+ titles in this leading nonfiction series are:
hands-on and visual
acclaimed and trusted
great for classrooms
Top 10 reasons to love LRFOs:
Entertain and educate at the same time
Have appealing, child-centered topics
Developmentally appropriate for emerging readers
Focused; answering questions instead of using survey approach
Employ engaging picture book quality illustrations
Use simple charts and graphics to improve visual literacy skills
Feature hands-on activities to engage young scientists
Meet national science education standards
Written/illustrated by award-winning authors/illustrators & vetted by an expert in the field
Over 130 titles in print, meeting a wide range of kids' scientific interests
Books in this series support the Common Core Learning Standards, Next Generation Science Standards, and the Science, Technology, Engineering, and Math (STEM) standards. Let's-Read-and-Find-Out is the winner of the American Association for the Advancement of Science/Subaru Science Books & Films Prize for Outstanding Science Series.
About the Author
---
Franklyn M. Branley was the originator of the Let's-Read-and-Find-Out Science series and the author of close to 150 popular books about scientific topics for young readers of all ages. He was Astronomer Emeritus and former Chairman of the American Museum of Natural History-Hayden Planetarium.
Arthur Dorros views being a writer like being a traveling detective. He finds ideas all around. He learned Spanish while living in Latin America, and many of his stories, such as Abuelo, grow from those experiences. Arthur is the author of many books for children, including Julio's Magic, a CLASP Américas Award Commended Title; Papá and Me, a Pura Belpré Honor Book; and the popular Let's-Read-and-Find-Out Science book Ant Cities. He lives in Seattle, Washington.
Praise For…
---
"Accompanied by NASA photographs and Dorros's colorful, lively drawings, the text explains the Earth's rotation in clear and simple terms. An experiment using a lamp as the 'sun' further clarifies the principles introduced." — Booklist