The Half-Drowned King: A Novel (The Golden Wolf Saga #1) (Paperback)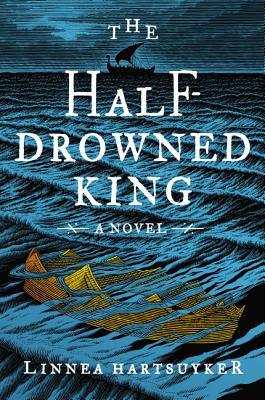 $17.99

Probably On Our Shelves Now! Wait for us to confirm availability.
Other Books in Series
This is book number 1 in the The Golden Wolf Saga series.
Staff Reviews
---
So you like historical fiction, but are tired of WW2 Paris (or any WW2 iteration), don't want to see another Tudor snowjob, and can't wait for something new. Well, here it is-- The Half Drowned King, a fun, thrilling take on Scandinavia in the time of the Vikings. 1/3 love story, 1/3 adventure, and 1/3 history mixed amongst all, this is a fascinating and very enjoyable trip back in time that I pretty much read in one sitting.
— Pete
August 2017 Indie Next List
---
"A fast-paced and harrowing saga of a sibling pair, both trying to do what is right for the other while navigating the physical and political terrain around them. Ragnvald and his sister, Svanhild, are our protagonists, and the book contains alternating chapters about each of their adventures. One fights a war on the battlefield while the other fights a war in the bedroom, and, fighting internal conflicts, each grows into adulthood quickly in this harsh environment. Rich with battles, love stories, and the breathtaking landscapes of Norway, The Half-Drowned King is a must-read for fans of literary fiction, adventure tales, and well-paced storytelling."
— Giovanni Boivin, The Bookloft, Great Barrington, MA
Winter 2018 Reading Group Indie Next List
---
"Fierce storytelling honors the 13th-century Icelandic saga Heimskringla, which is retold here through the adventures of brother and sister Ragnvald and Swanhild. This novel is a real swashbuckler: true historical fiction in the tradition of James Michener and the ancient sagas themselves. A new favorite."
— Maeve Noonan, Northshire Saratoga, Saratoga Springs, NY
Description
---
"Linnea Hartsuyker brings myth and legend roaring to life in this superbly good page-turning saga of Viking-era Norway. The book's fiercest magic shines in the characters of Ragnvald and Svanhild, as unforgettable a brother and sister duo as I can remember. Linnea Hartsuyker is an exciting, original voice in historical fiction, and The Half-Drowned King is nothing short of mesmerizing."—Paula McLain, bestselling author of The Paris Wife and Circling the Sun
An exhilarating saga of the Vikings that conjures a brutal, superstitious, and thrilling ninth-century world and the birth of a kingdom—the debut installment in a historical literary trilogy that combines the bold imagination and sweeping narrative power of Game of Thrones, Vikings, and Outlander.
Centuries ago, in a blood-soaked land ruled by legendary gods and warring men, a prophecy foretold of a high king who would come to reign over all of the north. . . .
Ragnvald Eysteinsson, the son and grandson of kings, grew up believing that he would one day take his dead father's place as chief of his family's lands. But, sailing home from a raiding trip to Ireland, the young warrior is betrayed and left for dead by men in the pay of his greedy stepfather, Olaf. Rescued by a fisherman, Ragnvald is determined to have revenge for his stepfather's betrayal, claim his birthright and the woman he loves, and rescue his beloved sister Svanhild. Opportunity may lie with Harald of Vestfold, the strong young Norse warrior rumored to be the prophesied king. Ragnvald pledges his sword to King Harald, a choice that will hold enormous consequence in the years to come.
While Ragnvald's duty is to fight—and even die—for his honor, Svanhild must make an advantageous marriage, though her adventurous spirit yearns to see the world. Her stepfather, Olaf, has arranged a husband for her—a hard old man she neither loves nor desires. When the chance to escape Olaf's cruelty comes at the hands of her brother's arch rival, the shrewd young woman is forced to make a heartbreaking choice: family or freedom.
Set in a mystical and violent world defined by honor, loyalty, deceit, passion, and courage, The Half-Drowned King is an electrifying adventure that breathtakingly illuminates the Viking world and the birth of Scandinavia.
About the Author
---
Linnea Hartsuyker can trace her family lineage back to the first king of Norway, and this inspired her to write her debut novel, her trilogy about the Vikings. Linnea grew up in the woods outside Ithaca, New York, studied engineering at Cornell University, and later received an MFA in creative writing from New York University. She lives in New Hampshire with her husband.
Praise For…
---
"Ms. Hartsuyker captures the sense of saga times and saga heroes: violent but litigious, treacherous but honorable, impetuous but crafty…a world brilliantly re-created by the author…Like 'Game of Thrones,' only more unscrupulous."                             — Wall Street Journal
"A spellbinding evocation of a long-lost world of magic and blood feuds, populated by characters riddled with doubt and human failing beneath their epic exteriors." — BookPage
"Making her fiction debut, Hartsuyker, who claims descent from Norway's first king, writes an absolutely top-notch Viking saga, and readers will eagerly await the next two volumes in this trilogy." — Library Journal, starred review
"A terrific historical epic…Posing thoughtful questions about the nature of honor and heroism, and devoting significant attention to women's lives, the novel takes a fresh approach to the Viking adventure genre…The action scenes will have the blood humming in your veins." — Booklist, starred review
"Steeped in legend and myth, Hartsuyker's debut is a swashbuckling epic of family, love, and betrayal that reimagines the Norse sagas….While Hartsuyker's prose is straightforward, the plot is as deliciously complex as Game of Thrones. And, in an era so dominated by the tales of men, it's nice to see a complicated, cunning heroine like Svanhild swoop in and steal the show. Hold on to your helms and grab your shields—Hartsuyker is just getting started." — Kirkus Reviews
"Suspenseful, intriguing, gripping!... Treachery and astonishment and surprise are always right around the corner…As with all great historical fiction, there are strong similarities to actual events. Good research is very important to a believable historical novel. This book has it. If you enjoy Bernard Cornwell, do not pass this book by. It is well worth the read!" — New York Journal of Books
"Inspired by the Icelandic sagas, this action-packed first volume in a planned trilogy will transport readers to Viking Norway, where Ragnvald battles his treacherous stepfather in order to claim his true birthright after his father's death. Meanwhile, Ragnvald's sister Svanhild seeks a marriage that will give her the freedom she craves despite the era's restrictive social roles for women. An adventurous summer read, in which vivid historical detail meets a fast-moving plot." — Library Journal's List of Summer Escapes
"Game of Thrones will be back on our screens by the time this epic Viking saga comes out, and it's a safe literary bet for those of us who enjoy a bit of Westeros action. Ragnvald Eysteinsson is betrayed by his avaricious stepfather, and in trying to gain back his rightful inheritance, he pledges his sword to a young warrior plotting to become the king. If you like your heroes noble and your struggles for power bloody, this one's for you." — 24 Best books To Read This Summer from Elle.com
"If the Vikings are your thing, then you want to take a look at this epic Viking saga by Linnea Hartsuyker. The story is good enough to rival Game of Thrones and it will make your summer days much more entertaining. The book explores the travels of Ragnvald Eysteinsson who has been betrayed by his stepfather." — One of Catapult's Best Books of Summer
"The author, who can trace her lineage back to Harald Halfdansson, recreates the half-civilized, half-primitive landscape of his time, where a dragon boat sailing up a fjord struck dread in all who saw it. Befitting its subject matter, the book is replete with exciting battles, duels, and sieges, but the author makes Svanhild's domestic tribulations equally dramatic. In the end, this novel can stand proudly with Edison Marshall's The Viking and Frans G. Bengtsson's The Long Ships as an immersive fictional recreation of a bloody moment in Scandinavian history." — Publishers Weekly
"This is a delightful novel, one that manages to summon the musty halls of a seemingly distant past and populate them with the complex heroes of our age." — Washington Independent Review of Books
"Lovers of epic rejoice! Hartsuyker illuminates these old stories with authority and visceral detail, bringing to life the adventure, bleak beauty, and human struggle that lie at their heart. A vivid and gripping read." — Madeline Miller, author of THE SONG OF ACHILLES
"Does an excellent job of evoking a vibrant society from years past. The opening scene, which finds young Ragnvald dancing across the oars while his ship sails, is evocative, dreamlike...this is the kind of book to sink into and enjoy for its beauty and atmosphere." — Historical Novel Society
"If you like your heroes noble and your struggles for power bloody, this one's for you." — Elle.com, 24 Best books To Read This Summer
"A rich and complex story of love and betrayal...The Half-Drowned King is the first volume in a planned trilogy, and I'm sure I don't need to tell you how eagerly I'm looking forward to the next book. Highly recommended." — Fantasy Literature
"You'll find heroes and villains aplenty but they're filled with satisfying contradictions. Mostly, this story — very loosely based on scraps of history — is a lot of fun. Hartsuyker is off to a very good start." — Huffington Post, BookFilter