Make Them Cry: A Novel (Hardcover)
General Info
McIntyre's Books operating hours are 10am to 5pm Wednesday through Sunday. We are located in Fearrington Village, halfway between Chapel Hill and Pittsboro on US 15-501.
Please note that any and all orders placed on our site are available for in store pick up AND curbside service; we will inform you when your order is ready for pick up.
For those visiting our store in person, we know you will be entering wearing masks as per Governor Cooper's mandate. We are also asking all visitors who are browsing and picking up books to wear gloves which we make available at our entry.
Please call 919.542.3030 if needed. If you reach our answering maching during our open hours, don't fret. Call us back within a minute or two or we will call you back as soon as we can.
We cannot thank you so very much for supporting a local small business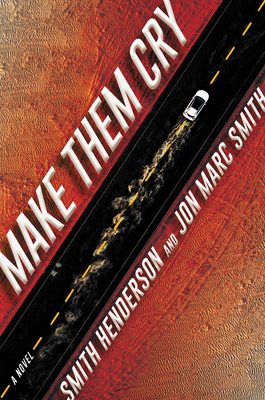 Description
---
For fans of The Border and Jason Bourne, Make Them Cry is an explosive action thriller about a DEA agent sucked into a dangerous turf war on the US-Mexico border.
It's hard to make Diane Harbaugh flinch. A former prosecutor notorious for her aggressive tactics, she's now a DEA agent who interrogates witnesses so effectively, she has them confessing in tears. But when she hears from Gustavo, a high-ranking cartel member with an invaluable secret about the international black market, she's thrown for a loop. She heads to Mexico to meet him, and her entire understanding of justice and duty is thrown into question. 
Gustavo sends her down a rabbit hole that leads to a criminal conspiracy more pervasive than anything she and the DEA ever suspected. She teams up with Ian Carver, a disillusioned CIA agent, and begins to unravel layers of deceptions, grifts, and schemes that date back to the beginnings of the Afghanistan War. As they learn more, they become the target of cartel assassins, embittered spies, and even their own government. They are at the center of an international manhunt with world-changing consequences—and the only way out is for Diane to do the one thing she promised herself she'd never do. Stylishly written and relentlessly plotted, Make Them Cry is an action-packed thriller of unimaginable stakes.
About the Author
---
Smith Henderson is the author of Fourth of July Creek and lives in California and Montana.
Jon Marc Smith teaches English at Texas State University and lives in San Marcos, Texas. Make Them Cry is their first novel. 
Praise For…
---
"Make Them Cry is one of those rare novels that is both artistically principled and marvelously fun to read, a combination of elegant, painstaking craftsmanship and suspenseful entertainment.  If that were not enough, it is also a book that reaches into the reader's heart.  It is not often that I can say, as I do now: I loved this novel."  
— Tim O'Brien

"In their debut thriller Make Them Cry, Smith and Henderson burst onto the scene with muscular style, a blockbuster plot, and flair to spare. Intelligent, informed, important, humane, and remarkably witty, Make Them Cry arrives like a bullet train to your cerebral cortex...No doubt, Agent Diane Harbaugh, a bad-ass woman for our times, is here to stay and will take her rightful place alongside Bourne and Reacher before long." 
— Ivy Pochoda, author of Wonder Valley and These Women

"Plenty of flaws in the main character but few in this satisfying thriller."

— Kirkus Reviews (starred review)