Not That Bad: Dispatches from Rape Culture (Hardcover)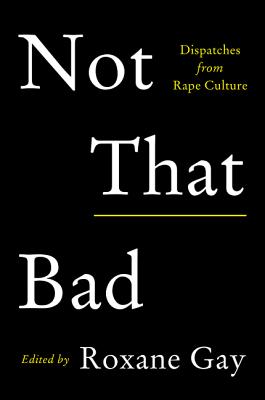 $26.99
Email or call for price.
Staff Reviews
---
Incredible writing from unique and necessary voices. This is not a collection of stories about assault, but about the myriad ways misogyny affects our culture and the daily lives of women, men, and non-binary folks. It is both illuminating and gratifying to read, for everyone.
— Johanna
Description
---
Vogue, "10 of the Most Anticipated Books of Spring 2018" * Harper's Bazaar, "10 New Books to Add to Your Reading List in 2018" * Elle, "21 Books We're Most Excited to Read in 2018" * Boston Globe, "25 books we can't wait to read in 2018" * Huffington Post, "60 Books We Can't Wait to Read in 2018" * Hello Giggles, "19 Books We Can't Wait to Read in 2018" * Buzzfeed, "33 Most Exciting New Books of 2018"
Edited and with an introduction by Roxane Gay, the New York Times bestselling and deeply beloved author of Bad Feminist and Hunger, this anthology of first-person essays tackles rape, assault, and harassment head-on.
In this valuable and revealing anthology, cultural critic and bestselling author Roxane Gay collects original and previously published pieces that address what it means to live in a world where women have to measure the harassment, violence, and aggression they face, and where they are "routinely second-guessed, blown off, discredited, denigrated, besmirched, belittled, patronized, mocked, shamed, gaslit, insulted, bullied" for speaking out. Contributions include essays from established and up-and-coming writers, performers, and critics, including actors Ally Sheedy and Gabrielle Union and writers Amy Jo Burns, Lyz Lenz, and Claire Schwartz. Covering a wide range of topics and experiences, from an exploration of the rape epidemic embedded in the refugee crisis to first-person accounts of child molestation, this collection is often deeply personal and is always unflinchingly honest. Like Rebecca Solnit's Men Explain Things to Me, Not That Bad will resonate with every reader, saying "something in totality that we cannot say alone."
Searing and heartbreakingly candid, this provocative collection both reflects the world we live in and offers a call to arms insisting that "not that bad" must no longer be good enough.
About the Author
---
Roxane Gay is the author of the essay collection Bad Feminist, which was a New York Times bestseller; the novel An Untamed State, a finalist for the Dayton Peace Prize; the memoir Hunger, which was a New York Times bestseller and received a National Book Critics Circle citation; and the short story collections Difficult Women and Ayiti. A contributing opinion writer to the New York Times, she has also written for Time, McSweeney's, the Virginia Quarterly Review, the Los Angeles Times, The Nation, The Rumpus, Bookforum, and Salon. Her fiction has also been selected for The Best American Short Stories 2012, The Best American Mystery Stories 2014, and other anthologies. She is the author of World of Wakanda for Marvel. She lives in Lafayette, Indiana, and sometimes Los Angeles.
Praise For…
---
"The lauded social critic and provocateur curates a diverse and unvarnished collection of personal essays reckoning with the experiences and systemic dysfunction that produced #MeToo." — O, the Oprah Magazine
"From the author of Bad Feminist and Hunger (drop everything if you haven't read this) comes a collection of first-person essays about rape, assault and sexual harassment. It couldn't be more timely. Gay's introduction moved me to tears, as did many of the pieces contributed by household names—Gabrielle Union, Ally Sheedy—but accounts from "regular" women moved me even more. Perhaps that's the lesson we're meant to take away from Not that Bad: we're all "regular." Shocking as they are, many of these stories will be familiar to us all—and we all deserve better." — Elisabeth Egan, "The 17 Best Books to Read this Summer," Glamour
"A profoundly personal anthology." — Harper's Bazaar
"Critical reading."
— Paste Magazine, "The Best Nonfiction Books of 2018"
"This is a devastating book, heartbreaking in how familiar and relatable each story is—yet there's power and solidarity in it, too." — Shondaland
"Not That Bad is essential reading." — Refinery29
"A timely, necessary anthology." — PureWow
"Timely. . . . It is a critical work that makes this much clear: The violations #MeToo rages against can and do damage people for a lifetime." — The Globe and Mail
"It's hard to imagine a more fitting editor for a collection like this… everyone should read it." — Brooklyn Rail