Year of Wonder: A Classical Music Gift (Hardcover)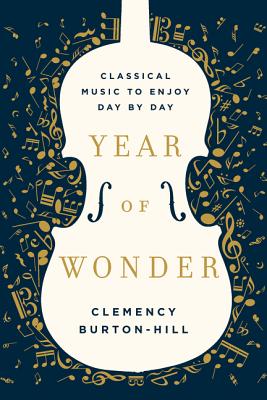 $25.99

Usually Ships Within a Week
Description
---
A Classical Music Gift

"Year of Wonder is an absolute treat—the most enlightening way to be guided through the year." — Eddie Redmayne
A unique celebration of classical music that showcases one inspirational piece each day of the year, written by an award-winning violinist and BBC Radio personality
Classical music has a reputation for being stuffy, boring, and largely inaccessible, but Burton-Hill is here to change that. An award-winning writer, broadcaster and musician, with a deep love of the art form she wants everyone to feel welcome at the classical party, and her desire to share her passion for its diverse wonders inspired this unique, enlightening, and expertly curated treasury. As she says, "The only requirements for enjoying classical music are open ears and an open mind."
Year of Wonder introduces readers to one piece of music each day of the year, artfully selected from across genres, time periods, and composers. Burton-Hill offers short introductions to contextualize each piece, and makes the music come alive in modern and playful ways. From Bach, Beethoven, Mozart, and Puccini to George Gershwin, Clara Schumann, Philip Glass, Duke Ellington, and many remarkable yet often-overlooked voices, Burton-Hill takes us on a dazzling journey through our most treasured musical landscape.
Thoughtfully curated and masterfully researched, Year of Wonder is a book of classical music for everyone. Whether you're a newcomer or an aficionado, Burton-Hill's celebration will inspire, nourish, and enrich your life in unexpected ways.
About the Author
---
Clemency Burton-Hill is a leading host on BBC Radio 3 and other music and arts programs on radio, television, and online. She regularly contributes to the Observer, the Economist, 1843 Magazine, FT Weekend, the Guardian and the Telegraph. She is also a classical music columnist for BBC Culture. An award-winning violinist she has performed all over the world under leading conductors including Daniel Barenboim. She is the co-founder of Aurora Orchestra and a patron of the music and arts education charities The Choir of London Trust and Dramatic Need. She lives in London.
Praise For…
---
"Year of Wonder is an absolute treat—the most enlightening way to be guided through the year." — Eddie Redmayne
"Radio host Burton-Hill is an evangelist for classical music. This welcoming day-by-day listening guide for readers new to the form… this delightful and informative guide provides a daily dose of the beauty of classical music and an enticing introduction to it." — Publishers Weekly