Sweater Weather (Hardcover)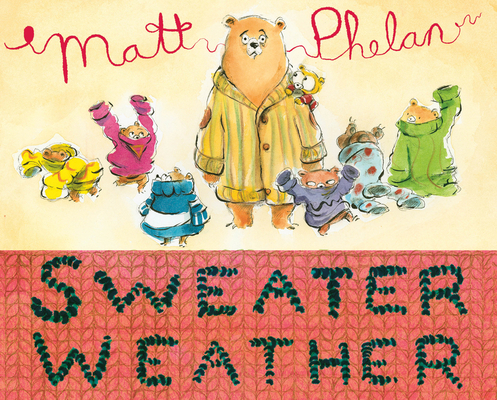 $17.99

Usually Ships Within a Week
Staff Reviews
---
Adorable! Author/illustrator Matt Phelan seems to know the struggle of trying to get kids dressed and ready to leave the house on time. Maybe you do too? Definitely a sweet and funny addition for your shelves!
— Johanna
November/December 2021 Kids Indie Next List
---
"Anyone who has raised or worked with kids knows how difficult it can be to get them dressed, and Phelan shares that with humor as a bear parent attempts to get several cubs into sweaters to enjoy a nice fall day."
— Andrew King, Secret Garden Bookshop, Seattle, WA
Description
---
What a perfect autumn day! Papa Bear tells his cubs to bundle up in the cozy sweaters he knitted for them—but that is easier said than done. Award-winning author-artist Matt Phelan has created a hilarious and warmhearted ode to fall, patience, and knitting. Sweater Weather will be adored by fans of Anna Dewdney and Tad Hills.
Sweaters on? Not yet!
The air is crisp, and the leaves are bright—it's the perfect autumn day to enjoy the outdoors. Papa Bear instructs his cubs to put on their sweaters, and patiently waits downstairs. When he checks on them, he learns that getting ready is no simple task. But even if this lovable bear family misses out on their planned outing, the evening sky still holds a beautiful surprise.
Acclaimed author-artist Matt Phelan's rhythmic, repetitive text and his warm, expressive watercolor paintings are both humorous and rewarding. Brimming with laughter and love from this large bear family, Sweater Weather is an irresistible choice to curl up with during storytime, no matter what the weather is. 
About the Author
---
Matt Phelan is the creator of the graphic novels The Storm in the Barn (winner of a Scott O'Dell Award); Around the World; Bluffton; and the New York Times bestseller Snow White. He is also the author of Knights vs. Dinosaurs, Knights vs. Monsters, and Knights vs. the End (of Everything). Matt Phelan lives in Ardmore, Pennsylvania. www.mattphelan.com
Matt Phelan is the creator of the graphic novels The Storm in the Barn (winner of a Scott O'Dell Award); Around the World; Bluffton; and the New York Times bestseller Snow White. He is also the author of Knights vs. Dinosaurs, Knights vs. Monsters, and Knights vs. the End (of Everything). Matt Phelan lives in Ardmore, Pennsylvania. www.mattphelan.com
Praise For…
---
"Getting ready to go out is a major production for a bear parent overseeing seven obstreperous cubs. . . . In nearly wordless vignettes, gestures and facial expressions do the comedic work as Phelan imagines ever more hilarious ways for small cubs to don big sweaters. . . . Phelan creates instantly likeable characters and a story that centers parenting seasoned enough to realize that setbacks are inevitable—and that makes space to enjoy the day, and beauty of nature, anyway." — Publishers Weekly (starred review)
"'Sweaters ON!' the bear declares to a roomful of pajama-wearing cubs, and the story takes off. Wrangling seven small bears into sweaters is no easy feat, and the gloriously chaotic effort goes on . . . Phelan's soft, colorful art, created with pencil, ink, and watercolor, amplifies the coziness of all the bears and their clothing. . . . The humor of the ending is just right, as is the large bear's last directive—'Pajamas ON!'—leading to the story's natural ending as a bedtime book. This tribute to the realities of parenting small children (and bears) revels in the humor and joy that can be found when the best-laid plans go awry." — Horn Book (starred review)
"It's time for the seven little bears to get their sweaters on! For these independent cubs (and one especially adorable baby bear), getting dressed is trickier than it seems. . . . A lovely story of one of life's magical moments, when a family takes time to appreciate nature and each other's companionship. Readers will want to don their own comfy sweaters and snuggle up with their loved ones. A deceptively simple but warm and cozy celebration of autumn sweater weather." — School Library Journal (starred review)
"A warm read for the fall. Phelan's text is remarkably spare, with just a few precise phrases to knit together a narrative about an adult bear and their seven cubs. . . . Humorous watercolors show their little round bodies packed like sausages into a rainbow array of sweaters—including one sweater with two cubs stuffed inside. The struggle continues for several pages, with the patient grown-up bear attempting to help without much luck. . . . Cozy up with this picture book." — Kirkus Reviews
"The autumn colors are here and Papa Bear wants to take his cadre of cubs out to enjoy the crisp weather. . . . Caretakers will ruefully recognize the helter-skelter lawlessness that marks nearly all attempts to get a group of kiddos ready to go somewhere, and youngsters too will recognize the mischievous mayhem that they most certainly enjoy more than their grownups. . . . A delight." — Bulletin of the Center for Children's Books
"Phelan's nearly wordless picture book introduces a family of bears in their forested home. . . . Phelan's illustrations in pencil, ink, and watercolor have a cozy, comfortable feel. . . . Small details in the artwork further enhance the mood: the seven cubs wreak havoc throughout the house in their day-long attempts to suit up, yet Papa remains calm and patient throughout, offering suggestions as they master this new skill. A perfect fall read-aloud, this should strike a chord with caregivers and toddlers alike." — Booklist