Winter Counts: A Novel (Paperback)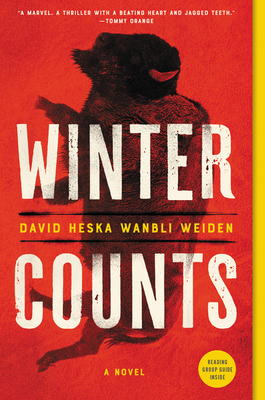 $16.99

Probably On Our Shelves Now! Wait for us to confirm availability.
Staff Reviews
---
**2021 Beltie Mystery Prize Nominee**
I love a good story that can inform as well as it can entertain. By that I mean opening our eyes to social, historical, or other issues that illuminate a people or place. Dickens was the king of the social novel and, while I'm not putting this up there with Dickens, this is of that ilk. Set on the Rosebud Indian Reservation in South Dakota this is the story of Virgil Wounded Horse. He's the local enforcer, the muscle the elders turn to when justice hasn't been found through the courts though the guilt is strong. Now heroin is invading the Reservation and things are beginning to get personal when his nephew becomes hooked. This is a story that is almost universal in this day and age but Virgil gives it a face that says "enough!" A novel of corruption and grit; this is not Zane Gray's West anymore. This is the new Americana. Harsh yet with hope.
— Pete
September 2020 Indie Next List
---
"Weiden's book is a thriller with an important social and political message. Following a Lakota 'enforcer' who enacts extrajudicial punishment to fill the gaps in the legal system, Winter Counts is a twisty new addition to the growing Indigenous literature canon. While some of the action may fall into somewhat predictable territory, Weiden's exploration of the injustices of reservation life are vital."
— Ashley Baeckmann, Briars & Brambles Books, Windham, NY
Description
---
ANTHONY AWARD WINNER FOR BEST FIRST NOVEL
THRILLER AWARD WINNER FOR BEST FIRST NOVEL
EDGAR AWARD NOMINEE FOR BEST FIRST NOVEL
"Winter Counts is a marvel. It's a thriller with a beating heart and jagged teeth."  —Tommy Orange, author of There There
A Best Book of 2020: NPR * Publishers Weekly * Library Journal * CrimeReads * Goodreads * Sun Sentinel * SheReads * MysteryPeople 
 A groundbreaking thriller about a vigilante on a Native American reservation who embarks on a dangerous mission to track down the source of a heroin influx. 
Virgil Wounded Horse is the local enforcer on the Rosebud Indian Reservation in South Dakota. When justice is denied by the American legal system or the tribal council, Virgil is hired to deliver his own punishment, the kind that's hard to forget. But when heroin makes its way into the reservation and finds Virgil's nephew, his vigilantism suddenly becomes personal. He enlists the help of his ex-girlfriend and sets out to learn where the drugs are coming from, and how to make them stop.
They follow a lead to Denver and find that drug cartels are rapidly expanding and forming new and terrifying alliances. And back on the reservation, a new tribal council initiative raises uncomfortable questions about money and power. As Virgil starts to link the pieces together, he must face his own demons and reclaim his Native identity. He realizes that being a Native American in the twenty-first century comes at an incredible cost.
Winter Counts is a tour-de-force of crime fiction, a bracingly honest look at a long-ignored part of American life, and a twisting, turning story that's as deeply rendered as it is thrilling.
Winner, Spur Awards for Best Contemporary Novel and Best First Novel * Winner, Lefty Award for Best Debut Mystery Novel * Shortlisted, Best First Novel, Bouchercon Anthony Awards * Shortlisted, Best First Novel, International Thriller Writers * Shortlisted, Dashiell Hammett Prize for Literary Excellence in Crime Writing, International Association of Crime Writers * Longlisted, VCU Cabell First Novel Award * Shortlisted, Barry Award for Best First Novel * Shortlisted, Reading the West Award * Shortlisted, Colorado Book Award (Thriller)
About the Author
---
David Heska Wanbli Weiden, an enrolled citizen of the Sicangu Lakota Nation, is the author of Winter Counts, which won the Anthony Award for Best First Novel and the Thriller Award for Best First Novel, and was nominated for an Edgar Award for Best First Novel. He received the PEN America Writing for Justice Fellowship and is the recipient of fellowships and residencies from MacDowell, Sewanee, and Tin House. He lives in Denver with his family.
Praise For…
---
"Sizzling. . . . In the grand tradition of trouble-seeking, down-at-the-heels private eyes with strong moral codes, Virgil must confront many obstacles at once. . . . Weiden is from a branch of the Lakota tribe himself, and his book relies on deep research into its history and traditions. Winter Counts is written with a light touch and a good deal of humor." — New York Times Book Review, Editor's Choice
"Wholly satisfying, the novel builds to a violent, action-packed denouement, leaving space for a sequel…."Winter Counts" is a riveting yet soulful reimagining of hard-boiled crime fiction for an era in which systemic rot seems to be routinely uncovered." — San Francisco Chronicle
"Winter Counts is a once-in-a-generation thriller, an unforgettable debut set in and around South Dakota's Rosebud Indian Reservation that brims with complex characters, believable conflicts and an urgent message about Native culture, inequities and criminal justice. . . . Propulsive." — ?Los Angeles Times
"Winter Counts is a compelling read and an insightful perspective on identity and power in America." — USA Today
"You'll love the tough-guy hero who refuses to back down to anyone." — Parade
"In his assured debut novel, David Heska Wanbli Weiden melds the gritty realism of Dashiell Hammett with the lyricism of Tommy Orange." — O, the Oprah Magazine
"Winter Counts is a marvel. It's a thriller with a beating heart and jagged teeth. This book is a brilliant meditation on power and violence, and a testament to just how much a crime novel can achieve. Weiden is a powerful new voice. I couldn't put it down."   — Tommy Orange, author of There There
"Winter Counts is both a propulsive crime novel and a wonderfully informative book. David Heska Wanbli Weiden has written the first of what I hope is a series of books about life on Rosebud Reservation. Virgil Wounded Horse, his nephew Nathan, and Marie Short Bear are more than characters; they brim with intrigue and authentic life."   — Louise Erdrich, author of The Night Watchman
"Timely and smart, this is a powerful narrative about identity and heritage in a shifting world." — NPR.org
"Weiden's debut is a gritty, complex, and dynamic thriller… It's an absolutely riveting page-turner, compelling not only for the mystery at its core, but also for its piercing criticism of US (mis)treatment of Native populations." — Buzzfeed
"You can zip through 'Winter Counts' for the fast-paced thrills or the chance to learn about native culture, but slow down to enjoy the beauty of Weiden's writing." — Washington Post
"Weiden combines funny, complex, and unforgettable characters with strong, poetic prose. . . This is crime fiction at its best." — Publishers Weekly (starred review)
"In addition to being a fast-paced and gripping ride, this book also examines Indigenous identity and the broken justice system. It's a great read even if you're not usually into crime fiction." — Shondaland
"A tale of drugs and violence on the Rosebud Reservation is also a celebration of reviving Lakota traditions. . . A knowing, revealing look at life on a reservation. . . The spirit, joy, pride and resilience of Native people also comes through these pages: respect for elders, the hunger for education and meaningful work, a growing interest in Lakota language, customs and traditions." — Minneapolis Star Tribune
"[A] gripping, gritty, literary crime novel…a remarkably accomplished debut." — AARP Magazine
"A great mystery with excellent characters–everything you want in a crime novel." — Book Riot
"One of this year's most significant crime-fiction debuts." — Air Mail
"[A] revelatory debut crime novel propelled by vital and affecting Native American characters . . . Suspenseful, gritty, gruffly endearing, and resonant." — Booklist
"I've been waiting most of my life for this book without realizing it. Winter Counts is a knowing, authentic, closely observed novel about modern-day Lakotas that rings absolutely true, warts and all. The sense of place is breathtaking and raw. It's a hell of a debut." — C.J. Box, #1 New York Times bestselling author of Long Range
"One part gritty procedural, one part hard-edged literature, Winter Counts is more than a novel—it's a testament in napalm you won't be able to put down because it burns and holds fast." — Craig Johnson, author of the Walt Longmire Mysteries
"The full-throttle, can't-put-it-downness of this novel is a fact. Winter Counts is a hell of a gripping debut, perfectly plotted; David Heska Wanbli Weiden is a major new voice in crime fiction, indigenous fiction, and American literature." — Benjamin Percy, author of Suicide Woods and Red Moon
"David Heska Wanbli Weiden's Winter Counts marks the rise of a powerful new Native American voice in fiction, one that possesses an unnameable quality. With brilliant and precise prose, Weiden has created a deeply moving, heartfelt crime novel through Virgil Wounded Horse and his experiences of Native life. An astonishing debut novel." — Brandon Hobson, National Book Award Finalist and author of Where the Dead Sit Talking
"Winter Counts is a gripping, richly textured thriller and an urgent dispatch from Indian Country. Weiden writes with impressive authority and insight in this entirely original, enlightening, cliché-destroying novel." — James A. McLaughlin, Edgar Award-winning author of Bearskin
"A stone-cold thriller with a soul and a politics—compelling and complex. A gripping crime story perfectly married to bigger questions about race and place and American violence."  — David Treuer, author of The Heartbeat of Wounded Knee
"Weiden announces himself as a formidable new voice in crime fiction. The images haunt, the action crackles, and Virgil Wounded Horse makes a lasting impression. Winter Counts is a heartfelt page-turner with compelling characters, keen cultural insight, and a climax unlike any I've read before." — Steph Cha, author of Your House Will Pay
"Winter Counts drops the hammer on page one and never lets up, until you're not sure if that's the drums in the story or your heart in your chest pounding." — Stephen Graham Jones, author of The Only Good Indians and Mongrels
"Winter Counts is a terrific debut—tight and tense, hard-eyed and big-hearted. David Heska Wanbli Weiden's main character, Virgil Wounded Horse, is as compelling, complex, and sharply observed as the world he inhabits."  — Lou Berney, Edgar Award-winning author of November Road and The Long and Faraway Gone