Foreverland: On the Divine Tedium of Marriage (Hardcover)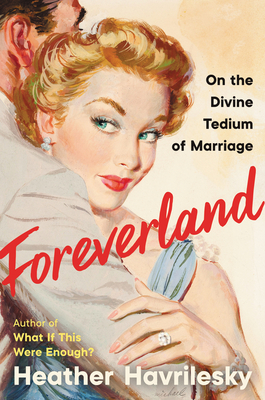 $27.99

Probably On Our Shelves Now! Wait for us to confirm availability.
Description
---
"One of the first honest, moving and funny portrayals of a solid marriage I have ever read." —Jessica Grose, The New York Times
A Best Book of 2022 from The New Yorker and Chicago Tribune
An illuminating, poignant, and savagely funny examination of modern marriage from Ask Polly advice columnist Heather Havrilesky
If falling in love is the peak of human experience, then marriage is the slow descent down that mountain, on a trail built from conflict, compromise, and nagging doubts. Considering the limited economic advantages to marriage, the deluge of other mate options a swipe away, and the fact that almost half of all marriages in the United States end in divorce anyway, why do so many of us still chain ourselves to one human being for life?
In Foreverland, Heather Havrilesky illustrates the delights, aggravations, and sublime calamities of her marriage over the span of fifteen years, charting an unpredictable course from meeting her one true love to slowly learning just how much energy is required to keep that love aflame. This refreshingly honest portrait of a marriage reveals that our relationships are not simply "happy" or "unhappy," but something much murkier—at once unsavory, taxing, and deeply satisfying. With tales of fumbled proposals, harrowing suburban migrations, external temptations, and the bewildering insults of growing older, Foreverland is a work of rare candor and insight. Havrilesky traces a path from daydreaming about forever for the first time to understanding what a tedious, glorious drag forever can be.
About the Author
---
Heather Havrilesky writes the popular Ask Polly advice column on Substack and is the author of What If This Were Enough?, How to Be a Person in the World, and Disaster Preparedness. She has written for the New Yorker, the Atlantic, the New York Times Magazine, and NPR's All Things Considered, among others, and also maintains the Ask Molly newsletter, written by Polly's evil twin. She lives in Durham, North Carolina, with her husband, two daughters, and two dogs.
Praise For…
---
"This book is a delight. Funny, honest and deeply romantic, Havrilesky does the world a favor by letting us peek inside her mind and her marriage." — Chicago Tribune
"This reads like a confession from a friend who has examined their own life through an intellectual and emotional lense -- and comes out with some answers for us." — Good Morning America
"In its own sardonic and skeptical fashion, "Foreverland" is a tender book, full of touching descriptions of falling and staying in love, even in the face of the profound frustrations." — The New Yorker
"She walks the tightrope here, unflinching in her appraisal, indulgent in her praise… The book is a delight; it is a magic trick. It is also terrifically funny."  — Southern Review of Books
"Wise, witty, profane, even profound.... Her voice is so engaging, and her comic timing so impeccable, that she turns the "divine tedium" of her marriage into a rollicking adventure for her readers, too." — Associated Press
"I instantly fell in love with Heather Havrilesky's new book Foreverland….  I deeply identified with her raw, real, and often hilarious take on motherhood, growing older, and the challenges of tethering yourself to another person." — InStyle Magazine
"Funny, forthright…. In Foreverland, Havrilesky considers the ups and downs of married life, writing with candor about its undeviating dullness and surprising upsides …. Whether single or spoken for, readers are sure to fall for Havrilesky's charming memoir." — BookPage
"Havrilesky's neurotic, self-deprecating sense of humor is always on display and adds a comedic twist on universal themes." — San Francisco Chronicle
"Equal parts curiosity, humor and disarming candor, rejecting the platitudes with which so many of us (especially women) have long been bombarded…. At once a tribute to the joy of finding the one and the woes of putting up with them." — St. Louis Post-Dispatch
"Filled with barbed humor and hilarious anecdotes drawn from her own marriage, it is a delightfully engaging love letter to matrimony that is both highly entertaining and profoundly insightful." — Atlanta Journal-Constitution
"A beautifully honest exploration of marriage in all its intricacies." — Shondaland
"One of the first honest, moving and funny portrayals of a solid marriage I have ever read." — Jessica Grose, The New York Times
"Both married and unmarried audiences will find something to cherish in this book on what it means to have a good marriage, what a marriage is at all, and how to retain one's identity, as well as desires, in the face of binding yourself to another." — Literary Hub
"Havrilesky's portrayal of the gritty underside of marriage is honest and searing." — Jacobin
"Newlyweds, nearlyweds, and golden-anniversary celebrants alike will find much that is familiar, inspiring, and comforting in Havrilesky's clear-eyed paean to marital bliss and blunders." — Booklist (starred review)
"Havrilesky's candid reflections will delight those who've taken the plunge, for better or for worse." — Publishers Weekly
"Havrilesky successfully provides ample opportunities for readers to laugh, commiserate, and critique, regardless of their phase in life or marital status." — Library Journal
"Heather Havrilesky's Foreverland is full of razor-sharp, big-hearted wisdom about conflict, lust, obsession, parenting, road trips, daily survival, and the saving, terrifying power of honesty. Her willingness to behold the frustrations of intimacy is what makes her—ultimately—such a keen and necessary scribe of its grace. I want to share this book with my exes, my mother, my partner, future versions of my daughter, future versions of myself, and every last reader I could shake by the shoulders and say: You might not know it, but you need this. It will help you survive your own life." — Leslie Jamison, New York Times bestselling author of The Recovering
"The inner workings of other people's relationships are usually cloaked in mystery and papered over with platitudes. By letting us closely observe her fifteen-year marriage—nose-hair trimmers, random crushes, warts, and all—Heather makes us all feel less alone in our own weird and wonderful partnerships. There's something so refreshing about a book that doesn't try to convince you to invest in your marriage, and instead describes how difficult it is to do exactly that. I laughed. I cried. I didn't file for divorce." — Ann Friedman, New York Times bestselling coauthor of Big Friendship
"In a time of carefully managed, painstakingly cropped, plastic Instagram families, Heather Havrilesky's incisive examination of marriage and family, Foreverland, reads, refreshingly, like a war diary—a generously candid, disarmingly heartfelt examination of those we love, what we value, and why. Occasionally meditative, brutally insightful, effortlessly witty, and always honest, Heather Havrilesky should be a household name, a guru for those of us whose hair itches at the thought of gurus." — Lauren Hough, New York Times bestselling author of Leaving Isn't the Hardest Thing