Shell Game: A V.I. Warshawski Novel (V.I. Warshawski Novels #20) (Paperback)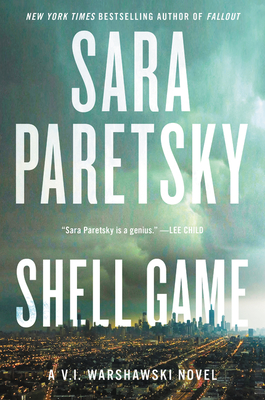 $16.99

Usually Ships Within a Week
Other Books in Series
This is book number 20 in the V.I. Warshawski Novels series.
Description
---
Winner of the Sue Grafton Memorial Award!
A Boston Globe Best Book of 2018!
Acclaimed detective V. I. Warshawski tackles a pair of perplexing cases involving those closest to her in this compelling and timely adventure that centers on some of the most divisive and pressing issues of our time
When V. I Warshawski gets word that her closest friend and mentor Lotty Herschel's nephew has become a suspect in a murder, the legendary detective will do everything she can to save him. The cops found Felix Herschel's name and phone number on the unknown victim's remains, but Felix insists he doesn't know why.
As Vic digs deeper, she discovers that the dead man was obsessed with Middle Eastern archaeology—the first clue in a bewildering case that leads to a stolen artifact and a shadowy network of international criminals. But the trouble multiplies when Vic's long-lost niece, Reno, goes missing. A beautiful young woman with a heartbreaking past and a promising future, Reno is harboring a secret that may cost her her life. V.I. can hear the clock ticking on her niece's safety and is frantic in her efforts to find her.
Vic won't leave any stone unturned until these very personal cases are cleared—a complex investigation that will entangle the Russian mob, ISIS backers, rogue ICE agents, a nefarious corporation preying on the poor, and a shady network of stock scams and stolen antiquities stretching from Chicago to the East Indies and the Middle East.
In Shell Game, no one can be trusted and nothing is what it seems, except for the indomitable detective and her thirst for justice.
About the Author
---
Hailed by the Washington Post as "the definition of perfection in the genre," Sara Paretsky is the New York Times bestselling author of twenty-four novels, including the renowned V.I. Warshawski series. She is one of only four living writers to have received both the Grand Master Award from the Mystery Writers of America and the Cartier Diamond Dagger from the Crime Writers Association of Great Britain. She lives in Chicago.
Praise For…
---
"As long as Paretsky's hotheaded, quick-witted sleuth is on the job, imperiled young women…will always have a champion." — New York Times Book Review
"Chicago's V.I. Warshawski is on top form in Sara Paretsky's Shell Game." — Seattle Review of Books
"Even after decades, Paretsky's landmark series remains as popular as ever, and the social consciousness behind the stories seems ever more in tune with contemporary events." — Booklist (starred review)
"Warshawski's latest adventure, Shell Game, is a multi-layered mystery with lots of moving parts that all come together in a triumphant moment of truth and justice which satisfies the soul and the intellect." — Nelson DeMille, #1 New York Times Bestselling Author
" V.I. Warshawski [is] a sleuth to rival the greats, from Sam Spade and Nero Wolfe to Harry Bosch and Stephanie Plum... Shell Game is the most soulful novel of [Paretsky's] extraordinary career—the most urgent, the most haunting, the most satisfying. Please read Shell Game." — A.J. Finn, #1 New York Times bestselling author
"Simply superb! As a fan of V.I. Warshawski from the very beginning, I can say without a doubt that... both author and protagonist [are] at the top of their games." — Jeffery Deaver
"A road trip with V.I. Warshawski? Sign me up! What a thrill to join her on a missing-persons hunt that quickly turns dark and dangerous. Sara Paretsky's legendary P.I. is at the top of her game. Everyone will want to go along for this ride." — Tess Gerritsen
"For me, the most remarkable of the moderns is Sara Paretsky. ...No other crime writer has so powerfully and effectively combined a well-crafted detective story with the novel of social realism." — P.D. James
"Considerable pleasure comes from following the legendary heroine through an impenetrable maze of felonies knowing that you're in a master's hands." — Kirkus Reviews
"Riveting. Paretsky isn't one to tiptoe around injustice, and this entry proves once again that she's one of the sharpest crime writers on the scene today." — Publishers Weekly
"As is usually the case with Paretsky's novels, there is considerable social and political commentary... Everyone else can revel in the superb pacing, the well-developed characters and the crisp dialogue from one of the most consistently excellent writers in the genre." — BookPage
"Warshawsky is an iconic sleuth, and in the recent novels she's proven a savvy vehicle for exploring changing social (and criminal) currents in the Windy City, a city she's come to define as surely as Marlowe once defined L.A." — CrimeReads, "Most Anticipated Crime Books of 2018"
"Shell Game is a smart and engrossing international mystery to unravel that will keep readers wrapped up in its pages." — Criminal Element
"Clever and devilishly complicated" — The Oklahoman