How to Educate a Citizen: The Power of Shared Knowledge to Unify a Nation (Hardcover)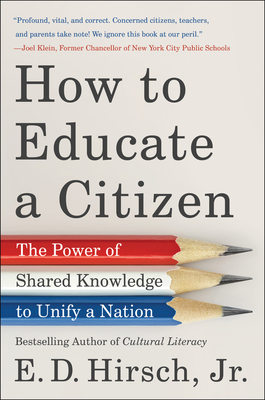 Description
---
"Profound, vital and correct. Hirsch highlights the essence of our American being and the radical changes in education necessary to sustain that essence. Concerned citizens, teachers, and parents take note!  We ignore this book at our peril."— Joel Klein, former Chancellor of New York City Public Schools
In this powerful manifesto, the bestselling author of Cultural Literacy addresses the failures of America's early education system and its impact on our current national malaise, advocating for a shared knowledge curriculum students everywhere can be taught—an educational foundation that can help improve and strengthen America's unity, identity, and democracy.

In How to Educate a Citizen, E.D. Hirsch continues the conversation he began thirty years ago with his classic bestseller Cultural Literacy, urging America's public schools, particularly at the elementary level, to educate our children more effectively to help heal and preserve the nation. Since the 1960s, our schools have been relying on "child-centered learning." History, geography, science, civics, and other essential knowledge have been dumbed down by vacuous learning "techniques" and "values-based" curricula; indoctrinated by graduate schools of education, administrators and educators have believed they are teaching reading and critical thinking skills. Yet these cannot be taught in the absence of strong content, Hirsch argues.
The consequence is a loss of shared knowledge that would enable us to work together, understand one another, and make coherent, informed decisions. A broken approach to school not only leaves our children under-prepared and erodes the American dream but also loosens the spiritual bonds and unity that hold the nation together. Drawing on early schoolmasters and educational reformers such as Noah Webster and Horace Mann, Hirsch charts the rise and fall of the American early education system and provides a blueprint for closing the national gap in knowledge, communications, and allegiance. Critical and compelling, How to Educate a Citizen galvanizes our schools to equip children with the power of shared knowledge.
About the Author
---
E. D. Hirsch, Jr. is the founder and chairman of the Core Knowledge Foundation and professor emeritus of education and humanities at the University of Virginia. He is the author of several acclaimed books on education, including the New York Times bestseller Cultural Literacy, The Schools We Need, The Knowledge Deficit, The Making of Americans, and Why Knowledge Matters. He lives in Earlysville, Virginia.
Praise For…
---
"A fervent plea for reforming American schools." — Kirkus Reviews
"Profound, vital and correct. Hirsch highlights the essence of our American being and the radical changes in education necessary to sustain that essence.  Concerned citizens , teachers, and parents take note!  We ignore this book at our peril." — Joel Klein, former Chancellor of New York City Public Schools
"Readers cautious about a nationalistic, uniform approach to educating youth will discover in Hirsch's manifesto several compelling reasons for doing so, including the indisputable fact that a unified nation is better equipped to cooperate on international matters than one as polarized as the U.S. in the 21st century. . . . A persuasive, scientifically sound case for an education revolution." — Shelf Awareness
"Education-policy thinker and provocateur Hirsch reignites the continuing debate over the content and value of contemporary elementary education in the United States.. . . Valuable for the ongoing education debate." — Booklist
"Hirsch has long endured accusations of elitism, but he emphasizes here that his work has always been driven by a desire to help the least privileged children succeed. It's those kids, he says, who suffer the most from faddish educational theories that have stripped schools of academic substance."
— Ron Charles, Washington Post Book Club
"Guided by those words over his long, admirable, and prolific career, E. D. Hirsch, Jr. has worked patiently to correct the errors of the false prophets of progressive pedagogy and to restore the public purpose of American education and its founding ideals. It is up to the rest of us now to follow his lead." — City Journal
"This kind of shared, unifying, patriotic education is needed now more than ever. Reading Hirsch's new book is a good starting place." — Jenna A. Robinson, president of the James G. Martin Center for Academic Renewal

"Our dedicated, hard-working teachers across this nation wish to teach children in a manner that will serve them for a lifetime.  Let's give them the skills and freedom to do just that. Whether you agree with him or disagree, a good place to start that process is by listening to people like E.D. Hirsch Jr." — Daily Memphian
"Readers cautious about a nationalistic, uniform approach to educating youth will discover in Hirsch's manifesto several compelling reasons for doing so, including the indisputable fact that a unified nation is better equipped to cooperate on international matters than one as polarized as the U.S. in the 21st century. . . . A persuasive, scientifically sound case for an education revolution." — Shelf Awareness for Readers