Miss Chloe: A Memoir of a Literary Friendship with Toni Morrison (Hardcover)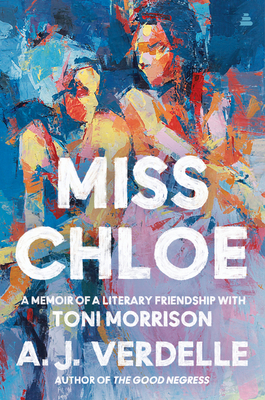 $27.99

On Our Shelves Now. We will contact you when your order is ready. Closed Mon & Tues.
Description
---
"Passionate, personal, insightful, testy, and unique." —Kirkus (starred review)
"Verdelle offers us testimony in praise and consideration of life as a literary citizen and Black woman alongside the guiding light of Toni Morrison. This is a holy testimony, indeed, one that deserves to be amen'd forever." —Jason Reynolds, #1 New York Times Bestselling Author
"Verdelle gives us the greatest gift—our beloved ancestor returned to us—generous and alive, remembered and revered. So grateful for this book in the world." —Jacqueline Woodson, author of Another Brooklyn
"If you let a black girl loose in a library, you may not recognize the woman who emerges."
—from Miss Chloe
Toni Morrison, born Chloe A Wofford, was a towering figure in the world of literature when she entered A.J. Verdelle's life. Their literary friendship was a young writer's dream—simultaneously exhilarating, intimidating, fulfilling, and challenging. The relationship crossed generations, spanned several cycles in life, exhibited high and low notes, reached and dipped and found its way. Like many women friends, these two writers imagined and built a relationship that was responsive, inventive, and engaged.
Miss Chloe powerfully situates the risks writers face and the freedom they find when they put Black women's lives into words. Verdelle chronicles her grief at Morrison's passing, and finds comfort in Morrison's astute advice—wisdom Verdelle didn't always recognize at the time. In this pensive and intricately lyrical book, Verdelle honors Morrison among the cultural greats, while illuminating and celebrating the power of language, legacy, and genius.
A. J. Verdelle is the award-winning author of the novel, The Good Negress. She teaches Creative Writing at Morgan State University and at the MFA program at Lesley University. 
About the Author
---
A. J. Verdelle is an award-winning novelist and essayist. She is a recipient of a Whiting Writer's Award and teaches in the low-residency MFA program at Lesley University, and teaches undergraduates at Morgan State University. She remains a working mother, and feels confident that the western, Genuine Cowboy, will eventually have a life in print. 
Praise For…
---
"Passionate, personal, insightful, testy, and unique." — Kirkus Reviews (starred review)
"Verdelle has created a remarkable literary portrait and memoir." — Booklist
"In Miss Chloe, Verdelle offers us testimony in praise and consideration of life as a literary citizen and Black woman alongside the guiding light of Toni Morrison. This is a holy testimony, indeed, one that deserves to be amen'd forever."
— Jason Reynolds, #1 New York Times Bestselling Author

"Miss Chloe is a rich and wise meditation on the literary paragon that is Toni Morrison. In prose  that is at once lyrical and precise, A.J. Verdelle has delivered an enthralling book on the bounty of long friendship, the dynamism of black culture, the genesis of black genius, the myriad wonders of black women, and the power of literature to shape exceptional lives. Miss Chloe meets the measure of its incomparable central figure, a feat if ever there was one." — Mitchell S. Jackson, Winner of the Pulitzer Prize
"Miss Chloe is a joyous, eloquent memoir of a lively, emotionally rich, and intensely bookish friendship. In honoring Toni Morrison, A.J. Verdelle has given us a personal celebration of family, women, education, libraries, and, always, the power of words. Verdelle generously includes us in her lavish love of all things literary. This is a glorious book." — Cathleen Schine, author of The Grammarians
"Miss Chloe is an achievement. In a work as intimate as it is ambitious, A.J. Verdelle frankly and lovingly illuminates Toni Morrison's vast influence as a writer and editor on Black life, culture, and Verdelle herself, all the while weaving together reflections on the complexities of human friendship, the necessity of literature and reading, the demands of the writing life, the meaning of family and community, and the obligation to persevere. A beautiful, essential book."
— Jane Brox, author of Silence and Brilliant  
"A.J. Verdelle, one of our very best writers, has given us a memoir that includes a glimpse of her own literary genius, the women who raised her, the ultimate power of a literary life and her special relationship with our grand queen of Black literature, Toni Morrison. Written with grace and heart, you won't be able to put this book down and then you'll place it on the shelf with your sacred favorites." 
— Crystal Wilkinson, author of Perfect Black and The Birds of Opulence
"A.J. Verdelle was gifted a rare opportunity to witness literary genius. Reading Miss Chloe is tantamount to taking a masterclass from two incredible writers." — Byllye Y Avery, Founder, Black Women's Health Imperative
"It's hard to put into words how much I love Miss Chloe. Part memoir, part homage, part literary reflection, this rare glimpse into a remarkable sisterhood between A.J. Verdelle and Toni Morrison will take its place among the classics. I will treasure this book forever." 
— Dolen Perkins-Valdez, NYT bestselling author of Wench and Take My Hand