I Walk Between the Raindrops: Stories (Hardcover)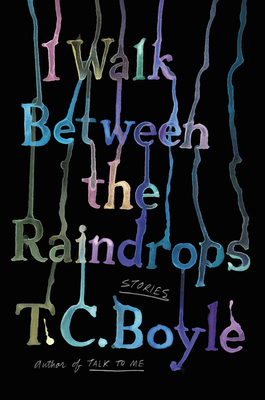 $28.99

Probably On Our Shelves Now! Wait for us to confirm availability.
Description
---
An electric collection of new short stories from the inimitable, bestselling writer of Talk to Me and Outside Looking In
In the title story of Walk Between the Raindrops, a woman sits down next to a man at a bar and claims she has ESP. In "Thirteen Days," passengers on a cruise line are quarantined, to horrifying and hilarious effect. And "Hyena" begins simply: "That was the day the hyena came for him, and never mind that there were no hyenas in the South of France, and especially not in Pont-Saint-Esprit—it was there and it came for him."
A virtuoso of the short form, T.C. Boyle returns with an inventive, uproarious, and masterfully told collection of short stories characterized by biting satire, resonant wit, and a boundless, irrepressible imagination. 
About the Author
---
T.C. Boyle is an American novelist and short-story writer. Since the mid-1970s, he has published eighteen novels and twelve collections of short stories. He won the PEN/Faulkner Award in 1988 for his third novel, World's End, and the Prix Médicis étranger (France) in 1995 for The Tortilla Curtain. His novel Drop City was a finalist for the 2003 National Book Award. Most recently, he has been the recipient of the Mark Twain American Voice in Literature Award, the Henry David Thoreau Prize, and the Jonathan Swift Prize for satire. He is a Distinguished Professor of English Emeritus at the University of Southern California and lives in Santa Barbara.
Praise For…
---
"The prolific Boyle continues to have fun and make literary mischief with his latest story collection. . . .There's no reason why these 13 stories should seem so funny, as most of them confront individual mortality and some sort of cultural collapse. They run the gamut from the subversively real to the surreal in such a way that they blur the distinction between the implausible and the inevitable. . . . A playful virtuoso with a deadly seriousness of purpose." — Kirkus Reviews (starred review)
"Forty-plus years into his stellar career, the prolific Boyle retains his signature charm and wit while mining the human condition for its many intrinsic foibles...Boyle's genius lies in his ability to describe characters through the eyes of other characters, adding nuance and depth. There's a rich musicality in Boyle's prose...His language can also take on a free flowing, jazz-like improvisational feel. Once again, Boyle's virtuosity shines." — Booklist (starred review)
"Boyle skewers American culture, masculine identity, and the modern age in his splendid latest collection...Boyle's stories are raw, unflinching, and highly entertaining...Readers will be enthralled." — Publishers Weekly (starred review)
"T.C. Boyle has always been a timely writer...What Boyle understands—has always understood—is that the more specific one is in a piece of writing, the more universal that piece of writing becomes...lacerating." — Alta Journal