Buenas noches, Luna: Goodnight Moon (Spanish edition) (Paperback)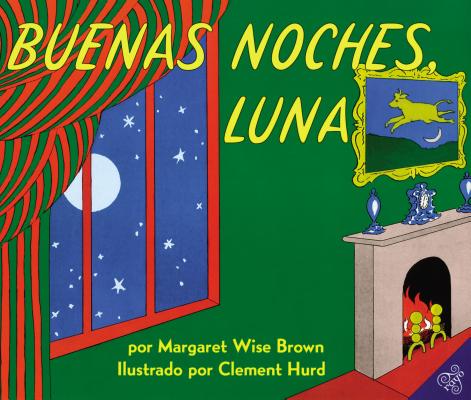 $8.99

Usually Ships Within a Week
Description
---
This high-quality Spanish-language book can be enjoyed by fluent Spanish speakers as well as those learning the language, whether at home or in a classroom.
En este cuento clásico de la literatura infantil, adorado por generaciones de niños, la poesía que encierra su texto y la ternura de sus bellas ilustraciones convierten a éste en un libro ideal para culminar el día.
En una gran habitación verde, arropado en su cama, está un conejito. Buenas noches, habitación. Buenas noches, Luna -- dice el conejito. Y así sucesivamente, le da las buenas noches a todas las cosas que reconoce en su cuarto: al cuadro de los tres ositos sentaditos en sus sillas, a los relojes y a los calcetines, a los gatitos juguetones y a los lindos mitones.
About the Author
---
Margaret Wise Brown, cherished for her unique ability to convey a child's experience and perspective of the world, transformed the landscape of children's literature with such beloved classics as Goodnight Moon and The Runaway Bunny. Other perennial favorites by Ms. Brown include My World; Christmas in the Barn; The Dead Bird; North, South, East, West; and Good Day, Good Night.
Clement Hurd (1908–1988) is best known for illustrating Goodnight Moon and The Runaway Bunny, the classic picture books by Margaret Wise Brown. He studied painting in Paris with Fernand Léger and others in the early 1930s. After his return to the United States in 1935, he began to work in children's books. He illustrated more than one hundred books, many of them with his wife, Edith Thacher Hurd, including the Johnny Lion books, The Day the Sun Danced, and The Merry Chase. A native of New York City, he lived most of his life in Vermont and California.
Clement Hurd (1908–1988) se graduó de Yale University. Estudió pintura en París en los años 1930 con Fernand Léger, entre otros. Allí fue donde desarrolló su estilo característico, compuesto de colores de fuerte contraste. Hurd estuvo casado con la escritora Edith Thacher Hurd, con quien también creó muchos libros que se convirtieron en favoritos de los niños.