Of Mice and Men (Paperback)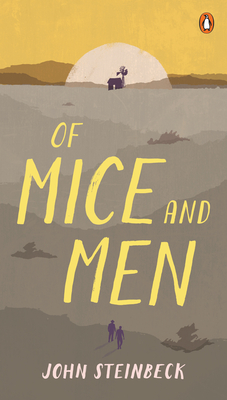 $13.00

Probably On Our Shelves Now! Wait for us to confirm availability.
Description
---
A controversial tale of friendship and tragedy during the Great Depression
 
They are an unlikely pair: George is "small and quick and dark of face"; Lennie, a man of tremendous size, has the mind of a young child. Yet they have formed a "family," clinging together in the face of loneliness and alienation.

Laborers in California's dusty vegetable fields, they hustle work when they can, living a hand-to-mouth existence. For George and Lennie have a plan: to own an acre of land and a shack they can call their own. When they land jobs on a ranch in the Salinas Valley, the fulfillment of their dream seems to be within their grasp. But even George cannot guard Lennie from the provocations of a flirtatious woman, nor predict the consequences of Lennie's unswerving obedience to the things George taught him.

"A thriller, a gripping tale . . . that you will not set down until it is finished. Steinbeck has touched the quick." —The New York Times
About the Author
---
John Steinbeck
, born in Salinas, California, in 1902, grew up in a fertile agricultural valley, about twenty-five miles from the Pacific Coast. Both the valley and the coast would serve as settings for some of his best fiction. In 1919 he went to Stanford University, where he intermittently enrolled in literature and writing courses until he left in 1925 without taking a degree. During the next five years he supported himself as a laborer and journalist in New York City, all the time working on his first novel,
Cup of Gold
(1929).
After marriage and a move to Pacific Grove, he published two California books, The Pastures of Heaven (1932) and To a God Unknown (1933), and worked on short stories later collected in The Long Valley (1938). Popular success and financial security came only with Tortilla Flat (1935), stories about Monterey's paisanos. A ceaseless experimenter throughout his career, Steinbeck changed courses regularly. Three powerful novels of the late 1930s focused on the California laboring class: In Dubious Battle (1936), Of Mice and Men (1937), and the book considered by many his finest, The Grapes of Wrath (1939). The Grapes of Wrath won both the National Book Award and the Pulitzer Prize in 1939.
Early in the 1940s, Steinbeck became a filmmaker with The Forgotten Village (1941) and a serious student of marine biology with Sea of Cortez (1941). He devoted his services to the war, writing Bombs Away (1942) and the controversial play-novelette The Moon is Down (1942). Cannery Row (1945), The Wayward Bus (1948), another experimental drama, Burning Bright (1950), and The Log from the Sea of Cortez (1951) preceded publication of the monumental East of Eden (1952), an ambitious saga of the Salinas Valley and his own family's history.
The last decades of his life were spent in New York City and Sag Harbor with his third wife, with whom he traveled widely. Later books include Sweet Thursday (1954), The Short Reign of Pippin IV: A Fabrication (1957), Once There Was a War (1958), The Winter of Our Discontent (1961), Travels with Charley in Search of America (1962), America and Americans (1966), and the posthumously published Journal of a Novel: The East of Eden Letters (1969), Viva Zapata! (1975), The Acts of King Arthur and His Noble Knights (1976), and Working Days: The Journals of The Grapes of Wrath (1989).
Steinbeck received the Nobel Prize in Literature in 1962, and, in 1964, he was presented with the United States Medal of Freedom by President Lyndon B. Johnson. Steinbeck died in New York in 1968. Today, more than thirty years after his death, he remains one of America's greatest writers and cultural figures.
Praise For…
---
"
Of Mice and Men
is a thriller, a gripping tale running to novelette length that you will not set down until it is finished. It is more than that; but it is that. . . . In sure, raucous, vulgar Americanism, Steinbeck has touched the quick in his little story."
—The New York Times
"Brutality and tenderness mingle in these strangely moving pages. . . . The reader is fascinated by a certainty of approaching doom."—Chicago Tribune
"A short tale of much power and beauty. Mr. Steinbeck has contributed a small masterpiece to the modern tough-tender school of American fiction."—Times Literary Supplement [London]
Coverage from NPR