Tallchief: America's Prima Ballerina (Paperback)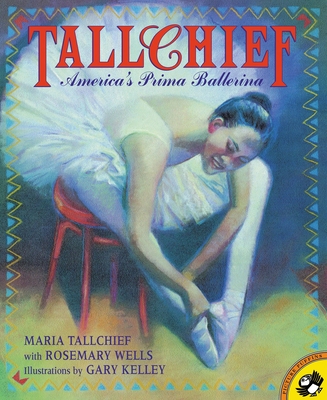 $7.99

Usually Ships Within a Week
Description
---
Growing up on the Osage Indian reservation, Maria Tallchief was a gifted pianist and dancer. According to Osage tradition, women are not permitted to dance, but Maria's parents recognized her gifts and allowed her to break the rule. Then when Maria reached the age of twelve, her father told her it was time to choose between her two loves. Maria chose ballet. It was a decision that would change not only the course of her life, but the face of classical ballet in America. The fascinating story of Maria Tallchief's rise to become America's prima ballerina will captivate young readers.
About the Author
---
Maria Tallchief was America's first major prima ballerina and also the first Native American prima ballerina. She was born in Oklahoma in 1925. When the choreographer George Balanchine founded what would become the New York City Ballet in 1946, Tallchief became the company's first star. She was vaulted to international fame in 1949 for her performance in The Firebird. Her role as the Sugarplum Fairy in The Nutcracker turned that ballet into America's favorite. After retiring from dance in 1966 she was active in promoting ballet in Chicago. Besides being a patron of the arts, she was also a champion of Native American culture and remained closely tied to her Osage history until her death. In 1996 she received a Kennedy Center Honor for lifetime achievements. Maria Tallchief died in 2013.

Rosemary Wells is the author of 120 books for children, including more than 40 about the beloved bunnies Max and Ruby. She travels all over the country as a tireless advocate for literacy. Wells was born in New Jersey to a playwright father and ballet dancer mother who encouraged her artistic bent. She worked as an art director and designer before illustrating her first book. She is the mother of two grown daughters, Victoria and Marguerite, and grandmother to four girls.

Gary Kelley received his degree in art from the University of Northern Iowa. He began his career as a graphic designer and art director before becoming an illustrator in the mid-1970s. He has received awards from the New York Society of Illustrators, the National Booksellers Association, Print Magazine, the New York Art Directors Show, the Los Angeles Society of Illustrators, the Bologna Book Fair (Italy), and others. His clients include The New Yorker, Rolling Stone, Playboy, Atlantic Monthly, Time, Newsweek, GQ, Franklin Library, CBS Records, the NFL, the Santa Fe Opera, and many others.In addition to his professional work, he has lectured at the Smithsonian Institute in Washington, DC, the Society of Illustrators, the San Francisco Academy of Art, Ringling School of Art, and Syracuse University, to name just a few.
Praise For…
---
"Tallchief's single-minded passion, conveyed in a clear, poetic narrative, will hold appeal and meaning for an audience beyond that of hopeful ballerinas."--The Horn Book

"Kelley's softly focused paintings underscore the lyrical tone, enveloping the characters and settings in gauzy, dreamlike light and concentrating, provocatively, on stillness as opposed to movement."--Publisher's Weekly

" Large, rather impressionistic illustrations evoke period and place as well as Maria's love for her art."--Children's Literature

"The text and artwork combine to make a pleasing introduction to a fascinating person. Wells's personal connection to ballet and Tallchief, explained in the introduction, makes this effort all the more stirring. All told, a simple, lovely offering."--School Library Journal