A Tale for the Time Being: A Novel (Paperback)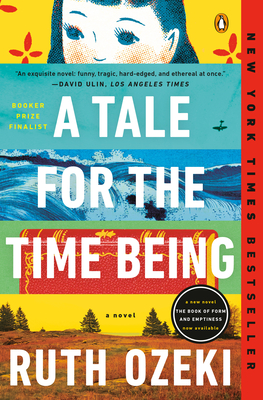 $18.00

Probably On Our Shelves Now! Wait for us to confirm availability.
March 2013 Indie Next List
---
"Nao, a suicidal Japanese girl, postpones her death as she grows closer to her 104-year-old great-grandmother, a Buddhist nun. Ruth, an American author with writer's block, discovers a diary washed ashore on her remote island in the Pacific Northwest. Ruth becomes obsessed with Nao and her diary, and readers will be drawn in as their stories intertwine. Ozeki's creatively constructed novel, complete with footnotes, Japanese characters, and appendices, will have readers marveling at the leaps in time and connection that bring the two women together in this witty, daring, and thoughtful novel."
— Cheryl Krocker McKeon, Book Passage, San Francisco, CA
Description
---
A brilliant, unforgettable novel from bestselling author Ruth Ozeki, author of The Book of Form and Emptiness

Finalist for the Booker Prize and the National Book Critics Circle Award

"A time being is someone who lives in time, and that means you, and me, and every one of us who is, or was, or ever will be."

In Tokyo, sixteen-year-old Nao has decided there's only one escape from her aching loneliness and her classmates' bullying. But before she ends it all, Nao first plans to document the life of her great grandmother, a Buddhist nun who's lived more than a century. A diary is Nao's only solace—and will touch lives in ways she can scarcely imagine. Across the Pacific, we meet Ruth, a novelist living on a remote island who discovers a collection of artifacts washed ashore in a Hello Kitty lunchbox—possibly debris from the devastating 2011 tsunami. As the mystery of its contents unfolds, Ruth is pulled into the past, into Nao's drama and her unknown fate, and forward into her own future.

Full of Ozeki's signature humor and deeply engaged with the relationship between writer and reader, past and present, fact and fiction, quantum physics, history, and myth, A Tale for the Time Being is a brilliantly inventive, beguiling story of our shared humanity and the search for home.
About the Author
---
Ruth Ozeki is a novelist, filmmaker, and Zen Buddhist priest. She is the award-winning author of three novels, My Year of Meats, All Over Creation, and A Tale for the Time Being, which was a finalist for the 2013 Booker Prize. Her nonfiction work includes a memoir, The Face: A Time Code, and the documentary film, Halving the Bones. She is affiliated with the Everyday Zen Foun­dation and teaches creative writing at Smith College, where she is the Grace Jarcho Ross 1933 Professor of Humanities.
Praise For…
---
"An exquisite novel: funny, tragic, hard-edged and ethereal at once."
—David Ulin, Los Angeles Times

"As contemporary as a Japanese teenager's slang but as ageless as a Zen koan, Ruth Ozeki's new novel combines great storytelling with a probing investigation into the purpose of existence. . . . She plunges us into a tantalizing narration that brandishes mysteries to be solved and ideas to be explored. . . . Ozeki's profound affection for her characters makes A Tale for the Time Being as emotionally engaging as it is intellectually provocative."
—The Washington Post

"A delightful yet sometimes harrowing novel . . . Many of the elements of Nao's story—schoolgirl bullying, unemployed suicidal 'salarymen,' kamikaze pilots—are among a Western reader's most familiar images of Japan, but in Nao's telling, refracted through Ruth's musings, they become fresh and immediate, occasionally searingly painful. Ozeki takes on big themes . . . all drawn into the stories of two 'time beings,' Ruth and Nao, whose own fates are inextricably bound."
—The New York Times Book Review

"Ozeki's novel is a tale for any time . . . Metafiction and parallel universes and climate change and Zen Buddhism—this book has so much to appeal."
—Matthew Salesses, The Week

"Sixteen-year-old schoolgirl Nao Yasutani's voice is the heart and soul of this very satisfying book. . . . The contemporary Japanese style and use of magical realism are reminiscent of author Haruki Murakami."
—USA Today

"A terrific novel full of breakthroughs both personal and literary. . . . Ozeki revels in Tokyo teen culture—this goes far beyond Hello Kitty—and explores quantum physics, military applications of computer video games, Internet bullying, and Marcel Proust, all while creating a vulnerable and unique voice for the sixteen-year-old girl at its center. . . . Ozeki has produced a dazzling and humorous work of literary origami. . . . Nao's voice—funny, profane and deep—is stirring and unforgettable as she ponders the meaning of her life."
—The Seattle Times

"Beautifully written, intensely readable and richly layered . . . one of the best books of the year so far."
—St. Louis Post-Dispatch

"Masterfully woven . . . Entwining Japanese language with WWII history, pop culture with Proust, Zen with quantum mechanics, Ozeki alternates between the voices of two women to produce a spellbinding tale."
—O, The Oprah Magazine

"Forget the proverbial message in a bottle: This Tale fractures clichés as it affirms the lifesaving power of words. . . . As Ozeki explores the ties between reader and writer, she offers a lesson in redemption that reinforces the pricelessness of the here and now."
—Elle

"A powerful yarn of fate and parallel lives."
—Good Housekeeping

"Ozeki weaves together Nao's adolescent yearnings with Ruth's contemplative digressions, adding bits of Zen wisdom, as well as questions about agency, creativity, life, death, and human connections along the way. A Tale for the Time Being is a dreamy, spiritual investigation of how to gracefully meet the waves of time, which, in the end, come for us all."
—The Daily Beast

"As we read Nao's story and the story of Ozeki's reading of it, as we go back and forth between the text and the notes, time expands for us. It opens up onto something resembling narrative eternity . . . page after page, slowly unfolding. And what a beautiful effect that is for a novel to create."
—Alan Cheuse, NPR's All Things Considered

"Superb . . . her best and most adventurous novel to date . . . likely to leave readers feeling its emotional impact for a long time to come."
—BookPage

"Magnificent . . . brings together a Japanese girl's diary and a transplanted American novelist to meditate on everything from bullying to the nature of conscience and the meaning of life. . . . The novel's seamless web of language, metaphor, and meaning can't be disentangled from its powerful emotional impact: These are characters we care for deeply, imparting vital life lessons through the magic of storytelling. A masterpiece, pure and simple."
—Kirkus Reviews (starred review)

"An intriguing, even beautiful narrative remarkable for its unusual but attentively structured plot. . . . We go from one story line to the other, back and forth across the Pacific, but the reader never loses place or interest."
—Booklist (starred review)

"Ozeki's absorbing novel is an extended meditation on writing, time, and people in time. . . . The characters' lives are finely drawn, from Ruth's rustic lifestyle to the Yasutani family's straitened existence after moving from Sunnyvale, California, to Tokyo. Nao's winsome voice contrasts with Ruth's intellectual ponderings to make up a lyrical disquisition on writing's power to transcend time and place. This tale from Ozeki, a Zen Buddhist priest, is sure to please anyone who values a good story broadened with intellectual vigor."
—Publishers Weekly
 
"An extraordinary novel about a courageous young woman, riven by loneliness, by time, and (ultimately) by tsunami. Nao is an inspired narrator and her quest to tell her great grandmother's story, to connect with her past and with the larger world is both aching and true. Ozeki is one of my favorite novelists and here she is at her absolute best—bewitching, intelligent, hilarious, and heartbreaking, often on the same page."
—Junot Díaz, Pulitzer Prize winner and author of This Is How You Lose Her
 
"A beautifully interwoven novel about magic and loss and the incomprehensible threads that connect our lives. I loved it."
—Elizabeth Gilbert, bestselling author of Eat, Pray, Love

"A Tale for the Time Being is a timeless story. Ruth Ozeki beautifully renders not only the devastation of the collision between man and the natural world, but also its often miraculous results."
—Alice Sebold, bestselling author of The Lovely Bones
 
"Ingenious and touching. . . . I read it with great pleasure."
—Philip Pullman, award-winning author of The Golden Compass
 
"One of the most deeply moving and thought-provoking novels I have read in a long time. In precise and luminous prose, Ozeki captures both the sweep and detail of our shared humanity. The result is gripping, fearless, inspiring and true."
—Madeline Miller, author of the Orange Prize winner The Song of Achilles
 
"A Tale for the Time Being is equal parts mystery and meditation. The mystery is a compulsive, gritty page-turner. The meditation—on time and memory, on the oceanic movement of history, on impermanence and uncertainty, but also resilience and bravery—is deep and gorgeous and wise. A completely satisfying, continually surprising, wholly remarkable achievement."
—Karen Joy Fowler, bestselling author of The Jane Austen Book Club
 
"A great achievement, and the work of a writer at the height of her powers. Ruth Ozeki has not only reinvigorated the novel itself, the form, but she's given us the tried and true, deep and essential pleasure of characters we love and who matter."
—Jane Hamilton, bestselling author of A Map of the World
 
"Profoundly original, with authentic, touching characters and grand, encompassing themes, Ruth Ozeki's novel proves that truly great stories—like this one—can both deepen our understanding of self and remind us of our shared humanity."
—Deborah Harkness, bestselling author of A Discovery of Witches and Shadow of Night
 
"I'm late to the Ruth Ozeki party but now I'm dancing hard. A Tale for the Time Being is a confrontational yet tender novel, the narrative makes the reader work and stretch and think about the way they tell their own stories. Each of its facets is perfectly cut—a teenage girl in Japan, a writer in Canada, Buddhism, the oceans, the inheritances we both keep and throw away—and the whole glimmers and glitters. I've given away quite a few copies of a A Tale for the Time Being over this pandemic; I think it creates a moment to laugh or think or just exhale."
—Nadifa Mohamed, author of The Fortune Men

"I've long been an admirer of Ruth Ozeki's work, and her exquisite, richly textured novel, A Tale for the Time Being, marks the stunning return of a writer at the height of her powers. Seamlessly weaving together tales of the past and present that are equally magical and heartbreaking, she transports us to the worlds of Nao and Jiko, in Japan, and Ruth, on a remote island in British Columbia, where their worlds collide as they reach across time to find the meaning of life and home. . . .  A wise and wonderfully inventive story that will resonate through time."
—Gail Tsukiyama, bestselling author of The Samurai's Garden