Wake Me Up in 20 Coconuts! (Hardcover)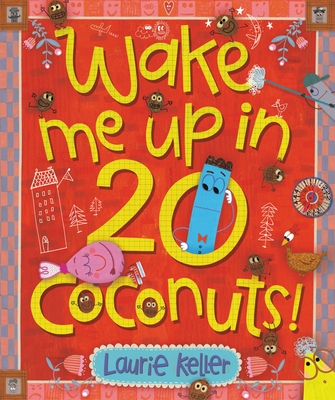 $18.99

Usually Ships Within a Week
Description
---
An irresistible laugh-out-loud picture book about the importance of asking questions, by bestselling creator Laurie Keller. 

The helpful KNOW-IT-ALL in apartment 2C can answer any question. He's such a wealth of information, and all his neighbors depend on him. But one day he is asked a question that he just doesn't understand. How can 2C help his neighbor and also protect his smarty-pants reputation if he doesn't know what the question means? 

This clever story reinforces that it's okay—in fact, it's actually a very good thing—to say "I don't know." Asking questions leads to discovery, understanding, and insight. In her signature humorous and imaginative style, Laurie Keller takes the embarrassment out of admitting that you don't know something and proves how helpful it can be! 
About the Author
---
Laurie Keller is the popular creator of many books for kids, including Potato Pants!; Do Unto Otters; The Scrambled States of America; Open Wide: Tooth School Inside; Arnie the Doughnut; Hello, Arnie!; and three books in The Adventures of Arnie the Doughnut chapter book series: Bowling Alley Bandit, Invasion of the Ufonuts, and The Spinny Icky Showdown. She is also the Geisel Award-winning creator of We Are Growing!. Laurie figured it took her at least 3,762 coconuts to make this book. 
Praise For…
---
Praise for Wake Me Up in 20 Coconuts!:
A CBC Children's Favorite Award Winner

"In her quirky, inventive style, Keller (Potato Pants!) delivers another illuminating tale via a carefully orchestrated jumble of colors, images, and talk bubbles…. Quirky asides abound from end to end of this visually jam-packed picture book, and a full-page close-up of 2C's perplexed face is not soon forgotten."—Publishers Weekly

"Silliness abounds in illustrative details . . . Keller has an automatic audience; but those interested in exploring deeper issues of truth-seeking and the merits of asking for clarity will find as many inroads as readers who simply appreciate her joyful chaos. An instructive and delightfully absurd story from a beloved and reliable picture-book creator."—Booklist

"A romp about saying 'I don't know.' Extremely silly and somewhat chaotic—which means kids will probably love it.... A worthy message wrapped up in a playful romp."—Kirkus Reviews

"The resident of apartment 2C prides himself on being 'the know-it-all neighbor.' When 2B asks 2C to 'wake me up in 20 coconuts,' though, 2C is thrown for a loop…. An encouraging note provides more details on the benefits of owning what we don't know."—Horn Book

Praise and Honors for Laurie Keller:

Recipient of the Theodor Seuss Geisel Award
Junior Library Guild Selections
A New York Times Editor's Pick
Bank Street College Educator Best Book of the Year
Chicago Best of the Best Book
A Booklist Best Book of the Year 
Winner of the Vermont Red Clover Award 
A Pennsylvania Young Readers Choice Award Nominee
A Minnesota Star of the North Picture Book Nominee

"Laurie Keller is a goofball. She's a genius. She's a goofball and a genius."—New York Times Book Review on Arnie the Doughnut

* "Arnie takes destiny into his own hands with vastly entertaining results."—Publishers Weekly on Arnie the Doughnut, starred review

* "A manic tale that's going to be very hard to read without inducing "peels" of laughter . . . Keller constructs an alliteration-rich narrative using plenty of exclamation points and big type in multiple colors to crank the volume up even further. It's potato pandemonium, any way you slice it."—Booklist on Potato Pants!, starred review

"Donut expect this to pass young audiences without causing a sprinkle of giggles."—Kirkus Reviews on Hello, Arnie

"With engaging direct-address elements to encourage participation, this fanciful, gleeful read is sure to entertain, particularly during group story times."—Booklist on Hello, Arnie