The Unlikely Escape of Uriah Heep: A Novel (Paperback)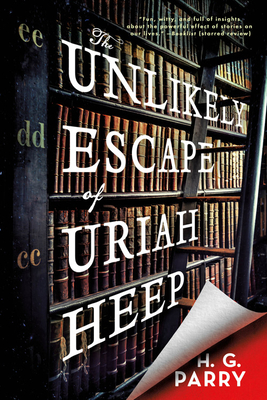 $19.99

Probably On Our Shelves Now! Wait for us to confirm availability.
Staff Reviews
---
This is the closest thing to Harry Pottter for Adults that I've ever come across. It's also a great class in Victorian literature. Magic abounds, famous characters walk through the streets of Wellington, NZ, and great fun is had by all, especially us readers.
Smart, well written, and oh so engaging. Loved it!
— Pete
Description
---
The ultimate book-lovers fantasy, this sparkling debut is a "delight of magic and literature, love and adventure" (Kat Howard) featuring a young scholar with the power to bring literary characters into the world. For his entire life, Charley Sutherland has concealed a magical ability he can't quite control: He can bring characters from books into the real world. But when literary characters start causing trouble throughout the city and threatening to destroy the world, he learns he's not the only one with his ability. Now it's up to Charley and his reluctant older brother, Rob, to stop them―hopefully before they reach The End. Praise for The Unlikely Escape of Uriah Heep:  "A star-studded literary tour and a tangled mystery and a reflection on reading itself; it's a pure delight." ―Alix E. Harrow, Hugo Award-winning author "This beautifully-written novel is an exploration of the power fiction wields -- the power to inform and to change, even to endanger, our everyday world." ―Louisa Morgan, author of A Secret History of Witches "Equal parts sibling rivalry, crackling mystery, and Dickensian battle royale, it'll be one of your most fun reads this year." ―Mike Chen, author of Here and Now and Then
For more from H. G. Parry, check out:

The Shadow Histories
A Declaration of the Rights of Magicians
A Radical Act of Free Magic
About the Author
---
H.G. Parry lives in a book-infested flat in Wellington, New Zealand, which she shares with her sister and two overactive rabbits. She holds a PhD in English Literature from Victoria University of Wellington, and teaches English, Film, and Media Studies. Her short fiction has appeared in Intergalactic Medicine Show, Daily Science Fiction, and small press anthologies. The Unlikely Escape of Uriah Heep is her debut novel.
Praise For…
---
"If you've ever checked the backs of your wardrobe for snow and lamp-light -- if you've ever longed to visit Pemberley House or 221B Baker Street, to battle the Jabberwock or wander through a fictional London fog -- this book belongs to you. It's a star-studded literary tour and a tangled mystery and a reflection on reading itself; it's a pure delight."—Alix E. Harrow, bestselling author of The Ten Thousand Doors of January

"Many have tried and some have succeeded in writing mashups with famed literary characters, but Parry knocks it out of the park... Just plain wonderful."—Kirkus (starred review)

"Fun, witty, and full of insights about the powerful effect of stories on our lives, this book is highly recommended. Give it to readers who devoured Jasper Fforde, Jim C. Hines' Libriomancer (2012), and Genevieve Cogman's The Invisible Library (2016), and to readers looking for adventurous fantasy with a soupçon of family drama."—Booklist (starred review)

"A delightful blend of adventure and mystery and marvel, a story in which the fantastical becomes real. This beautifully-written novel is an exploration of the power fiction wields -- the power to inform and to change, even to endanger, our everyday world."—Louisa Morgan, author of A Secret History of Witches

"Part mystery, all magical, The Unlikely Escape of Uriah Heep is both amusing and perceptive; the novel entertains as it reminds us of the power of words and how fiction can influence real life."—Locus

"H.G. Parry's ambitious debut novel is a delight of magic and literature, love and adventure. With vibrant characters and a passion for story that shines through every word, this engaging read establishes Parry as a writer to watch."—Kat Howard, author of An Unkindness of Ghosts

"A daring exploration of the worlds within words. Parry writes with the keen insight of Sherlock Holmes, the generous heart of David Copperfield, and the haunting soul of Dorian Grey."—Jordanna Max Brodsky, author of The Wolf in the Whale

"A joyous adventure through all the tales you've ever loved. Funny, charming, clever and heartfelt, you're absolutely going to adore The Unlikely Escape of Uriah Heep."—Tasha Suri, author of Empire of Sand

"H.G. Parry has crafted an imaginative and unique exploration of how words shift our lives in ways big and small. The Unlikely Escape of Uriah Heep is a rollicking adventure that thrills like Neil Gaiman's Neverwhere mashed up with Penny Dreadful in the best post-modern way. Equal parts sibling rivalry, crackling mystery, and Dickensian battle royale, it'll be one of your most fun reads this year."—Mike Chen, author of Here and Now and Then

"Clever, emotionally compelling, and teeming with witty allusions. In a story reminiscent of the literary world-bending adventures of Jasper Fforde's Thursday Next, Parry has crafted a tale which will appeal to the cherished dreams-and secret nightmares-of all bibliophiles."—Cass Morris, auctor of From Unseen Fire

"Parry does a lovely dance on and around the stage of Dickens and other classical literature, playing fast and loose with the nature of reality to tell a story about the transformative act of the reading process and the importance of family, both found and not. The Unlikely Escape of Uriah Heep is dead clever and enormously satisfying."—Vivian Shaw, author of Strange Practice

"Engaging and intelligent, The Unlikely Escape of Uriah Heepkept me turning the pages to discover familiar characters and surprising twists."—Rowenna Miller, author of Torn