Transcription: A Novel (Large Print / Hardcover)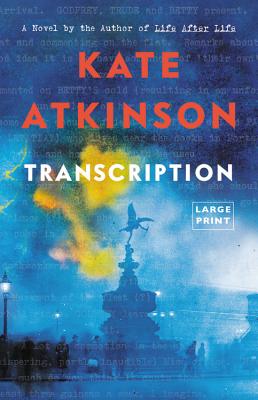 $42.00

Usually Ships Within a Week
Staff Reviews
---
I love Kate Atkinson in the same way I love Ian McEwan. I started this book two days ago and it's so good that I am torn between letting go and racing through it or trying to slow down and savor the writing. Will let you know how it turns out.
— Keebe
October 2018 Indie Next List
---
"In Transcription, Kate Atkinson brings the past of mid-20th-century Britian so thoroughly to life that she almost seems to be reporting rather than inventing. Her details are so rich and her hand so certain that, as readers, we are there — we are walking those streets, sitting in those smoky rooms. And, most of all, we are completely caught up in the emotional power of the tensions and fears of that past. With Juliet Armstrong, Atkinson has given us a remarkable addition to the canon of British spies."
— Michael Barnard, Rakestraw Books, Danville, CA
Description
---
A dramatic story of WWII espionage, betrayal, and loyalty, by the #1 bestselling author of Life After Life

In 1940, eighteen-year old Juliet Armstrong is reluctantly recruited into the world of espionage. Sent to an obscure department of MI5 tasked with monitoring the comings and goings of British Fascist sympathizers, she discovers the work to be by turns both tedious and terrifying. But after the war has ended, she presumes the events of those years have been relegated to the past forever.

Ten years later, now a radio producer at the BBC, Juliet is unexpectedly confronted by figures from her past. A different war is being fought now, on a different battleground, but Juliet finds herself once more under threat. A bill of reckoning is due, and she finally begins to realize that there is no action without consequence.

Transcription is a work of rare depth and texture, a bravura modern novel of extraordinary power, wit, and empathy. It is a triumphant work of fiction from one of the best writers of our time.
About the Author
---
Kate Atkinson's first novel, Behind the Scenes at the Museum, was named England's Whitbread Book of the Year in 1996. Since then, she has written eleven more ground-breaking, bestselling books. She lives in Edinburgh, Scotland.
Praise For…
---
"Endlessly devious... Atkinson loves her research, but she doesn't need much help concocting original stories that resemble no one else's and take the breath away. Even her literary allusions sparkle."—Janet Maslin, New York Times

"[Atkinson] occupies that rare cultural sweet spot wherein she scoops up awards for artistic excellence while also reliably hitting the best-seller lists. In her best work-a category in which her latest, "Transcription," certainly belongs-she maneuvers the tropes of the murder-mystery genre, of historical fiction, and of privileged white Britishness into a kind of critical salvage of women's work, women's lives..."—New Yorker

"Although engrossing from beginning to end, "Transcription" starts at a measured pace, with the tandem narratives only gradually gaining velocity. But when they are finally in sync and operating at peak capacity, the result is exhilarating...Transcription" is another triumph for Atkinson - suspenseful, moving, insightful and original."—The San Francisco Chronicle

"Atkinson is brilliant. Her characters are brilliant. Her command of the back-and-forth narrative, the un-fixedness of memory, the weight that guilt accrues over time and how we carry it is remarkable."—NPR.org

"In her novel's complex web of fiction and fact, copies and originals, Atkinson shows that transcription can take us closer to the truth."—Financial Times

"Atkinson's style is singular and delightful. No matter the genre, Atkinson displays more wit and word play, more delight in the fecundity of the English language, than just about any contemporary novelist."—The Boston Globe

"Kate Atkinson has carved out a niche as a stylistic interloper, elevating seemingly grimy crime fiction with her mordant wit and skipping from family sagas to speculative fiction. She returns to radiant form with her latest, Transcription, a deceptively subversive spy novel..."—Vogue

"Atkinson's writing is, as always, heaven to read... Atkinson has that gift, throughout her detective novels (the splendid Jackson Brodie series) and her recent wartime fiction -- she's both telling us a story and pulling back the curtain just a bit, showing us how she tells the story, how she builds this delicate house of cards. It's mesmerizing, from every angle."—Seattle Times

"Transcription is historical fiction at its best. Atkinson enjoys her research and uses it creatively to charm and inform her readers. She's not a pedant, but an accomplished storyteller with history as her background."—Dallas Morning News

"A sharp, witty espionage tale from best-seller and true lieterary master Kate Aktinson...It's thrilling and darkly funny."—Marie Claire

"The acclaimed author of Life After Life, Atkinson brings her trademark shar, insightful writing to this fascinating tale of intrigue."—Good Housekeeping

"This is intelligent historical fiction that entertains with great wit"—Christian Science Monitor

"So what is this extraordinarily entertaining novel really about? A great part of its genius is the way it can't be summarized. It materializes out of foreshadowings, reverberations, revisions and transformations. There has never really been a timeline in Ms. Atkinson's novels, but rather a timescape, a realm in which everything exists at once in potentiality and only gradually emerges as a story that is as much quandary as plot. And, indeed, Ms. Atkinson's buoyant wit and cheerful irony make the misfortunes in these lives, including Juliet's, not tragedies but kind-hearted lessons in the human condition."—Wall Street Journal

"Atkinson offers up an intriguing thriller about a woman whose past - tracking the movements of British Fascist sympathizers in WWII - comes back to haunt her"—Entertainment Weekly

"There is intrigue. There are surprises. But the unknowns aren't always what we think they are. The deepest pleasure here, though, is the author's language. As ever, Atkinson is sharp, precise, and funny . . . Another beautifully crafted book from an author of great intelligence and empathy."—Kirkus, Starred Review

"Atkinson never fails to take us beyond an individual's circumstances to the achingly human, often-contradictory impulses within. And, as all of Atkinson's readers know, she is an exquisite writer of prose, using language with startling precision whether she is plumbing an inner life, describing events of appalling violence, or displaying her characters' wonderfully acerbic wit. Evoking such different but equally memorable works as Graham Greene's The Human Factor (1978) and Margaret Drabble's The Middle Ground (1980), this is a wonderful novel about making choices, failing to make them, and living, with some degree of grace, the lives our choices determine for us."—Booklist, Starred Review

PRAISE FOR A GOD IN RUINS:

"Atkinson isn't just telling a story: she's deconstructing, taking apart the notion of how we believe stories are told. Using narrative tricks that range from the subtlest sleight of hand to direct address, she makes us feel the power of storytelling not as an intellectual conceit, but as a punch in the gut."—Publishers Weekly

"Only as the book unfolds is each character more fully revealed. Ms. Atkinson's artistry in making this happen is marvelously delicate and varied."—Janet Maslin, New York Times

"If you loved Atkinson's Life After Life, you're in luck. If you're one of the, say, five people who didn't read it: You're still in luck--Atkinson is a master at the top of her game. A quiet, moving portrait of a guy navigating life's small pleasures and painful failures."—Marie Claire

"Gorgeous, thought-provoking...once again, Atkinson explores the concept of paths not taken versus those that are. Her hero's journey has its trials...but also joys and deep love. Quiet, humble Teddy is easy to root for. At the end of this tender story (a weeper, by the way), you won't want to let him go."—Good Housekeeping

A "dazzling novel."—People

"A sprawling, unapologetically ambitious saga that tells the story of postwar Britain through the microcosm of a single family, and you remember what a big, old-school novel can do."—Tom Perotta, New York Times Book Review

"Atkinson's genre-bending novels have garnered critical praise, but nothing on the order of a Rushdie, or even an Ian McEwan. A God in Ruins should change that."—Amy Gentry, The Chicago Tribune

"Atkinson writes the way LeBron dunks or Stephen Hawking theorizes; she can't help but be brilliant."
—Leah Greenblatt, Entertainment Weekly

"a staggeringly gorgeous book, offering through the story of one small, good, imperfect life, the chance to grieve and cherish so many more."—Ellis Avery, Boston Globe

"A novel that takes its place in the line of powerful works about young men and war, stretching from Stephen Crane's Red Badge of Courage to Kevin Powers's The Yellow Birds and Ben Fountain's Billy Lynn's Long Halftime Walk."—Maureen Corrigan, The Washington Post

"As finely crafted as Life After Life...Having spun one great novel out of second, third and 50th chances, she's spun another out of the fact that in reality, we get only one."—Lev Grossman, Time

"Nothing short of a masterpiece. Elegantly structured and beautifully told, it recounts the story of Teddy Todd, the brother of the protagonist of Atkinson's 2013 novel, Life After Life, in his attempt to live a 'good, quiet life' in the 20th century. Characteristically perceptive and poignant, like its predecessor it also gives a vivid and often thrilling account of life during the second world war--seen this time from the air rather than the streets of London."
—Paula Hawkins, Author of The Girl on the Train

PRAISE FOR LIFE AFTER LIFE:

"Kate Atkinson is a marvel. There aren't enough breathless adjectives to describe LIFE AFTER LIFE: Dazzling, witty, moving, joyful, mournful, profound. Wildly inventive, deeply felt. Hilarious. Humane. Simply put: It's one of the best novels I've read this century."—Gillian Flynn, author of Gone Girl