Night Angel Nemesis (The Kylar Chronicles #1) (Hardcover)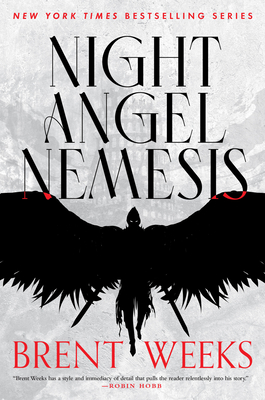 $30.00

Usually Ships Within a Week
Description
---
The incredible return to the New York Times bestselling world of the Night Angel, where master assassin Kylar Stern embarks on a new adventure as the High King Logan Gyre calls on him to save his kingdom and the hope of peace.

"Weeks has been showing other fantasy authors how it's done for over fifteen years." — Peter V. Brett, author of The Desert Prince

"Weeks is a giant of the genre." — Nicholas Eames, author of Kings of the Wyld
After the war that cost him so much, Kylar Stern is broken and alone. He's determined not to kill again, but an impending amnesty will pardon the one murderer he can't let walk free. He promises himself this is the last time. One last hit to tie up the loose ends of his old, lost life.
But Kylar's best — and maybe only — friend, the High King Logan Gyre, needs him. To protect a fragile peace, Logan's new kingdom, and the king's twin sons, he needs Kylar to secure a powerful magical artifact that was unearthed during the war.
With rumors that a ka'kari may be found, adversaries both old and new are on the hunt. And if Kylar has learned anything, it's that ancient magics are better left in the hands of those he can trust.
If he does the job right, he won't need to kill at all. This isn't an assassination — it's a heist.
But some jobs are too hard for an easy conscience, and some enemies are so powerful the only answer lies in the shadows.
"Weeks writes in an inescapably engaging style. Breathlessly high stakes, terrible missteps, and unexpected revelations keep the story humming along at a breakneck pace." — Andrea Stewart, author of The Bone Shard Daughter
For more from Brent Weeks, check out:
The Ka'kari Codex

The Night Angel Trilogy
The Way of ShadowsShadow's Edge
Beyond the Shadows
The Kylar Chronicles
Night Angel NemesisThe Night Angel Trilogy: 10th Anniversary EditionNight Angel: The Complete Trilogy
(omnibus)
Perfect Shadow: A Night Angel NovellaThe Way of Shadows: The Graphic Novel
Lightbringer
The Black PrismThe Blinding KnifeThe Broken EyeThe Blood MirrorThe Burning White
About the Author
---
Brent Weeks was born and raised in Montana. He wrote on bar napkins and lesson plans before landing his dream job years and thousands of pages later. Brent lives in Oregon with his wife, Kristi, and their daughters. Find out more about the author at www.brentweeks.com or on twitter @brentweeks.
Praise For…
---
"Brent Weeks has been showing other fantasy authors how it's done for over fifteen years."—Peter V. Brett, New York Times bestselling author

"Weeks cleverly continues the fantasy saga... Weeks keeps the plot moving, despite the book's length, and makes it easy for newcomers to get engaged in this world. Fantasy fans who like roguish antiheroes will want to check this out."—Publishers Weekly on Night Angel Nemesis

"Weeks is a giant of the genre." —Nicholas Eames

"Weeks writes in an inescapably engaging style. Breathlessly high stakes, terrible missteps, and unexpected revelations keep the story humming along at a breakneck pace."—Andrea Stewart

"Weeks has truly cemented his place among the great epic fantasy writers of our time."—British Fantasy Society

"I was mesmerized from start to finish."—Terry Brooks

"Brent Weeks has a style and immediacy of detail that pulls the reader relentlessly into his story. He doesn't allow you to look away."—Robin Hobb on The Black Prism

"Packed with all of the rich characterization, political intrigue, frenetic action, and clever color-based magic a fantasy lover could ask for, it may even be the best of the lot."—B&N Reads: Best of the Year on The Burning White

"Bestseller Weeks keeps the pot simmering with many secrets revealed and much verbal sparring... Weeks deftly moves the pieces around his chessboard, snapping them with assured feeling onto their new squares in preparation for a climactic confrontation."
—Publishers Weekly on The Blood Mirror

"The fifth and final book in the Lightbringer series, The Burning White is a wholly satisfying read, full of even more plot twists, sacrifice, equally bad choices, epic battles, and much more. This is absolutely one of those books you won't want to stop reading, and it keeps you on the edge of your seat until the last page. Every fantasy fan should read The Burning White as soon as possible."—Powell's Books on The Burning White

"Nobody does breakneck pacing and amazingly executed plot twists like Brent Weeks."—Brian McClellan, author of Promise of Blood on The Black Prism

"His plot feels like an orchestrated chess match between genius grandmasters."—Publishers Weekly on The Broken Eye

"The Blinding Knife was even better than the The Black Prism (and that's saying something!)"—B&N.com on The Blinding Knife

"The Blinding Knife is a wonderful work of high fantasy with engaging characters facing the perfect antagonists, set in a creatively-wrought and increasingly chaotic world brimful of imaginative magic and interesting politics. Weeks holds fast to the traditions of his genre while adding a compelling new flavor."—The Ranting Dragon on The Blinding Knife

"One of the best epic fantasies I've ever read."—Staffer's Book Review on The Blinding Knife

"Weeks manages to ring new tunes on...old bells, letting a deep background slowly reveal its secrets and presenting his characters in a realistically flawed and human way."—Publishers Weekly on The Black Prism