Metropolis: A History of the City, Humankind's Greatest Invention (Hardcover)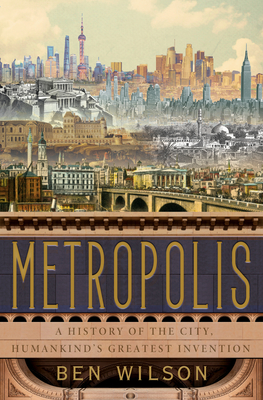 $32.50
Email or call for price.
Description
---
In a captivating tour of cities famous and forgotten, acclaimed historian Ben Wilson tells the glorious, millennia-spanning story how urban living sparked humankind's greatest innovations.
 
"A towering achievement.... Reading this book is like visiting an exhilarating city for the first time—dazzling." —The Wall Street Journal

During the two hundred millennia of humanity's existence, nothing has shaped us more profoundly than the city. From their very beginnings, cities created such a flourishing of human endeavor—new professions, new forms of art, worship and trade—that they kick-started civilization. Guiding us through the centuries, Wilson reveals the innovations nurtured by the inimitable energy of human beings together: civics in the agora of Athens, global trade in ninth-century Baghdad, finance in the coffeehouses of London, domestic comforts in the heart of Amsterdam, peacocking in Belle Époque Paris. In the modern age, the skyscrapers of New York City inspired utopian visions of community design, while the trees of twenty-first-century Seattle and Shanghai point to a sustainable future in the age of climate change. Page-turning, irresistible, and rich with engrossing detail, Metropolis is a brilliant demonstration that the story of human civilization is the story of cities.
About the Author
---
BEN WILSON has an undergraduate and master's degree in history from Cambridge. He is the author of five previous books, including What Price Liberty?, for which he received the Somerset Maugham Award, and the Sunday Times bestseller Empire of the Deep: The Rise and Fall of the British Navy. He has consulted for various TV history programs and appeared on TV and on national radio in the U.S., UK, and Ireland. He has written for The Spectator, The Literary Review, The Independent on Sunday, The Scotsman, Men's Health, The Guardian Online, and GQ.
Praise For…
---
"[A] towering achievement . . . Reading this book is like visiting an exhilarating city for the first time-dazzling, frazzling, sometimes both simultaneously. Metropolis teems with information and observations."
--The Wall Street Journal

"Ben Wilson takes us on an exhilarating tour of more than two dozen cities and thousands of years . . . Metropolis is a bold undertaking that makes for gripping reading."
--The New York Times Book Review

"[An] ode to cities and cosmopolitan life . . . Metropolis has the added virtue of Wilson as
an erudite, creative guide to the history of civilization through its great urban areas."
--TIME magazine

"He explores the growth, diversity and evolution of human civilisation in this enchanting and meandering book."
--The Evening Standard

"[A] sharp reminder that the metropolis is vulnerable... [Wilson] brilliantly synthesises the forces that make cities hum."
--Financial Times

"[Wilson] hops from city to city and century to century, interweaving data, primary sources, anecdotes and the arts. . . Wilson has done an admirable job wrangling his topic down to an easily digestible size."
--Star Tribune

"Historian Wilson (Empire of the Deep) offers a sweeping survey of how the rise of cities over the past 6,000 years has shaped human history. . . An amiable and well-informed tour guide, Wilson stuffs his account with intriguing arcana and analysis. Armchair travelers will be enlightened and entertained."
--Publishers Weekly

"Information rich and accessible. For history and public policy readers seeking a global vision of the impact of world cities."
--Library Journal

"Wilson has mastered a gargantuan sweep of knowledge. . . Wilson's enthusiasm for what ancient and modern cities have done for civilization is infectious, as is his magpie approach to various subjects under discussion . . . impeccably crafted."
--Highbrow Magazine