The Seaplane on Final Approach: A Novel (Hardcover)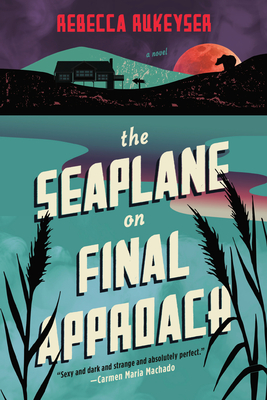 $27.00
Email or call for price.
Description
---
A TIME BEST BOOK OF THE SUMMER • A lusty young woman seeks out experience on a remote Alaskan homestead in this erotic and darkly humorous novel

"Rukeyser weaves a dreamlike spell—'Twin Peaks' by way of 'Northern Exposure.'" —LA Times

"Fantastic." —The New York Times

Mira is a loner, a drop out, an obsessive fascinated by the concept of sleaze. She wants two things: to move to Alaska and find the tattooed fisherman that's the object of her desire. Her single-mindedness takes her to the remote Kodiak Archipelago, where she finds work at a homestead-turned-tourist-lodge offering a carousel of meticulously scripted Alaskan experiences.

But the lodge is failing and, as life on Lavender Island becomes increasingly claustrophobic and strange, Mira's plans for her future become more elaborate and perverse.

Part meditation on unhinged longing, part biting commentary on eco-tourism and the mythology of the American West, and part yearning portrayal of people at the end of their tether, The Seaplane on Final Approach is wholly original, "a perfect blend of deep, dark humor, sadness, and (of course), adolescent horniness (Literary Hub)."
About the Author
---
REBECCA RUKEYSER is the recipient of the inaugural Berlin Senate grant for non-German literature. Her fiction has appeared in such publications as ZYZZYVA, The Massachusetts Review, and The Best American Nonrequired Reading. She earned her M.F.A. from the Iowa Writers' Workshop and teaches fiction writing at Bard College Berlin.




Praise For…
---
A TIME Best Book of the Summer • A Millions Most Anticipated Book of 2022 • A LitHub Most Anticipated Book of the Year • A Goodreads Best Book of June • A Gloss Best Book of June • An Apartment Therapy Best New Book of June • Lithub 35 Novels You Need To Read This Summer • Thrillist 27 Books We Can't Wait To Read This Summer • One of The Week's Best Novels of the Year

"Rebecca Rukeyser weaves a dreamlike spell—'Twin Peaks' by way of 'Northern Exposure.' Give it to someone who wants something weird, in the best way." 
—L.A. Times

"It's very horny and beautiful and I just ripped through it."
—Phoebe Bridgers, Vogue

"The Seaplane at Final Approach is, like all great coming-of-age stories, a perfect blend of deep, dark humor, sadness, and (of course), adolescent horniness. It's also a love letter to the specific wildness of a place—"God's own country," as the proprietor of the Lavender Island Wilderness Lodge tells it. Whether the place belongs to God or something sleazier, in Rukeyser's hands, its strange magic bewitched me."
—Literary Hub

"The Seaplane on Final Approach is a jaunty, perfectly paced and exceptionally well-written coming-of-age story. It is slyly funny, with just the right touch of darkness to take the edge off. [...] the Alaska depicted here – those edgelands where human habitation meets the beginnings of the wilderness – is a landscape of sleaze, and one in which there is only a fine line between the tame and wild."
—Times Literary Supplement

"Disreputably funny...Rebecca Rukeyser's debut is about how desire ruins everything. Mira is an imaginative voyeur: she likes dreaming up, from bed or the lodge's bakery, what people most want to do...When the end comes, it's catastrophic as well as lengthy, gruesome fun."
—The Telegraph (UK)

"[A] quirky, wry debut...[A] deftly juggled mix of mercilessly sharp character judgment and gentle compassion for each person's failings...One for readers who enjoy the current crop of distinctly twisted coming of age tales from female Gen Zers and the sort of dive into dysfunction championed by Ottessa Moshfegh."
—The Times (UK)

"An illuminating and magical coming-of-age story."
—The Daily Mail (UK) 

"An impressive debut."
—The Gloss

"If you never quite thought of Alaska as the center of all things lust-worthy and sexy, Rebecca Rukeyser's debut will have you thinking otherwise."
—Thrillist

"Quite funny...As a coming-of-age novel, The Seaplane on Final Approach stars a complicated and engaging narrator against a well-wrought Alaska background. As it entertains, it also explores human nature and something about what draws people to Alaska."
—Anchorage Daily News

"Fans of the sensuous, droll obscenity of Melissa Broder's The Pisces, exhilarating transgressiveness of Alissa Nutting's Tampa, uncanny sense of unease in Ottessa Moshfegh's Eileen, and claustrophobic domesticity of Lucia Berlin's A Manual for Cleaning Women will find a lot to love in Rebecca Rukeyser's debut novel. Inspired by the author's own experiences working in the Alaskan tourism industry, The Seaplane on Final Approach is a bristling, lusty coming-of-age tale about a sex-obsessed young woman seeking out experience on a remote Alaskan homestead."
—Apartment Therapy

"I didn't realize how much I needed this lusty, funny, heartbreaking book until I devoured it in a single sitting. The Seaplane on Final Approach is a novel set at the edge of the world, about people who belong everywhere and nowhere and the vast, unknowable wilderness of desire. A sharp, flawless debut. Sexy and dark and strange and absolutely perfect."
—Carmen Maria Machado, author of In the Dream House and Her Body & Other Parties

"An age-old story—puppy love meets jaded lust to dance their death spiral inside a young woman's head—told with the shameless authenticity of 2022. I ate it up."  
—Nell Zink, author of Doxology

"Brilliant and possibly the horniest thing I've ever read. But this is Advanced Horniness, the kind that can see the sex in phone book listings, vicarious jealousy, five thousand dollars, and the cold devouring ocean. It's as if Muriel Spark got seasick and dropped molly instead of dramamine."
—Tony Tulathimutte, author of Private Citizens

"The Seaplane on Final Approach is an adventure story about the peculiar fantasies that make up our ideas about adventure in the first place. It is a tender trickster of a novel, told with humor, insight and just the right amount of raunch, and readers will delight in Rukeyser's singular storytelling prowess. Read it now."
—Angela Flournoy, author of The Turner House

"Erotic possibility and inevitable ruin animate the Alaskan wilderness in this astounding debut about the first summer of the rest of your life. The Seaplane on Final Approach perfectly telegraphs the suspended animation of tourist-trap life within an eerie life-changing season, the gravity of which will only be felt decades later. Original and adventurous, horny and hilarious—it's everything I want from a book."
—Rachel Yoder, author of Nightbitch

"Rebecca Rukeyser has crafted a novel that is a kind of anti-coming of age ballad, a celebration of taking the wrong paths in life, the beauty of what mistakes can teach us about ourselves. The Seaplane On Final Approach will bring you to a remote Alaskan island and leave you unsettled, unsure of how to return to the mainland. A debut that will be praised for its darkness and humor, but should be read for its deep sensitivity."
—Jean Kyoung Frazier, author of Pizza Girl

"Every unhappy Alaskan nature resort is unhappy in its own way, as Rebecca Rukeyser demonstrates with irresistible elan in this stunning debut novel. The Seaplane on Final Approach is funny, sensual, elegiac, and phenomenally perceptive. It had me turning pages as I would follow a beautiful forest path frequented by grizzly bears: alert, enthralled, both avid and apprehensive to find what lies beyond the bend. Rukeyser is a wonderfully compassionate and original writer, and this novel is not to be missed."
—Tom Drury, author of Pacific

"A strange, dreamlike coming-of-age story. . . With a delicate touch, the story invites rumination on themes of obsession and fixation, the dichotomous beauty and eeriness of an isolated landscape, and the struggle of locating oneself within a new environment. [With] power and subtlety […] the obviously talented Rukeyser has crafted a vividly beautiful and odd world; the specificity of Lavender Island propels the story here as much as the characters and the plot, and that is thanks to her descriptive and imagistic prose. This darkly compelling novel promises more interesting writing to come from Rukeyser."
—Kirkus

"In her debut novel, Rukeyser invents Lavender Island, a place off the coast of Kodiak Island, Alaska, that can only be reached by boat or seaplane, and where cars don't exist. Into this pristinely rugged, claustrophobic setting she drops Mira, a teenager exiled for the summer to work as a baker at the island's Wilderness Lodge. But what Mira's parents consider a sort of punishment for her own wildness she sees as freedom, a catalyst for even greater escape, preferably with the sleazy-sexy fisherman step-cousin she met a year ago and can't stop thinking about. Through the scrim of Mira's detachment, readers meet lodge owners Stu and Maureen, whose facade as long-married, happy homesteaders crumbles as the novel progresses and Stu's playful affection for Mira's coworker, a teenager herself, reveals itself as something else. Rukeyser's writing is spare and deliberate as, from a murky present, adult Mira looks back on this now-crystallized teenage summer with a kind of awe."
—Booklist

"Rukeyser's assured, elegant prose brings colour and outline to the great outdoors…Her debut novel is part adventure story, party coming of age tale, about a woman on the cusp of adulthood, fully of inchoate longing. If moving a character to a foreign world in order to bring about a transformation is a time-word staple of fiction writers, Rukeyser takes that old trick and flies her reader off to a brave new world." 
—Irish Times

"[A] chimerical yet solemn debut...This novels beautifully written and there is a
strange authenticity to Mira's dilemma: a young woman clinging to the lustful fantasies
of youth, still searching for the true meaning of sleaze."
—New Zealand Listener