The Local: A Legal Thriller (Hardcover)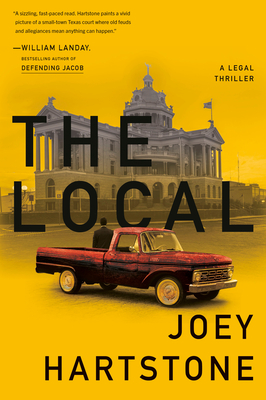 $28.00
Email or call for price.
Staff Reviews
---
Who would ever have thought that a legal thriller about patent law could be so darn good! The small town of Marshall, Texas is the epicenter of patent law in in the U.S. because of one particular judge. Then that judge is murdered and off we go. For local attorney James Euchre the judge was his mentor and why he got into patent law. Now his client is accused of the murder and wants local boy James to defend him but he's never done criminal law, plus he thinks his client is guilty and just wants to punch the man's lights out. His bosses lean on him and he reluctantly takes on the case. As he does his legal best for his client, while still wanting to punch out his lights, James uncovers evidence that maybe his client is innocent. Slowly, the twists and turns becoming more sinuous, the truth comes out and it's worth every page turned. 
— Pete
Description
---
A freewheeling, small-town attorney takes on a national murder trial when an out-of-town client is accused of killing a federal judge in Texas.

"A spectacular courtroom thriller that kept me turning pages like the best of Grisham or Turow." —Michelle King, co-creator of The Good Wife, The Good Fight, and Evil

The town of Marshall, Texas, is the epicenter of intellectual property law in the US—renowned for its speedy trials and massive payouts. One of its best lawyers is James Euchre. His newest client, Amir Zawar, is a CEO forced to defend his life's work against a patent infringement claim. But when a beloved hometown hero is murdered, all signs point to Zawar, an outsider with no alibi. With the help of a former federal prosecutor and a local PI, Euchre hopes to uncover the truth. In his first criminal case, the stakes couldn't be higher. Euchre fears either an innocent man will be sent to death row, or he'll help set a murderer free. The Local is a small-town thriller crackling with courtroom tension right up to the final verdict.
About the Author
---
Joey Hartstone is a film and television writer. He has written two feature films, LBJ (2016) and Shock and Awe (2017), which were both directed by Rob Reiner. He wrote on the first two seasons of the legal drama The Good Fight. He is currently a writer on the Showtime series Your Honor. Joey lives in Los Angeles with his family.


Praise For…
---
"Terrific . . . [Hartstone] writes with verve and affection . . . the characters are vivid and worth rooting for, and the plot is just complicated enough to be interesting without being overwhelming." --The New York Times Book Review

"The finest legal thriller debut since Scott Turow's Presumed Innocent in 1987. . . Do not miss it." --The Daily Mail (U.K.)

"A sizzling, fast-paced read that drew me in and kept me turning pages right to the end. Joey Hartstone paints a vivid picture of a small-town Texas court where old feuds and allegiances mean anything can happen." —William Landay, author of the New York Times bestselling Defending Jacob

"The Local has everything I love in a book. It's a thriller, a whodunit, and a sexy courtroom drama. It's a real page-turner with fascinating characters that takes place in my home state of Texas. Enjoy!" —Woody Harrelson
 
"Unraveling a fraught legal system page-by-gripping-page, The Local is an extraordinary and unforgettable powerhouse of a debut. Hartstone's masterful storytelling and switchblade-sharp wit make for a piercing and wildly entertaining thriller about the fragility of power—and the feverish and cruel desperation of those who wield it. An absolute must-read." —P.J. Vernon, author of Bath Haus

"A spectacular courtroom thriller that kept me turning pages like the best of Grisham or Turow. I loved everything about The Local except for the hours of lost sleep when I couldn't put it down. Let's hope that Joey Hartstone is working on a sequel, because I can't get enough of these characters." —Michelle King, co-creator of The Good Wife, The Good Fight, and Evil

"A compelling and fast-moving novel dealing with the conflict between friendship, family loyalty and duty to the law. Hartstone kept me guessing right till the end." —Lisa Ballantyne, author of The Guilty One

"Joey Hartstone is a consummate storyteller. In The Local, he crafts a razor-sharp thriller reminiscent of the best of Grisham. Filled with simmering tensions, abiding rivalries and the heady atmosphere of small-town Southern America, it's slick, smart and—to my delight—undeniably sexy." —Kia Abdullah, author of Take it Back

"Hartstone, who has written screenplays for film (Shock and Awe) and TV (The Good Fight), displays a sure hand with the pointed adversarial dialogue that fuels legal thrillers. . .A generally impressive first outing from a talented writer." —Kirkus Reviews

"Impressive debut. . .the surprising twists are rendered plausible by Hartstone's mastery of conveying detailed trial strategies. Scott Turow readers should take a look." —Publishers Weekly

"A courtroom thriller with a dazzling cinematic quality, which is not surprising as Hartstone is an accomplished film and television writer. Euchre is a well-defined character, a man of depth, but it's the supporting cast that truly pops off the pages. This is an extremely promising debut, and readers will want more of Hartstone's razor's-edge style. A natural for fans of Grisham and Turow." —Booklist

"The Local is everything a legal thriller should be. A cunningly crafted courtroom drama, with a top drawer cast of characters that drag you headfirst into the action. I finished it in twenty-four hours, and quite literally couldn't put it down. For me, this was reminiscent of the likes of John Grisham at his finest." —Rob Scragg, author of What Falls Between the Cracks

"A fast-paced, well-executed legal thriller on par with anyone writing such fare today (looking at you, John Grisham)."--The News Courier

"In The Local, Joey Hartstone shows us that like everything else, the thrills—and the dangers—are bigger in Texas." —The Big Thrill

"[A] striking debut novel that delves into the legal system, big business, racism and small-town life." —Shelf Awareness

"The Local is a brilliant, cinematic story as big as Texas." --Criminal Element