Kala: A Novel (Hardcover)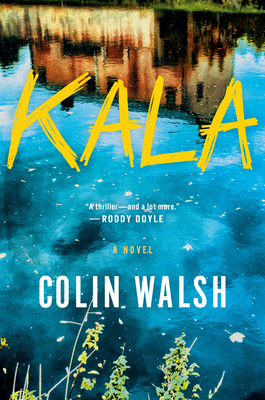 $28.00

Probably On Our Shelves Now! Wait for us to confirm availability.
Staff Reviews
---
What is about Ireland that allows it to churn out author after author with novels that can stand a reader on their head? These authors can take the dullest tropes, stories written over and over again, year in and year out, and make them new again and Kala is a great example. Three friends, half of six that met each other one summer and became best buddies, meet again for the first time in fifteen years. Each is in town for different reasons when bones are discovered at a construction site and determined to be those of one of the six who disappeared that long ago summer. Now secrets bubble forth and each of the three have to come to terms with what happened that summer. What sets this above the usual cliché is the fully rendered characters, each with their own faults, each with their own memories of that fateful summer that don't jive with one another. Then there's the setting itself, a middle class resort town on the coast that becomes a character all its own. So atmospheric, the tension rising page by page, Kala breathes new life into the old and beaten down.
— Pete
August 2023 Indie Next List
---
"Kala is a literary thriller at its best — you are at once consumed with the characters, the place, the mystery. Colin Walsh gives us layer upon layer: past and present; characters, now and then; all of it building suspense and intimacy. Wow."
— Amanda Hall, Kepler's Books, Menlo Park, CA
Description
---
A MOST ANTICIPATED BOOK OF THE YEAR • A gripping literary page-turner from a rising Irish talent in which former friends, estranged for twenty years, reckon with the terrifying events of the summer that changed their lives.

"[A] gritty heartbreaker of a thriller…a spectacular read for Donna Tartt and Tana French fans."—Kirkus


"A master class in building suspense…Walsh manages a deft balance between adolescent angst and ecstasy — discoveries bringing horror, sorrow and joy — and the more deliberate, often elegiac reflections of adulthood, reckoning with the promises of the past."—The Washington Post
In the seaside town of Kinlough, on Ireland's west coast, three old friends are thrown together for the first time in years. They—Helen, Joe, and Mush—were part of an original group of six inseparable teenagers in the summer of 2003, with motherless, reckless Kala Lanann as their group's white-hot center. Soon after that summer's peak, Kala disappeared without a trace.

Now it's fifteen years later: Helen has reluctantly returned to Ireland for her father's wedding; Joe is a world-famous musician, newly back in town; and Mush has never left, too scared to venture beyond the counter of his mother's café.

But human remains have been discovered in the woods. Two more girls have gone missing. And as past and present begin to collide, the estranged friends are forced to confront their own complicity in the events that led to Kala's disappearance.

Against the backdrop of a town suffocating on its own secrets, in a story that builds from a smolder to a stunning climax, Kala brilliantly examines the sometimes brutal costs of belonging, as well as the battle in the human heart between vengeance and forgiveness, despair and redemption.
About the Author
---
COLIN WALSH's short stories have won several awards, including the RTÉ Francis MacManus Short Story Prize and the Hennessy Literary Award. In 2019 he was named Hennessy New Irish Writer of the Year. His writing has been published in The Stinging Fly, The Irish Times and broadcast on RTÉ Radio 1 and BBC Radio 4. Kala is his first novel. He is from Galway and lives in Belgium.
Praise For…
---
ONE OF NPR'S BEST BOOKS OF 2023 AND A MOST ANTICIPATED BOOK OF THE YEAR BY ELECTRIC LITERATURE

"Even after you put the pieces together, you'll want to stay with this powerful meditation of the power of fear and the meaning of bravery."
—NPR

"[A] gritty heartbreaker of a thriller…Part heartfelt coming-of-age tale, part brutal Irish noir, this is a spectacular read for Donna Tartt and Tana French fans."
—Kirkus, starred review

"A master class in building suspense…Walsh manages a deft balance between adolescent angst and ecstasy — discoveries bringing horror, sorrow and joy — and the more deliberate, often elegiac reflections of adulthood, reckoning with the promises of the past."
—The Washington Post
 
"Kala hits its mark: it's a beautiful and taut work of prose."
—Electric Literature

"This is a masterful reworking of the whodunnit, one you'll have immense difficulty putting down…especially enjoyable to read."
–The Irish Times
 
"Now here's a truly ambitious debut novel that purrs with narrative confidence - hugely engaging and thoroughly addictive."
—Kevin Barry, author of Night Boat to Tangier

"Kala is a thriller—and a lot more. It is exciting and cleverly structured, but its great strength is the characters: they are terrific."
—Roddy Doyle, Booker Prize-winning author of Life Without Children

"Colin Walsh's debut novel is, quite simply, amazing. It's dark, thoughtful, gritty and full of suspense. Calling it a page-turner doesn't even begin to describe it. Compelling and addictive might be more like it. Beware, though. KALA contains some rough scenes because it depicts real life, which means including the dirty sides. Frankly, for me, this is the best book of 2023."
—The Book Reporter Network

"Colin Walsh's debut Kala is a heartbreaking story of love and lost youth that is at once tender and absolutely gutting. Psychologically rangy and ultimately riveting, Kala is a book you'll not just read and love, but lend to those you love." 
—Smith Henderson, author of Fourth of July Creek

"A debut novel of skill and fire, Kala crackles with passion as it depicts the urgent bonds of youth and the monsters that emerge when we peer into the past."
—Rob Doyle, author of Threshold

"I was kept awake until the birds were singing. What a story. I was riveted. It captures so much of the essence of the thrill and excitement of teenage summers, the wonderful optimism of youth and first loves, and the ease with which corruption and evil can take hold and thrive. This is a dazzling novel."
—Donal Ryan, author of The Queen of Dirt Island

"The very definition of page-turner, full of big personalities, rapid twists and unpredictable moments, cast both in vivid colour and deepest shadow. I tore through it."
—Lisa McInerney, author of The Rules of Revelation
 
"A sizzling debut of nostalgia and secrets... Comparisons to Donna Tartt's Secret History are justified. Kala is both a genuine page-turner and a profound meditation on memory and how it shapes our lives - how our past selves forever haunt the people we become." 
—The Guardian

"Compelling... Kala is an addictive read, with a pacy denouement - and explosive revelation - that's more than worth the wait."
—The Daily Telegraph

"A vividly spun web of a novel... Walsh's pin-balling language seems to contain within it both the volatile ecstasy of being young, and the precipitous darkness that often accompanies it. A compulsive joy."
—The Daily Mail

"Impressive... Kala heralds an exciting new voice."
—The Observer
 
"The characters unfold beautifully on the page as the plot builds to breakneck speed. A mesmerising debut thriller wrapped in lyrical writing." 
―Woman & Home, Book of the Month

"This shimmering novel teems with tension and is so brilliantly executed it's hard to believe it's a debut." 
―The Bookseller, Editor's Choice