Alone on the Wall (Paperback)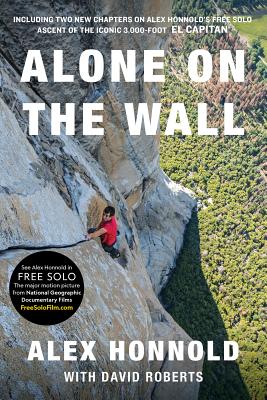 $16.95

Usually Ships Within a Week
Description
---
Including two new chapters on Alex Honnold's free solo ascent of the iconic 3,000-foot El Capitan in Yosemite National Park.
On June 3rd, 2017, Alex Honnold became the first person to free solo Yosemite's El Capitan—to scale the wall without rope, a partner, or any protective gear—completing what was described as "the greatest feat of pure rock climbing in the history of the sport" (National Geographic) and "one of the great athletic feats of any kind, ever" (New York Times). Already one of the most famous adventure athletes in the world, Honnold has now been hailed as "the greatest climber of all time" (Vertical magazine).
Alone on the Wall recounts the most astonishing achievements of Honnold's extraordinary life and career, brimming with lessons on living fearlessly, taking risks, and maintaining focus even in the face of extreme danger. Now Honnold tells, for the first time and in his own words, the story of his 3 hours and 56 minutes on the sheer face of El Cap, which Outside called "the moon landing of free soloing…a generation-defining climb. Bad ass and beyond words…one of the pinnacle sporting moments of all time."
About the Author
---
Alex Honnold is a world-class American rock climber best known for his free solo ascents of big walls.

David Roberts (1943–2021) is the author of thirty books on mountaineering, exploration, and anthropology. His books have won the Boardman Tasker Award for Mountain Literature and the Grand Prize at the Banff Mountain Book Competition.
Praise For…
---
Alex Honnold spends his life cheating death.
— New York Times Magazine

Honnold here recounts his ascents on some of the world's most dangerous rock walls. You'll come away questioning his sanity for choosing this controversial sport…but it's also impossible not to feel awe.
— People

Honnold blows wide open any conventional understanding of the term 'comfort zone.'…He engagingly conveys his love of climbing.
— Barbara J. King - NPR

[Honnold] is the foremost practitioner of the dark art of free solo rock climbing—ascending extremely difficult cliffs hundreds, sometimes thousands, of feet tall without ropes or protection hardware of any kind. That is every bit as stupefying as it sounds.
— Wall Street Journal

Alone on the Wall is set to inspire multitudes [of climbers]. With his off-the-charts abilities and laconic, whip-smart, no-B.S. persona, Honnold has made climbing cool.

— Men's Health

[Honnold's] ability to connect with a larger audience and bring a humble perspective to his many accomplishments makes him a great ambassador to the sport…[R]eading the vivid descriptions captured by Honnold and Roberts will surely cover the book's pages in a fine layer of palm sweat.
— Gripped Magazine