The Apple Lover's Cookbook: Revised and Updated (Hardcover)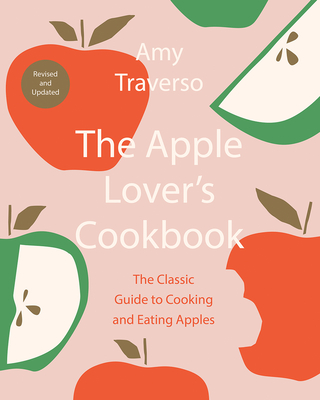 Description
---
Winner of the IACP Cookbook Award (Best American Cookbook)

Finalist for the Julia Child First Book Award



"The perfect apple primer." —Splendid Table
The Apple Lover's Cookbook is more than a recipe book. It's a celebration of apples in all their incredible diversity, as well as an illustrated guide to 70 popular (and rare-but-worth-the-search) apple varieties. Each has its own complete biography with entries for best use, origin, availability, season, appearance, taste, and texture. Amy Traverso organizes these 70 varieties into four categories—firm-tart, tender-tart, firm-sweet, and tender-sweet—and includes a one-page cheat sheet that you can refer to when making any of her recipes.
More than 100 scrumptious, easy-to-make recipes follow, offering the full range from breakfast dishes, appetizers, salads, soups, and entrees all the way to desserts. On the savory side, there's a cider-braised brisket and a recipe for Sweet Potato–Apple Latkes. On the sweet side, Amy serves up crisps, cobblers, pies, and cakes, including Apple-Pear Cobbler, Cider Donut Muffins, and an Apple-Cranberry Slab Pie cut into squares to eat by hand.
As bonuses, The Apple Lover's Cookbook contains detailed notes on how to tell if an apple is fresh and guides to apple festivals, ciders, and products, as well as updated information about the best times and places to buy apples across the United States, making it easy to seek out and visit local orchards, whether you live in Vermont or California.
First published a decade ago, now newly revised and updated, The Apple Lover's Cookbook is your lifetime go-to book for apples.
About the Author
---
A lifelong apple lover, Amy Traverso is the senior food editor at Yankee magazine and cohost of public television's Weekends with Yankee. Previously, she was food editor at Boston magazine and an associate food editor at Sunset magazine. She has appeared on Hallmark Home & Family, The Martha Stewart Show, Throwdown with Bobby Flay, and Gordon Ramsay's Kitchen Nightmares. She lives in Boston, Massachusetts.
Praise For…
---
The book offers a handy in-depth guide to '70 Great Apple Varieties,' including photos, origin, taste and best use, with varieties including Hudson's Golden Gem, Spencer and Winter Banana (yep, that's an apple).
— Nina Gregory - NPR

A book capturing the mysteries and magic that can be revealed when you dive deep into a subject as rich as apples.
— Heidi Swanson, author of Near & Far

What makes this [Mixed Apples Pie] stand out is simply that it uses as many apple varieties as possible. Amy Traverso charts 70 apple varieties in The Apple Lover's Cookbook.

— Genevieve Ko - New York Times

An oft-used resource both at home and at my bakery.
— Joanne Chang, author of Pastry Love

Looking for the perfect tart or sweet apple to snack on or bake with? Traverso created a matrix to organize apples based on the most important variables -- tartness, sweetness and texture -- to pick the perfect apple for every occasion.
— Kelly McCarthy - Good Morning America

Everyone who loves apples will want Amy Traverso's book for her remarkable illustrated primer. And everyone who loves to cook will grab the book for her imaginative and clearly written recipes.
— Dorie Greenspan, author of Everyday Dorie

It's worth investing in this revised edition, with its pertinent information and recipes that will entice readers all year round.
— Stephanie Sendaula - Library Journal