The Ramble Shamble Children (Hardcover)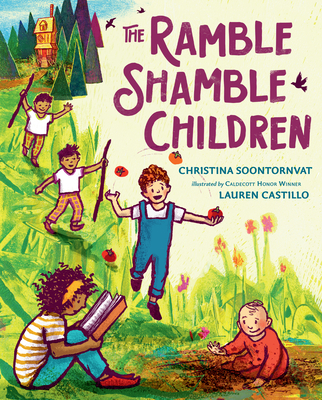 $17.99
Email or call for price.
Staff Reviews
---
Adorable! Uncategorizable! These 5 kiddos love their home, until they decide it should be more "proper." You can read this book like a fable about being yourself or loving your home without judgment. But I think it's perfect as a silly and lovely story about what Ramble Shamble children love - something just for fun!
— Johanna
Description
---
New picture book by a two-time Newbery Honor-winning author!

The delightful story of an unconventional family of kids who learn the ups and downs of working together.

Merra, Locky, Roozle, Finn, and little Jory love their ramble shamble house. It's a lot of work taking care of the garden, the chickens, and themselves, but they all pitch in to make it easier--even Jory, who looks after the mud puddles. When they come across a picture of a "proper" house in a book, they start wondering if their own home is good enough. So they get to work "propering up" the garden, the chickens, and even the mud puddles. But the results aren't exactly what they expected, and when their now-proper household's youngest member goes missing, they realize that their ramble shamble home might be just right for their family, after all.
About the Author
---
Christina Soontornvat is very proud of both her Thai and her Texan roots. She received Newbery Honors for both the middle grade fantasy A Wish in the Dark and All Thirteen, a nonfiction account of the Thai Cave Rescue. She's the author of the fantasy middle grade series The Changelings and the early chapter book series Diary of an Ice Princess. She holds a B.S. in mechanical engineering and a master's degree in science education. She spent a decade working in the science museum field, where she designed programs and exhibits to get kids excited about science. She lives in Austin, Texas with her husband, two young children, and one old cat.

Lauren Castillo studied illustration at the Maryland Institute College of Art and received her MFA from the School of Visual Arts in New York City. She is the author and illustrator of the 2015 Caldecott Honor-winning book Nana in the City, as well as The Troublemaker and Melvin and the Boy. Lauren has also illustrated several critically acclaimed picture books, including Twenty Yawns by Jane Smiley, Yard Sale by Eve Bunting, and City Cat by Kate Banks. She currently draws and dreams in Harrisburg, Pennsylvania.
Praise For…
---
* "Sweet-tempered writing by Soontornvat and affectionate spreads by Caldecott Honoree Castillo make it clear that the ramble shamble house, with no parents in sight, is perfect the way it is. Looking after the garden and the chickens is hard work, but the children are free to make their own decisions, and to change their minds, too. The underlying Pippi Longstocking–style setting—children living and thriving together—could easily sustain further episodes."—Publishers Weekly, starred review

* "No need to 'proper up' anything about this winning title. Soontornvat and Castillo have produced a charming tale of 'ramble shamble' delightfulness. . . . Castillo's illustrations, done with ink drawings digitally combined with Gelli monoprints, radiate light, warmth, and coziness. The story elements are perfectly balanced and the sense of community and family makes this a very satisfying book to share. Children love the idea of living on their own independent of adults and this book celebrates that desire with a masterful blend of illustration and story."—School Library Journal, starred review

* "From [the] first welcoming sentence we know we're in classic picture book territory—words and rhythms that taste just right and the ever-appealing theme of children in charge, with no adults on the scene. . . . [A] comfortable, chaotic, creative world. The joyful energy of this simple story is amplified by glowing pictures showing a multiethnic group of sturdy children against impressionistic, light-infused backgrounds of mountain, meadow, and mud."—Horn Book, starred review

"Charmingly illustrated in Castillo's signature style. . . . Soontornvat's complete lack of exposition, with no explanation of how five diverse children came to live this way, lends the story a classic, old-time–y feel that allows readers to focus on more important things: what it means to contribute to the well-being of others, what makes a family, and what love looks like. Hint: It doesn't look like diamond chandeliers. Readers will surely want to join this sweet family."—Kirkus Reviews

"A fairy-tale-like setting amid remote mountains and trees. . . . The spectacle of young children living independently from adults will fire up young readers' imaginations, and the illustrations, with bold colors and sunshine-filled landscapes, will only fuel that fire."—Booklist