Having and Being Had (Paperback)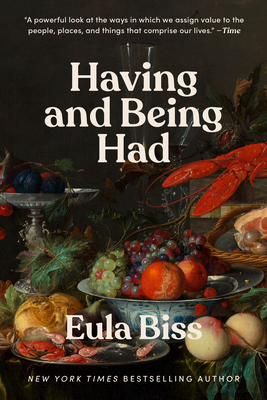 $17.00

Usually Ships Within a Week
Staff Reviews
---
Author (and fantastic McIntyre's customer!) Belle Boggs first recommended this book to me, knowing that it would be just my taste. She was right! This book is a social and economic analysis, but a personal one too. I learned about the history of capitalism as Biss navigates her own understanding of her place in the modern economy, and where she might rather be. It's a unique look at business, finaces, and culture through the lens of a creative.
— Johanna
Description
---
A NEW YORK TIMES EDITORS' CHOICE

NAMED A BEST BOOK OF THE YEAR BY TIME , NPR, INSTYLE, AND GOOD HOUSEKEEPING

"A sensational new book [that] tries to figure out whether it's possible to live an ethical life in a capitalist society. . . . The results are enthralling." —Associated Press 

A timely and arresting new look at affluence by the New York Times bestselling author, "one of the leading lights of the modern American essay." —Financial Times

"My adult life can be divided into two distinct parts," Eula Biss writes, "the time before I owned a washing machine and the time after." Having just purchased her first home, the poet and essayist now embarks on a provocative exploration of the value system she has bought into. Through a series of engaging exchanges—in libraries and laundromats, over barstools and backyard fences—she examines our assumptions about class and property and the ways we internalize the demands of capitalism. Described by the New York Times as a writer who "advances from all sides, like a chess player," Biss offers an uncommonly immersive and deeply revealing new portrait of work and luxury, of accumulation and consumption, of the value of time and how we spend it. Ranging from IKEA to Beyoncé to Pokemon, Biss asks, of both herself and her class, "In what have we invested?"
About the Author
---
Eula Biss is the author of four books, including the New York Times bestseller On Immunity: An Inoculation, which was named one of the 10 Best Books of 2014 by The New York Times Book Review, and Notes from No Man's Land: American Essays, which won the National Book Critics Circle Award for criticism. Her work has appeared in Harper's Magazine, The New York Times, The Believer, and elsewhere, and has been supported by an NEA Literature Fellowship, a Howard Foundation Fellowship, and a Guggenheim Fellowship.
Praise For…
---
Praise for Having and Being Had:

"A sensational book . . . Keenly aware of her privilege as a white, well-educated woman who has benefited from a wide network of family and friends, Biss has written a book that is, in effect, the opposite of capitalism in its willingness to acknowledge that everything she's accomplished rests on the labor of others." —Associated Press

"Sharp and snappy. . . . Having and Being Had picks apart the ethics behind our capitalist society, culminating in a powerful look at the ways in which we assign value to the people, places and things that comprise our lives." —Time

"Incisive, impressive and often poetic . . .The marvel of this book, and of Ms. Biss's prose in general, is the spare and engaging way she interrogates such complex and abstract concepts. With references to Adam Smith and Dire Straits, Karl Marx and Scooby-Doo, she turns what is essentially a chronicle of white guilt and anxious privilege into a thoughtful and nuanced meditation on the compromises inherent in having a comfortable life." —The Wall Street Journal

"A major achievement. Having and Being Had, rather than leading through narrative, turns individual words and phrases, like capitalism, consumers, great America, husbandry, art, and work, into fields of inquiry in order to frame a life. With astute consideration, this expansive and intimate accumulation asks the questions that touch all our lives." —Claudia Rankine, author of Citizen

"Curious, sharp, funny (truly) and full of questions we, as a society, have forgotten how to ask about how we spend, what we buy [and] why we work." —NPR

"Biss has long been drawn to topics that lend themselves to polemic, which she approaches in a spirit that's resolutely unpolemical. Her intellect is omnivorous, roving, and humane. . . . That clarity of purpose is what makes Biss refreshing. . . . Her commitment to her art is complete and unembarrassable." —The Cut

"Having and Being Had delights because of Biss's frankness . . . [Biss] richly peoples Having and Being Had with friends, neighbors, and family, bringing into conversation scholars, theorists, economists, and writers ranging from Emily Dickinson to the late David Graeber. She challenges the reader's ideas of words once thought familiar—leisure, service, investment—and tests the tensions between work, art, and money." —The Rumpus

"If you feel weird about your privilege and role in capitalism, then much of this incisive essay collection will resonate with you. If not, you should read it anyway—perhaps especially then. It takes a hard look at the trappings and impacts of wealth in a way that will make you think about your life, too." —Good Housekeeping

"Eula Biss's prescient new book gave me new language for things I didn't know I felt about money, capitalism, and my place inside of an economy that always requires so much of me and gives back so little. A brilliant, lacerating reexamination of our relationship to what we own and why, and who in turn might own us in ways we didn't know we consented to—what could be more necessary now?" —Alexander Chee, author of How to Write an Autobiographical Novel

"[Biss writes with] confidence, accessibility, and provocation. . . [Her] writing is calm and precise, without flourish, so clear it belies the difficulty of writing prose so crystalline." —Chicago Tribune

"[Biss explores] the candid ways we reveal our own biases around money, class, wealth, property and work. . . . Having and Being Had is a reminder that even discussing our contemporary chaos is an act of awakening and a call to action." —Los Angeles Times

"Excellent . . . Biss is unflinching when broaching [her] often taboo subjects, and approaches them through a personal lens, writing about her own experience with home-ownership, gentrification, marital equality, motherhood, and being a working artist." —Refinery29

"A collection of essays circling elegantly around the object of her study. . . . [that is,] the moments we realize that consumerism has begun to rust our souls." —The New Republic

"Delicious . . . Biss is not only unafraid of taboo, she leans into it. She uses the form of the essay to interrogate, break apart, and complicate something in order to make it fully known and understood. . . . Disarming and effective." —The Washington Independent Review of Books

"With her signature moving and relatable prose, Eula Biss wrestles honestly with the everyday contradictions that accompany the effort to be a good person (and a good artist) in a capitalist world." —ARTnews Magazine 

"Compulsively readable . . . blends research, reflection and richly rendered personal experience. . . . This is a book that asks to be read, absorbed and read again." —BookPage

"[A] strong new meditation on buying and owning in a society as a white woman where some people descend from Americans once considered property themselves. . . . This is an essential book for our out-of-control times." —Lit Hub

"A stylish, meditative inquiry into the function and meaning of twenty-first-century capitalism. . . . Biss doesn't shy away from acknowledging her own privilege, and laces her reflections with unexpected insights and a sharp yet ingratiating sense of humor. . . . this eloquent, well-informed account recasts the everyday world in a sharp new light." —Publishers Weekly
 
"Eula Biss is known for stepping off the plank into turbulent waters that others might fear or avoid, armed with wry wit and a radical lucidity. Having and Being Had continues this journey, offering us a probing tour of capitalism and class that sidesteps posturing and jargon in favor of clarity, humility, and incitement." —Maggie Nelson, author of The Argonauts
 
"No contemporary writer I know explores and confronts her own societal responsibilities better than Eula Biss. In Having and Being Had she unpacks capitalism as a lived practice of a thinking person. She makes you surprised and delighted by the way she extracts complex ideas from mundane situations." —Aleksandar Hemon, author of The Lazarus Project
 
"In this witty, genre-bending book, Eula Biss smashes the taboo against talking about money with exhilarating results. Her investigation ranges from the strictly financial to the broadly philosophical as she accounts for her life with disarming honesty and grace." —Jenny Offill, author of Weather