The Travelers: A Novel (Paperback)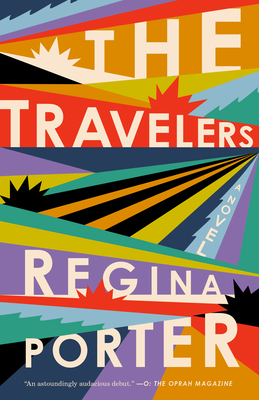 $17.00

Probably On Our Shelves Now! Wait for us to confirm availability.
Staff Reviews
---
What a good book! A mishmash of a geneological chart told in the various voices of the branches relating a fascinating history of the last 50 years or so. Totally engaging, hits real, real high on the unputdownable quotient.
— Pete
Winter 2020 Reading Group Indie Next List
---
"It's hard to believe that this sprawling saga of two American clans and the various branches of their family trees is a debut novel. Stretching from the rural south to Vietnam in the war years to present-day New York and beyond, this is a story in which the characters' lives intersect in fascinating, surprising ways. Regina Porter's writing is beautiful and memorable, and she's structured this book in a manner that feels fresh and almost musical."
— Erika VanDam, RoscoeBooks, Chicago, IL
Description
---
"American history comes to vivid, engaging life in this tale of two interconnected families (one white, one black) that spans from the 1950s to Barack Obama's first year as president. . . . The complex, beautifully drawn characters are unique and indelible."—Entertainment Weekly

"An astoundingly audacious debut."—O: The Oprah Magazine • "A gorgeous generational saga."—New York Post

NAMED ONE OF THE BEST BOOKS OF THE YEAR BY ESQUIRE • FINALIST FOR THE PEN/HEMINGWAY AWARD FOR DEBUT NOVEL

Meet James Samuel Vincent, an affluent Manhattan attorney who shirks his modest Irish American background but hews to his father's meandering ways. James muddles through a topsy-turvy relationship with his son, Rufus, which is further complicated when Rufus marries Claudia Christie.

Claudia's mother—Agnes Miller Christie—is a beautiful African American woman who survives a chance encounter on a Georgia road that propels her into a new life in the Bronx. Soon after, her husband, Eddie Christie, is called to duty on an air craft carrier in Vietnam, where Tom Stoppard's play "Rosencrantz and Guildenstern Are Dead" becomes Eddie's life anchor, as he grapples with mounting racial tensions on the ship and counts the days until he will see Agnes again.

These unforgettable characters' lives intersect with a cast of lovers and friends—the unapologetic black lesbian who finds her groove in 1970s Berlin; a moving man stranded in Portsmouth, New Hampshire, during a Thanksgiving storm; two half-brothers who meet as adults in a crayon factory; and a Coney Island waitress whose Prince Charming is too good to be true.

With piercing humor, exacting dialogue, and a beautiful sense of place, Regina Porter's debut is both an intimate family portrait and a sweeping exploration of what it means to be American today.

Praise for The Travelers

"[A] kaleidoscopic début . . . Porter deftly skips back and forth through the decades, sometimes summarizing a life in a few paragraphs, sometimes spending pages on one conversation. As one character observes, 'We move in circles in this life.'" —The New Yorker

"Porter's electric debut is a sprawling saga that follows two interconnected American families. . . . Readers will certainly be drawn in by Porter's sharp writing and kept hooked by the black-and-white photographs interspersed throughout the book, which give faces to the evocative voices."—Booklist
About the Author
---
Regina Porter is a graduate of the Iowa Writers' Workshop, where she was an Iowa Arts Fellow and recipient of a 2017-2018 Rae Armour West Postgraduate Scholarship. She is also a 2017 Tin House Summer Workshop Scholar. Her fiction has been published in The Harvard Review. An award-winning writer with a background in playwriting, Porter has worked with Playwrights Horizons, the Joseph Papp Theater, New York Stage and Film, the Women's Project, Woolly Mammoth Theatre Company, and Horizon Theatre Company. She has been anthologized in Plays from Woolly Mammoth by Broadway Play Services and Heinemann's Scenes for Women by Women. She has also been profiled in Southern Women Playwrights: New Essays in History and Criticism from the University of Alabama Press. Porter was born in Savannah, Georgia, and lives in Brooklyn.
Praise For…
---
"If you're looking for a poetic, spare, sometimes funny tale of ordinary people pining for meaningful connections—or if you're someone who wishes Raymond Carver had published a novel—you have arrived."—The New York Times Book Review

"In this innovative and deeply moving debut, Regina Porter has mastered the kind of alchemy found in a great painting by Poussin: her canvas is vast, her subject ambitious, yet her execution is so brilliantly devoted to particulars that it creates a miraculous intimacy. The beauty of this book lies in how Porter's characters, through resilience and community, art and creative love, cut new doors out of the corners they've been backed into by history."—Garth Greenwell, author of What Belongs to You

"Porter's fantastic debut novel is a whirl of characters spidering outward through time and space. . . . Beautifully written and intricately plotted."—Kirkus Reviews

"The Travelers is unlike anything I've ever read. Regina Porter masterfully and imaginatively charts the intersecting lives of these characters, revealing how connected we are not only to the ones we love, but also those we encounter in passing—how we form and are formed by one another in ways entirely unknown to us. Each character's perspective is rendered with such intimacy and spirit that it is a jarring pleasure to encounter them again through the eyes of their children or lovers, illuminating just how little we know of the fullness of the inner lives of our loved ones, or of the legacies we inherit."—Fatima Farheen Mirza, author of A Place for Us

"In The Travelers, generations of two families—one black and one white—journey across time, race, geography, and the wounds of history with sweeping breadth and disarming intimacy. Porter's debut signals the arrival of a fully formed, singular talent. You've been wanting to read this book for a long time; it's just that Porter hadn't written it yet."—Ayana Mathis, author of The Twelve Tribes of Hattie

"The Travelers is a great, grand tabernacle of a novel, under the roof of which it seems the entire history of the United States and all its people has been gathered into a single blazing congregation. It is full of tales tall and short, lives black, white, and every shade between, from the north, south, east, and west. None but the biggest-hearted, sharpest-eyed, most generous-spirited of writers could pull off a book like this. Regina Porter is some kind of visionary."—Paul Harding, Pulitzer Prize–winning author of Tinkers

"Regina Porter's The Travelers is not only the compelling intergenerational saga of two intertwining families, but also a deadpan and mordant chronicle of twentieth-century America's casual intolerance and racial violence, as well as a series of portraits of intrepid women, a celebration of family responsibility, and an impassioned reminder that we most honor those we loved by continuing to love others."—Jim Shepard, National Book Award–shortlisted author of Like You'd Understand, Anyway    

"The Travelers is a thrillingly ambitious, deeply affecting event. Regina Porter has a great ear and a capacious heart. Her dialogue presses us to the very souls of her many fabulous and fascinating characters, and her understanding of human emotion makes one want to linger at every step of this grand journey. There is so much offered here—race, history, love, loss, and family, just to name a few—that this debut novel should be considered nothing less than a supreme act of generosity."—Jamel Brinkley, National Book Award–shortlisted author of A Lucky Man