Have You Heard the Nesting Bird? (Paperback)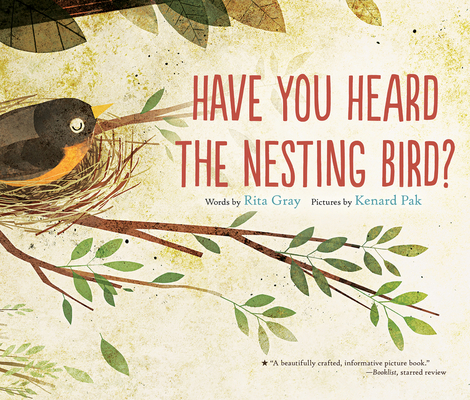 $7.99

Usually Ships Within a Week
Description
---
Woodpecker calls from a tree, "cuk-cuk-cuk." Starling sings, "whistle-ee-wee." But have you heard the nesting bird?
In this book, we hear all the different bird calls in counterpoint to the pervasive quiet of a mama bird waiting for her eggs to hatch. Fun and informative back matter takes the shape of an interview so that readers learn more right from the bird's bill. Ken Pak's lively illustrations, paired with Rita Gray's words, render a visual and sonorous picture book to be enjoyed by young naturalists. Now in paperback.
About the Author
---
Rita Gray is the author of several acclaimed picture books for children. Raised in Southern California, she studied Psychology and Social Work in New York City, where she lives today with her family. During this time, along with knowledgeable teachers, artists and therapists, Rita worked with children and their families. She came to understand that a good book "holds an experience for a child, one that can be visited again and again". Visit her website at www.ritagrayreads.com.


Kenard Pak is originally from Howard County, Maryland. He worked as a visual development artist for DreamWorks Animation, Disney Feature Animation, and Laika Studios before he began illustrating picture books, including Have You Heard the Nesting Bird?, The Dinner That Cooked Itself, The Fog, and Cat Wishes. He has also written and illustrated a seasonal series that began with Goodbye Summer, Hello Autumn. Kenard lives and works in lovely San Francisco with his wife and cats. You can visit his website at pandagun.com.
Praise For…
---
"The pleasing text is well constructed, with rhythm and rhyme altered in different types of stanzas and distinctive birdsongs included in the verse. . . . A beautifully crafted, informative picture book."
—Booklist, starred review "This charming and unusual nature story contributes something new to the overstuffed field of bird-related picture books. . . . As welcome as the robin in springtime."
—Kirkus, starred review "The restraint of the artwork dovetails nicely with the story's themes: caretaking. . . and observation. . . A fine book about watching living things in the wild, and it also serves as a beginning birders' guide, identifying the features and cries of common backyard birds."
—Publishers Weekly "[A] lovely introduction to common neighborhood birds."
—School Library Journal

"With its many birdcalls that invite imitation, the text is enjoyable in its own right, as are the softly texture, earth-toned setting in which children and birds enjoy each other's company."
—Bulletin —