Foundation (Hardcover)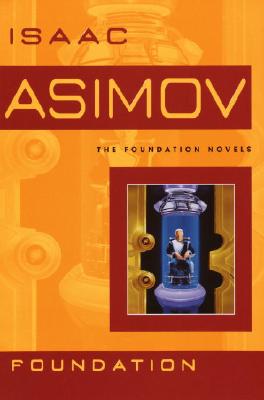 $24.00
Email or call for price.
Other Books in Series
This is book number 1 in the Foundation series.
Description
---
The story of our future begins with the Foundation.

Nominated as one of America's best-loved novels by PBS's The Great American Read

For twelve thousand years the Galactic Empire has ruled supreme. Now it is dying. Only Hari Seldon, creator of the revolutionary science of psychohistory, can see into the future—a dark age of ignorance, barbarism, and warfare that will last thirty thousand years. To preserve knowledge and save humanity, Seldon gathers the best minds in the Empire—both scientists and scholars—and brings them to a bleak planet at the edge of the galaxy to serve as a beacon of hope for future generations. He calls this sanctuary the Foundation.
 
But soon the fledgling Foundation finds itself at the mercy of corrupt warlords rising in the wake of the receding Empire. And mankind's last best hope is faced with an agonizing choice: submit to the barbarians and live as slaves—or take a stand for freedom and risk total destruction.
About the Author
---
Isaac Asimov began his Foundation series at the age of twenty-one, not realizing that it would one day be considered a cornerstone of science fiction. During his legendary career, Asimov penned more than 470 books on subjects ranging from science to Shakespeare to history, though he was most loved for his award-winning science fiction sagas, which include the Robot, Empire, and Foundation series. Named a Grand Master of Science Fiction by the Science Fiction Writers of America, Asimov entertained and educated readers of all ages for close to five decades. He died, at the age of seventy-two, in April 1992.
Praise For…
---
Praise for Isaac Asimov and his Foundation series
 
"A true polymath, a superb rationalist, an exciting and accessible writer in both fiction and nonfiction, Isaac Asimov was simply a master of all he surveyed."—Greg Bear
 
"Asimov served wondrous meals-of-the-mind to a civilization that was starved for clear thinking about the future. To this day, his visions spice our ongoing dinner-table conversation about human destiny."—David Brin
 
"Isaac was still in his teens when I met him, a fan of mine before I was a fan of his. Writing for John W. Campbell back in the famous 'golden age of science fiction,' he became one of the founders of our field. With the Robot stories and the Foundation stories, he helped to shape science fiction as we know it."—Jack Williamson
 
"I grew up on the ABC's of science fiction—Asimov, Bradbury, Clarke. There's a reason Asimov's name comes first, and not just because of the alphabet!"—Janis Ian
 
"With his fertile imagination, his wit, and his prolific output, Isaac Asimov truly laid the foundation for all future generations of science fiction writers."—Kevin J. Anderson
 
"If anything can be said to have been the launch pad for space-age science fiction, it has to be the Foundation trilogy. It's a classic. And it's unforgettable."—Jack McDevitt
 
"The Foundation series is one of the masterpieces of science fiction. If you've never read these novels, then you're in for a treat, and even if you've already read them, then you owe it to yourself to reread them, because they're still great."—Allen Steele
 
"Quite simply, Asimov got me started."—Liz Williams
 
"Asimov's Foundation trilogy was the pivotal touchstone of my life in creative fiction. His vision and scope spanned the galaxy across eons, and at the same time he told deeply personal stories of living characters. The writer I am sprang from the boy that these books touched back then. They continue to move me still. Thank you, Isaac, for opening my mind and my life to the possible."—Tracy Hickman
 
"I'm sure there will be more Foundation stories, and more robot stories, and more science-fictional mysteries, because those are Isaac's legacies to us. But reading them won't be quite the same. There was only one Isaac Asimov; there will never be another."—Mike Resnick