Nightshade: A novel (Paperback)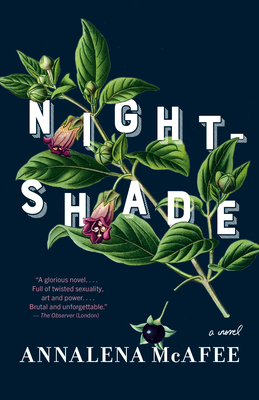 $17.00

On Our Shelves Now. We will contact you when your order is ready. Closed Mon & Tues.
Description
---
A lean, taut novel about an artist—a painter—at the height of her career; about the art world; about love, fidelity, fame, betrayal and the prices paid in the quest for art for art's sake.

Eve Laing, celebrated artist, once the muse of legendary painter and monstre sacré Florian Kiš, is a photorealist painter of flowers at the peak of her career, with her work in international galleries and museums. Now Eve is embarking on her most ambitious work to date—seven enormous, elaborate panels depicting the world's deadliest plants. In psychic preparation, she has taken a wrecking ball to her opulent life, jettisoning her marriage for a beautiful young lover, a drifter half her age, who seems to share her single-minded artistic vision. 
 
As the novel opens, Eve is on a late-night walk through London. Eve makes her way through the city and reflects on her life, the choices she has made, and their repercussions, summoning up her wild art college days in London; her New York years as a tyro artist; her vicious rivalry with her college roommate, now a celebrated figure on the international conceptual art scene. With a growing sense of dread, Eve weighs what's been gained and what's been lost in pursuit of her art as Nightshade moves to its dark, shocking end.
About the Author
---
Annalena McAfee worked in newspapers for more than three decades. She was arts and literary editor of the Financial Times and founded the Guardian Review, which she edited for six years. McAfee is the author of the novels Hame and The Spoiler and lives in Gloucestershire, England, with her husband, the writer Ian McEwan.
Praise For…
---
"Fabulously, uncomfortably observant . . . McAfee's prose is lyrical yet sharp, and her descriptions of both the method and the intricately researched work itself are superbly convincing . . . The novel fascinates . . . Vastly satisfying."
—Joanna Briscoe, The Guardian (UK)
 
"A glorious novel . . . full of twisted sexuality, art and power . . . Brutal and unforgettable."
—Alex Preston, The Observer (UK)

"Brilliant and biting. . . . Nightshade, which tells the story of a botanical artist reckoning with her legacy over the course of a single night, induces sympathy for its viperish protagonist—and then well and truly twists the knife."
—Financial Times (UK)
 
"A magnificent and taut evocation of the passage of time, the meaning of fidelity and trust, and the prices paid in love and friendship in service of one's art, Nightshade is a breathtaking, extraordinary exploration of the cost of art for its own sake."
—Avenue Magazine
 
"Instilling this literary thriller with intimations of menace and death, McAfee follows Eve on a rainy winter evening as her life falls apart. From the posh street outside her former home she watches her "starchitect" husband, Kristof, with his new girlfriend. . . . An immersive depiction of the painting process and an intimate, thought-provoking portrait of the cost of staying true to an artistic vision, especially for a woman."
—Booklist 
 
"Caustically entertaining. . . . A pleasing investigation of the limits of artistic influence."
—Publishers Weekly
 
"Whip-smart. . . . A brilliant character study encased in a gripping plot with a fabulous final twist."
—Kirkus Reviews