Out of Hounds: A Novel ("Sister" Jane #13) (Paperback)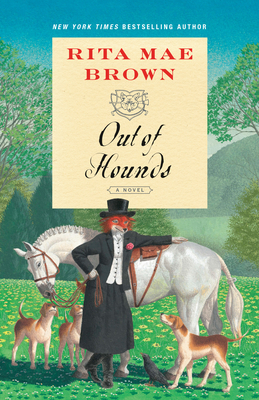 Description
---
"Sister" Jane Arnold and her hounds must sniff out a thief with expensive taste when a string of missing paintings leads to murder in this exciting foxhunting mystery from New York Times bestselling author Rita Mae Brown.

"Cunning foxes, sensible hounds, and sweet-tempered horses are among the sparkling conversationalists in this charming series."—The New York Times Book Review

Spring is peeking through the frost in Virginia, and though the hunting season is coming to a close, the foxes seem determined to put the members of the Jefferson Hunt Club through their paces. Sister and her friends are enjoying some of the best chases they've had all season when the fun is cut short by the theft of Crawford Howard's treasured Sir Alfred Munnings painting of a woman in hunting attire riding sidesaddle. When another painting goes missing five days later—also a Munnings, also of a woman hunting sidesaddle—Sister Jane knows it's no coincidence. Someone is stealing paintings of foxhunters from foxhunters. But why?

Perhaps it's a form of protest against their sport. For the hunt club isn't just under attack from the thief. Mysterious signs have started to appear outside their homes, decrying their way of life. stop foxhunting: a cruel sport reads one that appears outside Crawford's house, not long after his painting goes missing. no hounds barking shows up on the telephone pole outside Sister's driveway. Annoying, but relatively harmless.

Then Delores Buckingham, retired now but once a formidable foxhunter, is strangled to death after her own Munnings sidesaddle painting is stolen. Now Sister's not just up against a thief and a few obnoxious signs—she's on the hunt for a killer.
About the Author
---
Rita Mae Brown is the bestselling author of the Sneaky Pie Brown mysteries; the Sister Jane series; the Runnymede novels, including Six of One and Cakewalk; A Nose for Justice and Murder Unleashed; Rubyfruit Jungle; and In Her Day; as well as many other books. An Emmy-nominated screenwriter and a poet, Brown lives in Afton, Virginia, and is a Master of Foxhounds and the huntsman.
Praise For…
---
Praise for Out of Hounds

"[Sister Jane] and her friends are now in their sixties and early seventies, but they remain as spry as ever, as shown in bestseller [Rita Mae] Brown's stately thirteenth mystery set in Virginia hunt country. . . . Animal lovers and those curious about the elite world of foxhunting will be rewarded."—Publishers Weekly


Praise for the mysteries of Rita Mae Brown

Scarlet Fever

"Genial, smoothly written . . . Series fans will welcome the wealth of detail."—Publishers Weekly

Homeward Hound

"With deep and broad knowledge of the sport, the area and the people and animals who inhabit it, [Brown] infuses Homeward Hound—and the entire series—with unmatched authenticity, Southern charm, beloved characters and engaging storylines."—The Free Lance–Star

Crazy Like a Fox

"Without a doubt, Crazy Like a Fox is [Brown's] best mystery to date . . . and earns top marks for everything from plot to pace to characters."—In & Around Horse Country

Let Sleeping Dogs Lie

"Cunning foxes, sensible hounds and sweet-tempered horses are among the sparkling conversationalists in this charming series."—The New York Times Book Review

Fox Tracks

"[Brown] enlivens a timely tale with . . . amusing accounts of her four-legged creations and delightful descriptions of the central Virginia countryside."—Richmond Times-Dispatch