Shielded: How the Police Became Untouchable (Hardcover)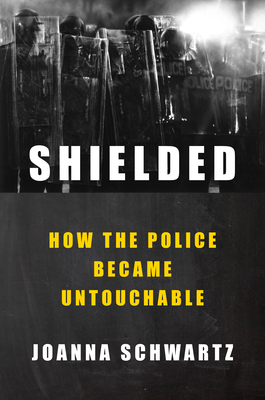 $30.00

Usually Ships Within a Week
Description
---
An urgent and definitive examination of how the legal system prevents accountability for police misconduct, from one of the country's leading scholars on policing

In recent years, the high-profile murders of George Floyd, Breonna Taylor, and so many others have brought much-needed attention to the pervasiveness of police misconduct. Yet it remains nearly impossible to hold police accountable for abuses of power—the decisions of the Supreme Court, state and local governments, and policy makers have, over decades, made the police all but untouchable.

In Shielded, University of California, Los Angeles, law professor Joanna Schwartz exposes the myriad ways in which our legal system protects police at all costs, with insightful analyses about subjects ranging from qualified immunity to no-knock warrants. The product of more than two decades of advocacy and research, Shielded is a timely and necessary investigation into why civil rights litigation so rarely leads to justice or prevents future police misconduct. Weaving powerful true stories of people seeking restitution for violated rights, cutting across race, gender, criminal history, tax bracket, and zip code, Schwartz paints a compelling picture of the human cost of our failing criminal justice system, bringing clarity to a problem that is widely known but little understood. Shielded is a masterful work of immediate and enduring consequence, revealing what tragically familiar calls for "justice" truly entail.
About the Author
---
Joanna Schwartz is a professor of law at UCLA, where she teaches civil procedure and courses on police accountability and public interest lawyering. Her writing, commentary, and research about police misconduct, qualified immunity, indemnification, and local government budgeting have been featured in The New York Times, The Washington Post, The Wall Street Journal, Forbes, Christian Science Monitor, ABC News, NBC News, CBS News, CNN, NPR, and elsewhere.
Praise For…
---
"A rigorous examination of why, most of the time, dirty cops get away with violating their badges. . . . [T]old with passion and eloquence . . . [E]xceptionally lucid and well-argued."
—The Washington Post

"Hopeful."
—The Atlantic

"Schwartz maintains that while the concern that 'public safety will be imperiled by too much oversight' has always accompanied the desire to hold the police accountable, it is now nearly an unquestioned assumption that lawsuits against the police exact too high a price. . . . But this assumption, Schwartz contends, is a myth that has distorted the civil justice system by persuading judges of the need to insulate the police from accountability. 
—New York Review of Books

"[L]ucid, compelling, and powerful . . . Schwartz's book and its subject matter demand our collective attention: we must understand how and why there is so little accountability for police excessive force if we are ever to address it. And make no mistake: we must address it, in our nation, our state, and our cities.
—Los Angeles Review of Books

"Rigorous research, in-depth analysis, and poignant case studies make this a must-read study of an urgent social issue."
—Publishers Weekly, starred review, Top 10 Politics Science/Current Affairs Books of Spring 2023

"Engaging . . . Shielded is a meaningful, well-researched and readable work that will open many discussions about this important social issue."
—Bookpage, starred review
 
"A well-reasoned case for reforms to create a better system of police accountability."
—Kirkus Reviews

"Shielded is truly a must read for anyone who wants to understand why we lack an effective system of legal accountability for police violence and misconduct in our country. By unsparingly sharing the stories of just a few of the innocent victims whose lives have been devastated by police violence, Schwartz reveals how the civil rights legal regime designed to provide recourse to individuals subjected to unwarranted state violence has been disabled by more than a century of restrictive judicial decision-making and lawmaker inaction. Once you understand how we got here, Schwartz's smart, pragmatic proposals for change ring clear and true." 
—Sherrilyn Ifill, former president and director-counsel, NAACP Legal Defense Fund
  
"Through deep research and gripping storytelling, Schwartz reveals a broken legal system in which justice so often remains elusive for those whose lives have been shattered by police violence. Cutting through polemics and misinformation, Shielded is both a searing indictment of our current system and a clear-eyed roadmap for change. This is a profound and indispensable work that will shape the national discussion around police accountability for years to come."  
—Gilbert King, Pulitzer Prize–winning author of Devil in the Grove: Thurgood Marshall, the Groveland Boys, and the Dawn of a New America
  
"Every day brings another example of an abusive police officer avoiding punishment. How exactly do the police keep getting away with it? What are the laws and policies that protect them? And, most crucially, how can we change this system? Full of human stories, detailed data, and powerful arguments, Shielded will answer these urgent questions and should be on the reading list of every legislator, policymaker, and ordinary citizen. We need this book, and we need it now." 
—James Forman Jr., Pulitzer Prize–winning author of Locking Up Our Own: Crime and Punishment in Black America
  
"Through meticulous research and compelling human stories, Shielded reveals how police misconduct impacts everyone, and how our legal system is designed to prevent accountability at every turn. With clarity and purpose, Schwartz takes aim at the profound flaws in how we deal with police violence, showing the ways in which our judiciary is designed to fail the most vulnerable among us—and how another way forward is possible." 
—Kimberlé Crenshaw, cofounder of the African American Policy Forum and #SayHerName campaign
  
"Whatever you believe about the police in the United States, you need to read Shielded. It is eye-opening and cracklingly clear about why it's so hard to hold them accountable when they hurt people—and how to fix that problem. This book is an essential tool for addressing one of the country's most pressing and wrenching problems." 
—Emily Bazelon, author of Charged: The New Movement to Transform American Prosecution and End Mass Incarceration
  
"A magnificent but sobering account of the reality of the many obstacles to holding police accountable in our legal system. The book is compelling in telling human stories about the effects of police misconduct on people's lives and at the same time presenting her original research on how rarely the law succeeds when there is police misconduct. Shielded is a must read for all who care about policing in the United States, which should be all of us."  
—Erwin Chemerinsky, author of Presumed Guilty: How the Supreme Court Empowered the Police and Subverted Civil Rights
  
"A beautifully written and harrowing account of how justice is so often denied to the victims of police abuse. Schwartz shows that the Supreme Court and police department practices have erected so many barriers to accountability that police officers are largely indifferent to lawsuits, victims are only rarely compensated, and abuse continues. A devastating critique that demands our attention."    
—David Cole, national legal director, American Civil Liberties Union