The Force of Such Beauty: A Novel (Hardcover)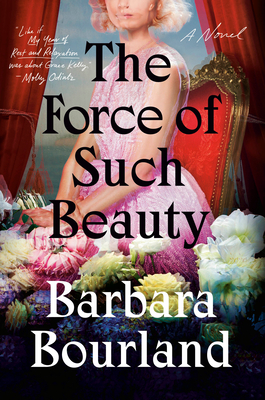 $27.00
Email or call for price.
Description
---
"This is not your grandma's fairy tale… Brilliant." —The Washington Post

"The Force of Such Beauty grips with the strength of an Olympian and holds it with the endurance of a marathoner … [to] an ending that actually caught my breath, not once, but twice in quick succession."—The Associated Press
 
One sunny afternoon in an idyllic kingdom by the sea, a princess named Caroline pretends to sleep. When her keepers strike up a card game, Caroline sneaks into her maid's car, turns the key, and drives right out of the palace. Alone for the first time in years, she gets on the next flight—only to land in the waiting arms of her guards. As she's forcibly escorted back to her marble prison, something in Caroline breaks for good. It's not her first failed attempt, and it won't be her last. Caroline suspects that she'll never escape. But she might find a way to be free.
 
Barbara Bourland's stunning third novel, a phantasmagorical fable of love and marriage, is her most ambitious and inventive book to date. Inspired by the alleged escape attempts of real-life princesses, The Force of Such Beauty is both the story of an idealistic young woman trapped by a corrupt promise, and a deeply moving reminder that power structures around the world ultimately rest on the subjugation of women's bodies.
 
"A fascinating novel about bodies, the way we use them, and the way we break them. It's one of several works to come out this year concerned with the appropriation of female beauty by powerful men, and examines a harsh choice in the lives of women dubbed desirable by the patriarchal state: do you participate, or do you say no?…Bourland is skilled at finding the noir in the everyday, and illustrating the mechanisms of control that keep us in our place."—Crime Reads, Best Books of the Year (So Far)
About the Author
---
Barbara Bourland is the author of two previous novels: I'll Eat When I'm Dead and Fake Like Me, a 2020 Edgar nominee for Best Novel. She lives in Baltimore, Maryland.
Praise For…
---
"It's about time someone took the princess story that's normalized to girls and autopsy it with absolute precision. The Force of Such Beauty opens on the night of Caroline's second attempt at escaping Lucomo, the small European country in which she became a princess. But author Barbara Bourland quickly jumps back in time to reveal every excruciating and exhilarating detail that led to this moment....The Force of Such Beauty grips with the strength of an Olympian and holds it with the endurance of a marathoner. Bourland's passionate storytelling transmogrifies into an insatiable urge to keep reading Caroline's story even after its end — an ending that actually caught my breath, not once, but twice in quick succession."—Associated Press

"This is not your grandma's fairy tale… Influenced by the struggles of real-life princesses, Bourland's brilliant satire skewers the theatrics of power, excessive materialism and economic corruption."—Washington Post

"Sharp, witty, and intellectually intense, Bourland's prose is a force to be reckoned with." —The Chicago Review of Books

"Falling in love with a prince is not a fairy tale, as the protagonist of this engrossing novel discovers. Caroline is a former Olympian-turned-princess of a small European country. Her role becomes more like a trap; her husband, more like a captor. Bourland said she was inspired by real-life royals when writing this novel set in pre-recession Europe."—Today.com

"With trademark style and sophistication Bourland (I'll Eat When I'm Dead, 2017; Fake Like Me, 2019) plays with the tropes of the princess tales, true and not, that we know as well as our own names as she giftedly conjures Caroline's glittering, threatening worlds. Despite danger everywhere, Caroline is the captivating narrator of her own story: a domestic drama, sparkling fairy tale, cautionary tale, and suspenseful mystery all laced into one." —Booklist (STARRED REVIEW)

"Rich in emotion and luscious descriptions, The Force of Such Beauty is a careful dismantling of royalty that leaves readers wondering if any fairy tale is worth our desire." —BookPage

"An immersive depiction of the glittering surface and rotten core of royal living, painted in sumptuous and chilling detail."—Kirkus

"Bourland offers a smart critique of a corrupt world's disenchanting effects on a naive young woman. The result is satisfyingly dark and twisted." —Publishers Weekly

"This is a fascinating novel about bodies, the way we use them, and the way we break them. It's one of several works to come out this year concerned with the appropriation of female beauty by powerful men, and examines a harsh choice in the lives of women dubbed desirable by the patriarchal state: do you participate, or do you say no?...Barbara Bourland is skilled at finding the noir in the everyday, and illustrating the mechanisms of control that keep us in our place." –Molly Odintz, Senior Editor for CrimeReads

"In THE FORCE OF SUCH BEAUTY, Barbara Bourland fractures the familiar tale of 'happily ever after' and reimagines it with spectacular style, vision, and substance. Her novel thoughtfully interrogates the trappings of marriage, status, womanhood, and power, while reading as vividly and compulsively as a thriller." —Jung Yun, author of Shelter and O Beautiful

"The Force of Such Beauty is a dazzling spiderweb, a richly imagined, chilling spin on the girl-meets-prince fairy tale that scrambles notions of power and femininity. With a sense of spellbound dread, we're seduced along with its complicated heroine into a magnetic world of startling beauty and tragic costs."—Lauren Acampora, author of The Paper Wasp

"A fierce spin on the fantasy of marriage that is pacey, propulsive and fun. Its dazzling, detailed and ultimately revolting catalogue of excess and materialism creates a compelling atmosphere of claustrophobia. I love how the fairy-tale setting cleverly draws one's thoughts from the personal implications of a marriage to the wider world of commerce, status and power."—Ros Anderson, author of The Hierarchies

"A wayward girl is made a princess, and then? Luxury turns to boredom, fascination to fear, fame to thralldom, and love to betrayal. Threads of beauty and dread follow our heroine's descent into the gilded lunacy of a royal kingdom that requires a princess to be glamorous, grateful, and quiet. But Caro is no passive princess in a tower; she is smart, incisive, and achingly real. I couldn't put this book down until its explosive, heartrending, thoroughly satisfying ending."—Jennie Melamed, author of Gather the Daughters

"Barbara Bourland's The Force of Such Beauty is like if My Year of Rest and Relaxation was about Grace Kelly."—Molly Odintz, Senior Editor for CrimeReads

"Barbara Bourland's riveting new novel, The Force of Such Beauty, opens with the breathless escape attempt of a modern-day princess named Caroline as she endeavors to leave her marble prison once and for all. In the pages that follow, Bourland traces the path that plunged Caroline into such visceral desperation, revealing how swiftly 'happily ever after' can morph into a cage. What unfurls is a darkly relevant depiction of the ways in which societal power structures hinge upon the subjugation of the female body. Caroline's story submerges the reader in the depths of contemporary royal womanhood and only allows you to surface in those final pages as the tension builds relentlessly to a shocking conclusion…." —The Millions

"'Happy ever after' is not all that it's cracked up to be. Barbara Bourland dismantles the conventional princess story in The Force of Such Beauty to explosively examine the real-life notions of fame, power, and womanhood."—Veranda

"Caroline is a former marathon runner who meets Finn, price of a small European kingdom. Her fate is quickly sealed: The perfect couple marries, and Caroline learns to smile and wave, wear tiaras with ease, and produce children. But as time passes, she starts to question the life she just signed up for." —NY Post

"...a smart, absorbing novel, with a heroine, Caroline, who's naïve but strong-willed. A former Olympic-level marathon runner from South Africa, she's seduced by her lavish life until the fantasy fractures and becomes a nightmare." —AARP

"The Force of Such Beauty by Barbara Bourland has a little something for everyone. Part detective story, part thriller, part fairytale - you're sure to find an aspect that will draw you in. Then, Barbara's page-turning pacing of compelling women's stories will keep you reading until the very end." —The Hasty Book List

"Barbara Bourland's The Force of Such Beauty knocked me out….this one is so imaginative and beautiful and had me gasping at the end." —Leslie Zemeckis, Montecito Journal

"I loved Bourland's previous art thriller novel, the Edgar Award nominated Fake Like Me, and am utterly thrilled for her strange and wonderful-sounding new book." —Angela Lashbrook, Medium

"In The Force of Such Beauty...writer Barbara Bourland critiques the happily ever after in the form of a modern fairy tale: a former Olympian is swept off her feet by a young, European royal and becomes a princess, literally. Though things are not as charming as they seem for the main character, and she soon ends up a "prisoner princess." —Salon

"With how fascinated so many people still are with royals in our contemporary times, The Force of Such Beauty is going to be a must-read for plenty of book clubs." —BookRiot

"Becoming royalty isn't all it's cracked up to be. Inspired by tales of real-life women who married into royal families, only to find their lives strictly controlled, Barbara Bourland's novel follows a former Olympian whose career ends with a single, devastating accident. She meets and falls in love with a charming prince, but she soon discovers the cracks beneath the surface in his tiny, hyper-controlled, glamorous-on-the-surface principality." —LifeSavvy

Praise for Barbara Bourland's novels:

Fake Like Me

One of Cosmopolitan's "Books You Need in Your Life This Summer"

"Bourland has an astonishing ability to write viscerally about art, culture, class, and landscape, for a work that's bound to be one of the summer's biggest crime/literary crossovers."—LitHub

"Layered, complicated, big, bold, and disturbing, like the large-scale oil paintings that are the unnamed protagonist's medium, Bourland has written a one-of-a-kind, modern-day künstlerroman that deserves a place among the genre's all-time best."—The Millions

"Barbara Bourland's art-world thriller is both elegant and visceral... While not strictly noir, Fake Like Me is imbued with the intensity of artistic struggle in a manner that resonates with the high stakes and sharp precipices of classic crime writing."—Crime Reads

In an art world where we're all supposed to be cool and ironic and cynical, it feels good to love a book so fiercely and personally, the way our narrator loves her paintings.—BMore Art

"Fake Like Me is an impressively intelligent thriller ... Expect insightful paragraphs about the creative process sprinkled among the propulsive mystery."— Refinery29, Best Books of June 2019

"Meet 'art satire thriller,' your new favorite genre."—HelloGiggles, 10 Best Books Of June 2019

"Whip-smart."—Thrillist

"Fake Like Me roars with creative impulse... Part thriller, part performance art and wholly revolutionary, Fake Like Me confronts American art culture with female bravado."—BookPage

"Bourland expertly shines a light on the nature of female ambition and desire and the often dark heart of inspiration. Readers fascinated with the blood, sweat, and tears of creating art will be especially rewarded."—Publishers Weekly (Starred Review)

"Menacing, swirling, hypnotic ... A haunting, dizzying meditation on identity and the blurred lines between life and art."—Kirkus (Starred Review)

"Bourland has an uncanny knack for spatial description and relates artwork and every last thing in Pine City—"half Dirty Dancing, half Twin Peaks"—with pristinely observed color and feeling. She also nails the creep factor, and her narrator's high tolerance for it, with foreboding signs that the no-name painter isn't totally welcome there, and that there's more to Carey's story. The deck stacked against her, the narrator tells the glitteringly compelling tale of her fevered summer and wisely reveals meaningful intersections of class, gender, and making art."—Booklist (Starred Review)

"The creative process confronts reality in this compelling literary thriller centering on art, identity, and deception, as told in Bourland's sharp prose. A must for those with an artistic bent, a sheer reading pleasure for all."—Library Journal (Starred Review)


I'll Eat When I'm Dead

"A smart, satirical take on fashion and media that will have readers snorting with laughter."—The New York Post

"A whodunnit with a Devil Wears Prada twist...If you love UnReal, then this smart, sassy novel will be right up your alley."—Refinery29

"A highly polished satire... Hilarious."—Sunday Times

"Barbara Bourland's snarky debut novel manages to tackle the politics of fashion magazines, the pitfalls and pratfalls being a social media influencer, and the true dangers of the pressures put on women for their appearances and the very real threats to their mental and physical health. And yet Bourland walks the line between serious and comedy so deftly that anyone who has read a women's magazine or caught an episode of America's Next Top Model will understand the jokes and the lessons without conflict."—Fortune

"Delectable."—People, May Picks

"The darker side of perfection is cast under the spotlight [in this] black comedy."—Sunday Mirror
 
"A delicious, skewering look at high fashion and Instagram culture (Finnish bread restaurants anyone?) and a murder mystery that has more edge than Karl Lagerfeld ever dreamed of."—Sarra Manning, Red Magazine
 
"Bourland fills her debut with terrific characters—Cat especially is wonderfully weird and well dimensioned—and a heaping helping of froth and gloss that will turn readers into industry insiders. Delightfully, playfully skewering the fashion and beauty industries, this is like The Devil Wears Prada with more feminism, plus murder."—Booklist
 
"Death by beauty was never so much fun."—Kirkus