Steel Fear: A Thriller (The Finn Thrillers #1) (Hardcover)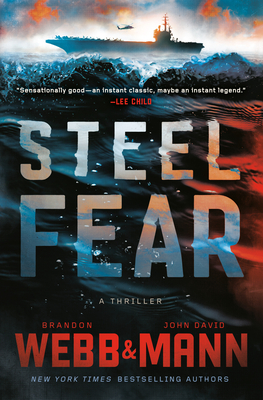 $28.00
Email or call for price.
Other Books in Series
This is book number 1 in the The Finn Thrillers series.
Description
---
An aircraft carrier adrift with a crew the size of a small town. A killer in their midst. And the disgraced Navy SEAL who must track him down . . . The high-octane debut thriller from New York Times bestselling writing team Webb & Mann—combat-decorated Navy SEAL Brandon Webb and award-winning author John David Mann.

A BARRY AWARD NOMINEE • "Sensationally good—an instant classic, maybe an instant legend."—Lee Child
 
The moment Navy SEAL sniper Finn sets foot on the USS Abraham Lincolnto hitch a ride home from the Persian Gulf, it's clear something is deeply wrong. Leadership is weak. Morale is low. And when crew members start disappearing one by one, what at first seems like a random string of suicides soon reveals something far more sinister: There's a serial killer on board. Suspicion falls on Finn, the newcomer to the ship. After all, he's being sent home in disgrace, recalled from the field under the dark cloud of a mission gone horribly wrong. He's also a lone wolf, haunted by gaps in his memory and the elusive sense that something he missed may have contributed to civilian deaths on his last assignment. Finding the killer offers a chance at redemption . . . if he can stay alive long enough to prove it isn't him.
 
NAMED ONE OF THE BEST BOOKS OF THE YEAR BY PUBLISHERS WEEKLY
About the Author
---
Brandon Webb is a combat-decorated Navy SEAL sniper turned entrepreneur who has built two brands into an eight-figure business. As a U.S. Navy chief he was head instructor at the Navy SEAL sniper school, which produced some of America's most legendary snipers.

John David Mann is coauthor of more than thirty books, including four New York Times bestsellers and five national bestsellers. His writing has won multiple awards, including the Living Now Book Awards Evergreen Medal for its "contributions to positive global change."

Webb and Mann have been writing together for a decade, starting with their New York Times bestselling memoir The Red Circle. Their debut novel, Steel Fear, is their seventh book together and the first thriller of many to come.
Praise For…
---
"Sensationally good—an instant classic, maybe an instant legend. Steel Fear takes all the strengths of a traditional thriller and makes them as modern as tomorrow."—#1 New York Times bestselling author Lee Child

"An absolutely amazing thriller! Steel Fear comes in hot and never slows down. Exciting, action-packed, and twisty from stem to stern. This will be one of the hottest books of the summer!"—#1 New York Times bestselling author Brad Thor

"Steel Fear is deadly good, a five-star scorcher from first page to last. The enigmatic and mysterious Finn is the next big thriller superstar."—#1 New York Times bestselling author Robert Crais

"An edge-of-your seat thriller with an original and engaging premise. . . Like speeding down a slalom course, once you get going there's no stopping. This one is not to be missed."—New York Times bestselling author Steve Berry

"Utterly compelling—a pitch-perfect, totally immersive thriller. Brilliant, brilliant, brilliant!"—Philippa East, award-winning author of Little White Lies

"A welcome addition to the world of military thrillers . . . Steel Fear is an excellent beginning."—New York Journal of Books

"A propulsive read . . . Webb and Mann expertly weave a complex and twisted narrative that is thoroughly authentic and chilling."—Mystery & Suspense Magazine

"Steel Fear is a tour de force, and utterly unique. A crucible of character fueled by a breathtaking thriller onboard an aircraft carrier that authors Webb and Mann bring to life with a poetry of meticulous detail."—Dan Pyne, screenwriter and author

"The serial killer thriller takes to the high seas in Steel Fear as an elusive murderer stalks his prey through the steel corridors of a U.S. Navy Nimitz-class aircraft carrier. Lovers of both serial-killer thrillers and military novels will be turning pages late into the night, as former Navy SEAL Brandon Webb and award-winning author John David Mann draw us deeper and deeper into this unique, suspenseful, and authentically detailed game of cat and mouse."—Michael Ledwidge, co-author of 14 bestselling James Patterson novels
 
"The authors effectively integrate former Navy SEAL Webb's military experience into the plot, making every detail ring true."—Publishers Weekly (starred review)

"Former SEAL Webb and coauthor Mann . . . hit all the right notes in their fiction debut, which blends the high-tech trappings of a military thriller with the crushing claustrophobia of a locked-room mystery (if that locked room was home to more than 5,000 people, along with 90 aircraft and a handful of nuclear reactors). Like Lee Child in his Jack Reacher novels, the authors can do more than power a pulse-racing narrative. . . . For readers who can't resist a bureaucracy-battling action hero, there's a new kid on the block (or boat)."—Booklist (starred review)