Brave, Kind, and Grateful: A Daily Gratitude Journal (Paperback)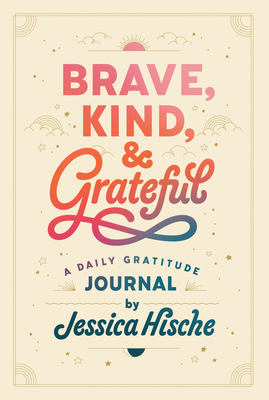 $12.99

Probably On Our Shelves Now! Wait for us to confirm availability.
Description
---
Put bravery, kindness, and creativity into action in this gorgeous gratitude journal by New York Times best-selling author-illustrator Jessica Hische!

Following up Tomorrow I'll Be Brave and Tomorrow I'll Be Kind, New York Times best-selling author Jessica Hische returns with a gratitude journal that asks us to acknowledge our own daily acts of bravery, creativity, and kindness. Complete with thoughtful prompts and exercises, gorgeous illustrations, and intimate essays throughout, Brave, Kind, and Grateful is a tender invitation to explore the many meanings that gratitude can hold.

Praise for Tomorrow I'll Be Brave
"Jessica Hische, one of the great designers and typographers, now shows herself equally adept at creating gorgeous and immersive images for young readers. This is a joyous burst of color."--Dave Eggers, author of Her Right Foot

Praise for Tomorrow I'll Be Kind
"As an introduction to personality characteristics, beneficial behaviors, and social-emotional skills, this is a solid choice, and fans of the previous volume are likely to embrace this one as well. 'I'll dream of all the good that comes / when we all just do our best,' the text explains--a sentiment that's hard to rebut. Gently encourages empathy, compassion, and consideration." -- Kirkus Reviews

"A friendly, undemanding and positive read, ideal for the end of the nighttime routine." -- Wall Street Journal
About the Author
---
Jessica Hische grew up in Pennsylvania. She currently lives in San Francisco, where she works as a letterer, illustrator, type designer, and relentless procrastiworker. Clients include Wes Anderson, Dave Eggers, The New York Times, Tiffany & Co., OXFAM America, McSweeney's, American Express, Target, Victoria's Secret, Chronicle Books, Nike, and Samsung. website: jessicahische.is | twitter: @jessicahische.