Finding Jupiter (Hardcover)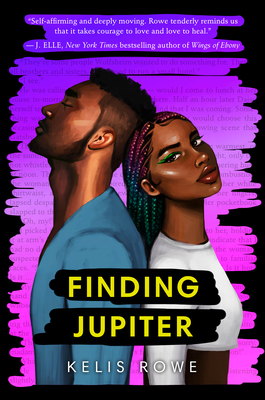 $18.99

Usually Ships Within a Week
Description
---
Sparks fly when Orion and Ray meet for the first time at a roller rink in Memphis. But these star-crossed souls have a past filled with secrets that threaten to tear them apart before their love story even begins. Found poetry, grief, and fate collide in this powerful debut.

Ray: Just once I'd like my birthday to be about me, and not the day my father died. I want to be Ray Jr., the tall girl from Memphis with the poetry beats and the braids that stay poppin'. And when I meet Orion at the skating rink, that's exactly who I am. He pulls my hand, and instead of being defined by my past, he races me toward my future.

Orion: When I dive into the pool, it's just me and my heartbeat. There's no dad, no dead sister, and no distracting noises. But I can't hold my breath forever. And since I met Ray, I don't want to. The closer we get, though, the more I see I'm not the only one caught in her wake.

With a lyrical blend of found poetry and poignant prose and the addition of black and white illustrations, this stunning debut captures young Black love and a decades-old family secret that may shatter a romance that feels written in the stars.
About the Author
---
KELIS ROWE lives and writes out of her home in Austin, Texas, suburbia and spends her summers traveling with her husband and son. During her past life as a market research analyst, Kelis kept her creative juices flowing after-hours as a blogger and YouTuber, which included a two-year stint as one of twenty national Clinique Beauty Brand Insiders and a brief assignment as an Austin Honeybee for Honey Magazine. Kelis grew up in Memphis, where she had her first big love as a teenager. She did not see herself or her big love reflected in the pages of a YA novel at the time and now writes contemporary YA to give Black young people more reflections of themselves and their love to enjoy. Follow her at @KelisRowe on Twitter and Instagram.
Praise For…
---
"Rowe leaves readers with a story that features three- dimensional characters who are beautifully flawed and unerringly honest. A love story that deserves to be told." –Booklist

"Packed with introspective prose, emphatic characters, and undeniable romantic chemistry." –Publishers Weekly

"Rowe strikes the perfect romantic balance, keeping just enough dramatic realism to temper the idyllic sweetness of Ray and Orion's blossoming relationship but still allowing their love to unfold tenderly." -The Bulletin

"Lush and lyrical, Finding Jupiter shows us both the healing and transformative power of love. A galaxy-bright debut." ––Laura Taylor Namey, New York Times bestselling author of A Cuban Girl's Guide To Tea and Tomorrow

"Self-affirming and deeply moving. Rowe tenderly reminds us that it takes courage to love and love to heal." –J. Elle, New York Times bestselling author of Wings of Ebony

"A sparkling debut!" –Liara Tamani, author of All the Things We Never Knew

"A relevant, heartwarming love story for a generation—it will gut you and then put you back together again."  –Kristen R. Lee, author of Required Reading for the Disenfranchised Freshman

"With cinematic storytelling, undeniable chemistry, and a fresh set of authentic characters, this story left me feeling comforted, inspired, and grinning ear to ear." –Joya Goffney, author of Excuse Me While I Ugly Cry