My Life in Black and White (Paperback)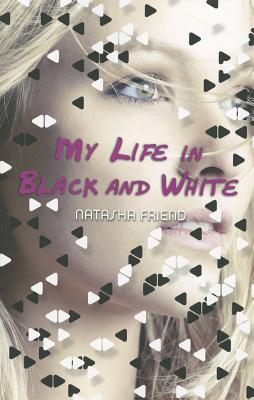 $8.99
Email or call for price.
Description
---
What if you lost the thing that made you who you are?

Lexi has always been stunning. Her butter-colored hair and perfect features have helped her attract friends, a boyfriend, and the attention of a modeling scout. But everything changes the night Lexi's face goes through a windshield. Now she's not sure what's worse: the scars she'll have to live with forever, or what she saw going on between her best friend and her boyfriend right before the accident. With the help of her trombone-playing, defiantly uncool older sister and a guy at school recovering from his own recent trauma, Lexi learns she's much more than just a pretty face.
About the Author
---
Natasha Friend was born to an English professor father and a poet/actress mother. She was raised in a house without a television. At the time, she thought this was the worst form of child abuse. Now, she understands the method to her parents' madness: they wanted her to be a reader. Spending most of her childhood at the Hamilton Public Library, Natasha found her mecca, the young-adult section, and her hero, Judy Blume. She, too, wanted to write stories about girls who felt alone. Girls whose parents were screw-ups. Girls with spunk and spirit and resolve.

Natasha began dictating stories to her father, who typed them up on his 1930's Remington typewriter. Most involved rainbows, unicorns, and poor orphan girls discovering treasure. She knew she was supposed to be a writer in seventh grade, when a sweet boy gave her a love poem and she felt compelled to correct it for syntax and rhyme scheme. Today, Natasha is the award-winning author of Perfect, Lush, Bounce, For Keeps, and My Life in Black and White. When she isn't writing, she is building forts and making chocolate-chip pancakes. Natasha lives on the Connecticut shoreline with her husband, three children, and dog, Beckett.
Praise For…
---
"Authentic dialogue, complex characters and an interesting narration lift this story above others with a similar theme. . . . Lexi's sarcastic wit and genuine emotion make her a girl readers will root for. Artful and satisfying." — Kirkus Reviews

"Lexi's journey is rewarding and powerful. . . . Friend's (For Keeps) character-driven novel is an affecting and insightful portrait of recovery and the experiences that shape an individual." — Publisher's Weekly

"Readers who enjoy satisfying character transformations, such as in Lauren Oliver's Before I Fall, will be rapidly flipping the pages of Friend's well-written and thoughtful novel." — School Library Journal

"This novel is about family, friends, love, and above all, the hard journey to self-acceptance." — Booklist

"My Life in Black and White is a realistic fiction that really has you wondering 'What if this happened to me?'" — Seventeen.com

Amazon.com Best Books of the Month for Kids & Teens: June 2012 — Amazon

Apple's June 2012 Books of the Month List for Children and Teens — Apple

"My Life in Black and White is a satisfying journey of discovery. And, thanks to Natasha Friend's wonderful prose, it's a journey that readers will be glad to take with her." — Bookpage

"A solid and adolescent-appealing premise, and [an] accessibly written story." — The Bulletin of the Center for Children's Books