My Fox Ate My Homework (Paperback)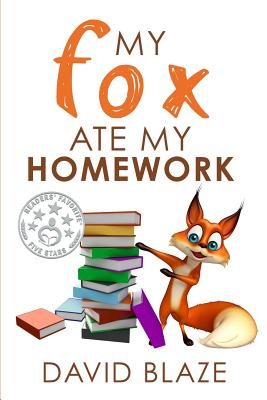 $11.99
Usually Ships in 1-5 Days
This title is a nonreturnable book.
Description
---
Age Level: 8 and up / Grade Level: 3rd and up
A Favorite Birthday Gift and Christmas Gift, Enjoyed By Thousands of Young Readers
My name is Jonah Johnson, and I'm in the 6th grade - but please call me Joe. My whole world just got turned upside down. It's my first day at a new school and I've already got to deal with the bully. If that wasn't bad enough, there's a talking fox that keeps getting me into trouble at my new house in the country. I know it sounds crazy, but it's true To top it all off, I've got to help save my mom's house
Readers' Favorite Children's Book Award Winner
Over 1600 five-star series ratings and reviews on Amazon and Goodreads
"My 8 year old has to read 20 minutes a day as part of her homework. She normally grabs a book with 30 pages. We found this one on Kindle as she's read all her books at least twice. The first night she read two chapters. the second night she read 3 chapters and on and on. She was enjoying it so much that she wasn't concentrated on reading for 20 minutes as much she was interested in finding out more about Fox. The first "chapter" book she actually finished " ★★★★★
My Fox Ate My Homework is a funny fantasy for kids, teachers, librarians and parents. It's an enjoyable story that pulls in even reluctant readers.
What readers are saying about this book:
"I love that fox. I am 7 years old." ★★★★★ "i'm 8 years old and this is now one of my favorite books." ★★★★★ "8 year old 3rd grader did a book report on this. He really enjoyed reading it " ★★★★★ "I purchased it for my 9 year old daughter and she LOVES it " ★★★★★ "My daughter, who is ten years old, reads a book a month and said this was the best book she has ever read." ★★★★★ "My 12 year old is hard to get to read or enjoy reading but finding this book for his school reading logs made him enjoy reading every night " ★★★★★ "We are a 5th grade class and we read this book. Best book in the world." ★★★★★