The Book of Time (Hardcover)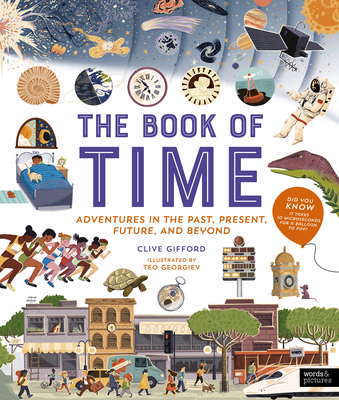 $24.99

Coming Soon - Available for Pre-Order Now
Description
---
Did you know that a zeptosecond is a trillionth of a billionth of a second? Or that the US once had 144 different time zones? Or that across your lifetime, you'll spend about 33 years in bed?

Discover more questions, answers, and theories in this bumper book all about the past, present, future, and beyond! The Book of Time is brimming with fascinating information about the concept of time.

What is time? How does it work? And is it even real? The book uses time as a lens to explore a wide variety of STEAM subjects that kids know and love—such as space, dinosaurs, animals, the human body, and machinery—with a completely fresh perspective.

Through a simple yet fascinating approach, you'll learn about:
The measurements of time
Big and small time
Time-travel
Paradoxes
And lots more mind-boggling things
Cool, graphic illustrations
help convey sometime abstract concepts and make for an
engrossing reading experience.
Children will be able
to
wow and amaze
all their family and friends with
extensive and fascinating
information about time.
Absorbing, entertaining, and surprising,
The Book of Time
will teach kids
to look at the world in a whole new way
.
About the Author
---
Clive Gifford has traveled to more than 70 countries, climbed rocket launch towers, ridden on robots, and flown gliders. He's had more than 200 books published and has received nominations for or won Royal Society, School Library Association, Smithsonian, and TES awards. He won the Blue Peter Book Award for Best Book with Facts 2019 for his title The Colors of History (QEB). Clive lives in Manchester, UK.