Spying on Whales: The Past, Present, and Future of Earth's Most Awesome Creatures (Paperback)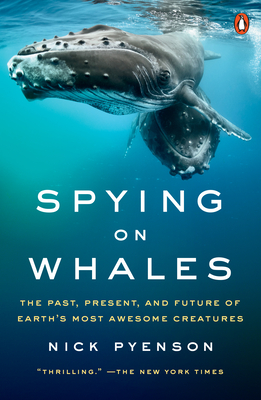 $17.00

Probably On Our Shelves Now! Wait for us to confirm availability.
Staff Reviews
---
If you like easily readable popular science books, then this is for you! Pyenson is keeper of marine fossil at the Smithsonian and he gives us a fascinating insight into the evolution and world of cetaceans.
— Sarah
Description
---
"A palaeontological howdunnit…[Spying on Whales] captures the excitement of…seeking answers to deep questions in cetacean science." —Nature
 
Called "the best of science writing" (Edward O. Wilson) and named a best book by Popular Science, a dive into the secret lives of whales, from their four-legged past to their perilous present.


Whales are among the largest, most intelligent, deepest diving species to have ever lived on our planet. They evolved from land-roaming, dog-sized creatures into animals that move like fish, breathe like us, can grow to 300,000 pounds, live 200 years and travel entire ocean basins. Whales fill us with terror, awe, and affection--yet there is still so much we don't know about them. Why did it take whales over 50 million years to evolve to such big sizes, and how do they eat enough to stay that big? How did their ancestors return from land to the sea--and what can their lives tell us about evolution as a whole? Importantly, in the sweepstakes of human-driven habitat and climate change, will whales survive?

Nick Pyenson's research has given us the answers to some of our biggest questions about whales. He takes us deep inside the Smithsonian's unparalleled fossil collections, to frigid Antarctic waters, and to the arid desert in Chile, where scientists race against time to document the largest fossil whale site ever found. Full of rich storytelling and scientific discovery, Spying on Whales spans the ancient past to an uncertain future--all to better understand the most enigmatic creatures on Earth.
About the Author
---
Nick Pyenson is the curator of fossil marine mammals at the Smithsonian Institution's National Museum of Natural History in Washington, D.C. His work has taken him to every continent, and his scientific discoveries frequently appear in the New York Times, the Washington Post, National Geographic, Los Angeles Times, The Economist, Popular Mechanics, USA Today, on NPR, NBC, CBC, and the BBC. Along with the highest research awards from the Smithsonian, he has also received a Presidential Early Career Award for Scientists and Engineers from the Obama White House. He lives with his family in Maryland.
Praise For…
---
 Praise for Spying on Whales:

"[Pyenson] draws out one of the most fascinating stories in the history of life." —The New Yorker

"A palaeontological howdunnit embedded in a travelogue devoted to chasing living and extinct whales…[Spying on Whales] captures the excitement of suction-cup tagging of humpback whales, and of digs in Panama, seeking answers to deep questions in cetacean science." —Nature

"Spying on Whales represents the best of science writing. The subject is inherently fascinating, the author is an authentic scientist by virtue of his personal research on the subject, and the text reads like the epic it truly is." —Edward O. Wilson, Pulitzer Prize-winner and New York Times bestselling author of The Origin of Creativity and The Meaning of Human Existence

"This is a fantastic book. Nick Pyenson writes with a rare combination of passion, scientific insight, and knowledge of Deep Time. I couldn't put it down." –Sy Montgomery, author of The Soul of an Octopus


"Reading Spying on Whales leaves a strong impression, based on the principles of ecology, evolution, and physiology, that a world including whales seems awesomely improbable.  And, of course, wonderful.  Nick Pyenson guides us through this world, and in the process achieves that rare state of grace for a writer of science—producing prose that is both scientific and beautiful.  This is a moving, informative, evocative book." —Robert Sapolsky, author of Behave

"Spying on Whales is a delight on many levels. It's an introduction to the science of whales, but it's also the odyssey of a scientist—and whether he's tracing the fossil history of whales or describing the dissection of a giant whale heart, Pyenson tells his story with warmth and wit." —Carl Zimmer, author of She Has Her Mother's Laugh

"Knowing whales means following them when they dive out of sight, tracing their evolution through desert fossils, and reading great writers as well as the unpublished journals of dozens of scientists who, little by little, chipped away at vast mysteries. If that doesn't seem easy, it could explain why only one person has done it all. You're holding his fantastic book in your hands. " —Carl Safina, author of Beyond Words: What Animals Think and Feel

"Nick Pyenson's Spying on Whales is both a lucid deep-dive into the natural history of these animals and, more subtly, an artful portrait of our own species' enchantment with them. It's an enthralling book about everything we know and our compulsion to know it. "—Jon Mooallem, author of Wild Ones and American Hippopotamus

"With captivating prose, Nick Pyenson takes us on a scientific tale as big as a blue whale. Give your inner paleontologist a treat and learn what it's like to study the largest animals the world has ever seen." —Jonathan Losos, author of Improbable Destinies

"There are very few creatures that so fully capture our imagination as do whales — and Pyenson proves why they continue to pique scientific and popular curiosity.  Part science, part memoir, and all about whales, Pyenson's fantastic book is a must-read for any science and nature enthusiast." —Lydia Pyne, author of Seven Skeletons

"For the first time anywhere, Nick Pyenson skillfully pieces together the multi-faceted cetacean story—from humble origins among four-legged river-dwellers, to the staggering global diversity of modern whales, and into an uncertain future. Spying on Whales is an engaging tour-de-force that propels you along this journey. " —Scott D. Sampson, author of How to Raise a Wild Child and host, PBS Kids Dinosaur Train
 
"A wondrous read … Pyenson's enthusiasm is contagious." --Bookpage

"Contagiously enthusiastic…. A fascinating and entertaining look at whales and the scientists who study them." —Publishers Weekly

"A hard-to-put-down quest to understand whales and their place on Earth." --Booklist (starred)

"Pyenson sheds light on the mystery of life below the seas without dimming its majesty." --Library Journal (starred)