The Searcher: A Novel (Hardcover)
General Info
McIntyre's Books operating hours are 10am to 5pm Wednesday through Sunday. We are located in Fearrington Village, halfway between Chapel Hill and Pittsboro on US 15-501.
Please note that any and all orders placed on our site are available for in store pick up AND curbside service; we will inform you when your order is ready for pick up.
For those visiting our store in person, we know you will be entering wearing masks as per Governor Cooper's mandate. We are also asking all visitors who are browsing and picking up books to wear gloves which we make available at our entry.
Please call 919.542.3030 if needed. If you reach our answering maching during our open hours, don't fret. Call us back within a minute or two or we will call you back as soon as we can.
We cannot thank you so very much for supporting a local small business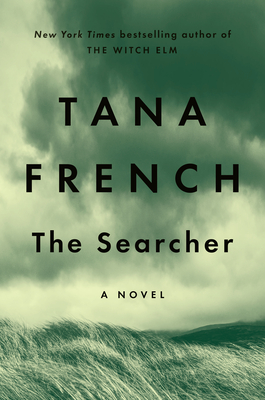 Description
---
Best Book of 2020
New York Times |NPR | New York Post

"This hushed suspense tale about thwarted dreams of escape may be her best one yet . . . Its own kind of masterpiece." --Maureen Corrigan, The Washington Post

"A new Tana French is always cause for celebration . . . Read it once for the plot; read it again for the beauty and subtlety of French's writing." --Sarah Lyall, The New York Times

Cal Hooper thought a fixer-upper in a bucolic Irish village would be the perfect escape. After twenty-five years in the Chicago police force and a bruising divorce, he just wants to build a new life in a pretty spot with a good pub where nothing much happens. But when a local kid whose brother has gone missing arm-twists him into investigating, Cal uncovers layers of darkness beneath his picturesque retreat, and starts to realize that even small towns shelter dangerous secrets.

"One of the greatest crime novelists writing today" (Vox) weaves a masterful, atmospheric tale of suspense, asking how to tell right from wrong in a world where neither is simple, and what we stake on that decision.
About the Author
---
Tana French is the author of seven previous books, including In the Woods, The Likeness, and The Witch Elm. Her novels have sold over three million copies and won numerous awards, including the Edgar, Anthony, Macavity, and Barry awards, the Los Angeles Times Book Prize for Best Mystery/Thriller, and the Irish Book Award for Crime Fiction. She lives in Dublin with her family.
Praise For…
---
One of Fall 2020's Most Anticipated Books
The New York Times | Cosmopolitan | Buzzfeed | Bustle | E! News | Parade | The Washington Post | Vox | Entertainment Weekly | TIME | Vogue | Parade | CrimeReads | The Week | New York Post | The Millions | PopSugar | Kirkus | Publishers Weekly Top 10 

"The west of Ireland looked good to Cal Hooper on the internet. But now that he's living there, the rugged beauty of the region overwhelms him, as it will anyone reading Tana French's The Searcher, an audacious departure for this immensely talented author… Not to be missed." —Janet Maslin, The New York Times

"Tana French is… like a poet. She writes beautifully…If you haven't read her yet, I really highly recommend that you do." —Harlan Coben

"Taut, chiseled and propulsive." —Vogue

"French's writing here is on fire. Eerie and nuanced and spellbinding." —Fresh Air

"French avoids the fireworks of conventional crime fiction, instead taking a classic setup—the lone outsider revealing the dark side of a small town—and imbuing it with simmering menace. There's also an unexpectedly moving friendship and storytelling so atmospheric you can practically smell the peat bogs." —People

"The perfect cold-weather escape…French's writing style is so unhurried and pleasurable…and every page smells and sounds like Ireland. At a time when travel is impossible and we're spending more time at home, staying safe, it's thrilling to be transported to another place entirely, gripped by suspense and a sense of danger as I turn the pages in my cozy lair." —Glamour

"Nuanced and compelling." —The New Yorker

"Thriller mastermind Tana French's . . . work is as consistently thoughtful and thought-provoking as it is entertaining...[In The Searcher] French finds interesting angles and dynamics, and her cast is, as always, wonderfully drawn." —The Los Angeles Times

"Vivid and poetic." —Associated Press

"French takes this standalone novel at a measured pace, easing readers into Cal's quiet life before the thrills unravel."—TIME

"Compelling."—Vox

"The Searcher feels different from French's previous books—there's a sparseness to the setting that contrasts with the bustle of the Dublin Murder Squad, or even the gathered family in The Witch Elm—but is no less addictive; the pages practically turn themselves." —The Seattle Times

"A creepy slow burn that focuses just as much on the central characters' inner lives as on the mystery at the heart of the story . . .packed full of twists, turns, and shocking reveals." —BuzzFeed

"All things atmospheric and mysterious, this one may keep you up past your bedtime." — Cosmopolitan

"A moving new tale of friendship and healing, set in an Irish countryside populated with eccentrics, curmudgeons, and a hilariously weird British woman obsessed with fairies." —CrimeReads

"Evocative and lyrical, The Searcher is a mystery worth reading slowly to savor every perfectly rendered detail." —Bookpage

"It has everything you love–the suspense, the questions, the unraveling of lies…. obsessively fascinating."—Marie Claire

"The queen of crime returns with a thriller about a retired Chicago police officer who discovers the sinister underbelly of a seemingly quaint Irish town." —Entertainment Weekly

"In The Searcher, Tana French stakes out new territory: a rural Irish setting quite different from the urban and suburban Ireland of her previous works, and a central character who is an American . . . The Searcher blends qualities of French's best novels, the first and third of her "Dublin Murder Squad" police procedurals . . ."—Los Angeles Review of Books

"Readers who share her interest in exploring the lives of flawed and compelling characters will find much to love in the atmospheric story of a retired cop who moves to Ireland for relaxation, only to be asked to find a missing teen." – St Louis Post-Dispatch.

"As always, French's prose is spellbinding and lyrical . . . The beautiful imagery combined with the dialect of the earthly, witty characters creates an appealing atmosphere that engages the reader . . ." – The Austin American-Statesman

"Insightful characterizations, even of minor figures, and a devastating reveal help make this a standout. Crime fiction fans won't want to miss this one." —Publishers Weekly, starred review
 
 "A slow-burn stunner that will keep readers turning the pages late into the night. Recommend to the author's legions of fans, as well as those who enjoy crime fiction set in small towns like Julia Keller's or Jane Harper's novels."—Library Journal, starred review
 
"In another stand-alone, French again displays impressive versatility…French skillfully builds suspense…a fine thriller, but also a moving story of an unlikely friendship that grows from refinishing a ramshackle desk to rebuilding two nearly broken lives."—Booklist
 
"Just pre-order and call in sick for a couple days after October 6 when the book comes out."—The Millions
 
"Deliver[s] plenty of twists, shocking revelations, and truly chilling moments."—Kirkus