Too Many Pigs and One Big Bad Wolf: A Counting Story (Hardcover)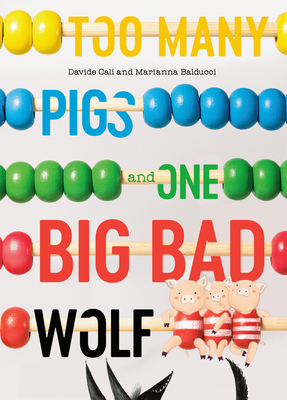 $17.99

Probably On Our Shelves Now! Wait for us to confirm availability.
Description
---
An unseen reader goes head-to-head with the big bad wolf in this hilarious counting-book twist on The Three Little Pigs.

Once upon a time, there were three little pigs.
Then the wolf ate them.
THE END.

This story is too short! I want a longer one!

In this clever counting book, the big bad wolf doesn't want to tell a long story. He wants to get to the eating part. But the reader has other ideas. From a pig soccer team to a pig for every letter of the alphabet to 101 pigs in an animated movie, the stories get more and more fantastical . . . but they're always too short and they ALL end the same way.

Using an abacus as the basis for her illustrations, Marianna creates beguiling little pigs and a menacing but slightly bored wolf that perfectly complement the inventive story by Davide Cali. Come for the counting, stay for the storytelling! This book has it all.
About the Author
---
Swiss-born Italian writer Davide Cali began his career in 1994 as a cartoon writer for the Italian magazine Linus. He began writing children's books in 1998, and since then he has published more than ninety books for children that have been translated into thirty languages. Davide has taught writing and illustration courses in Italy and all over Europe, and he has won numerous prizes for his picture books, which include Great Dog, Cinderella and the Furry Slippers and Snow White and the 77 Dwarfs. Davide lives in Italy and is currently the art director at the storytelling agency Book on a Tree. He does not know any wolves personally.

Marianna Balducci graduated in fashion studies and works as a freelance illustrator for communication projects and children's books. Drawing is a state of life and her favorite way to explore the world. She usually mixes different techniques, especially illustration and photography. She loves surfing the web, catching great ideas and getting to know people and their stories. Marianna lives in Rimini, Italy, with 101 imaginary pigs.

Praise For…
---
One of Bookshop.org's Most Astonishingly Unconventional Books of 2022
One of Imagination Soup's Best Picture Books of 2022

"[A] clever take on metafiction that will appeal to both budding mathematicians and writers. . . . Creative visuals and storytelling make for an absorbing read and a great bridge for both math and writing activities." —STARRED REVIEW, Kirkus Reviews

"[A] brilliantly funny Scheherazadian counting book." —New York Times

"This is the perfect book for young readers looking for a good laugh . . . Better than a read-aloud, this is a read-along, to be acted out, guessed through, or counted out." —School Library Journal

"[W]ritten and illustrated in a clever manner that has been well-thought-out. Cali and Balducci both play a role in making this picture book as laugh-out-loud funny as it is. The story, itself, is a fractured fairy tale, and the inclusion of the narration of a disgruntled reader who is reflective of the real audience's thoughts and attitudes adds that much more humour. . . . Highly recommended." —CM Magazine