The Fruit Hunters: A Story of Nature, Adventure, Commerce, and Obsession (Paperback)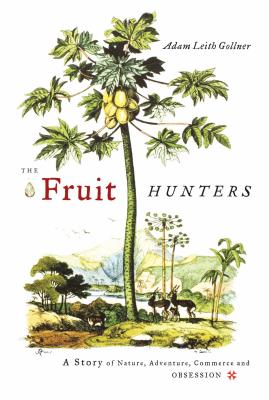 $18.99
Email or call for price.
Description
---
A vivid and unforgettable expedition through the world of exotic fruit, The Fruit Hunters is the engrossing story of some of Earth's most desired foods told by an intrepid journalist and keen observer of nature—both human and botanical.

Delicious, lethal, hallucinogenic and medicinal, fruits have led nations to war, fueled dictatorships and lured people into new worlds. Adam Gollner examines the fruits we eat and explains why we eat them (the scientific, economic and aesthetic reasons); traces the life of mass-produced fruits (how they are created, grown and marketed) and explores the underworld of fruits that are inaccessible, ignored and even forbidden in the Western world. Peopled with a cast of characters as varied and bizarre as the fruit it discusses—smugglers, inventors, explorers and epicures—this extraordinary book can "fill a thousand and one summer nights with delightful reading" (The Miami Herald ).
About the Author
---
Adam Leith Gollner has written for The New York Times, The Wall Street Journal, the Guardian, the Globe and Mail, and Lucky Peach. The former editor of Vice Magazine, his first book is The Fruit Hunters. He lives in Montreal.
Praise For…
---
"This is a fascinating chronicle of strange and wonderful food….Written with verve and ripe with detail, Gollner is certain to do for rare fruit what Susan Orlean did for rare orchids."



"Fascinating, sexy, dangerous and tasty."



"You'll delight in Gollner's globe-trotting adventures seeking exotic produce."



"From the first page, exotic facts about fruit lead to hairpin turns into more exotic facts about fruit…a series of surprises, made delicious by a writer's skill."



"Fascinating, sexy, dangerous and tasty."