Beautiful Oops! (Hardcover)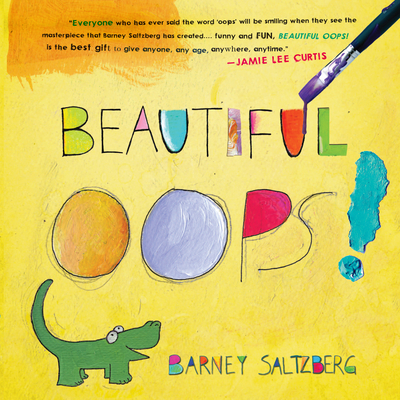 $16.95

Probably On Our Shelves Now! Wait for us to confirm availability.
Winter 2011 Kids' Next List
---
"Beautiful Oops! is a small, joyful book that shows kids that there is no such thing as a mistake- life just presents us with events that open windows to new ways of seeing and thinking. This book can truly be gift for any age reader. It will resonate with those who are frozen by perfectionism, and it is also fun and positive for those kids who love imaginative interaction and exploration."
— Judy Bulow, Tattered Cover Bookstore, Denver, CO
Description
---
A spill. A smear. A smudge. A tear. When you think you have made a mistake, think of it as an opportunity to make something beautiful!

A life lesson that all parents want their children to embrace: It's okay to make a mistake. In fact, hooray for mistakes! A mistake is an adventure in creativity, a portal to discovery. A spill doesn't ruin a drawing—not when it becomes the shape of a goofy animal. And an accidental tear in your paper? Don't be upset about it when you can turn it into the roaring mouth of an alligator.

An award-winning, best-selling, one-of-a-kind interactive book (now with 650,000 copies sold!), Beautiful Oops! shows young readers how every mistake is an opportunity to make something beautiful. A singular work of imagination, creativity, and paper engineering, Beautiful Oops! is filled with pop-ups, lift-the-flaps, tears, holes, overlays, bends, smudges, and even an accordion "telescope"—each demonstrating the magical transformation from blunder to wonder. A paint smudge becomes the face of a bunny, a crumpled ball of paper turns into a lamb's fleecy coat—celebrate the oops in life.






 
About the Author
---
Barney Saltzberg is the author of more than 30 books for children, including Beautiful Oops!, My Book of Beautiful Oops!, Good Egg and the bestselling Touch and Feel Kisses series. Additionally, he's recorded four albums of songs for children. He lives in Los Angeles with his wife, two dogs, and a pond full of fish.
Praise For…
---
A pleasingly tactile exploration of the possibilities inherent in mistakes. "A torn piece of paper... is just the beginning!" Spills, folded paper, drips of paint, smudges and smears—they "all can make magic appear." An increasingly complex series of scenarios celebrates random accidents, encouraging artistic experimentation rather than discouragement. The folded-over paper can be a penguin's head; a torn piece of newsprint can turn into a smiling dog with a little application of paint; a hot-chocolate stain can become a bog for a frog. Thanks to a telescoping pop-up, a hole is filled with nearly limitless possibilities. The interactive elements work beautifully with the photo-collaged "mistakes," never overwhelming the intent with showiness. Saltzberg's trademark cartoon animals provide a sweetly childlike counterpoint to the artful scribbles and smears of gloppy paint. A festive invitation to creative liberation. - Kirkus Reviews

"Clumsy kids will appreciate Barney Saltzberg's imaginative book, which shows how mistakes (spills, tears, stains) can turn into something wonderful." - Parents Magazine
 

A pleasingly tactile exploration of the possibilities inherent in mistakes. "A torn piece of paper... is just the beginning!" Spills, folded paper, drips of paint, smudges and smears—they "all can make magic appear." An increasingly complex series of scenarios celebrates random accidents, encouraging artistic experimentation rather than discouragement. The folded-over paper can be a penguin's head; a torn piece of newsprint can turn into a smiling dog with a little application of paint; a hot-chocolate stain can become a bog for a frog. Thanks to a telescoping pop-up, a hole is filled with nearly limitless possibilities. The interactive elements work beautifully with the photo-collaged "mistakes," never overwhelming the intent with showiness. Saltzberg's trademark cartoon animals provide a sweetly childlike counterpoint to the artful scribbles and smears of gloppy paint. A festive invitation to creative liberation. - Kirkus Reviews