Comfort of Apples: Modern Recipes for an Old-Fashioned Favorite (Hardcover)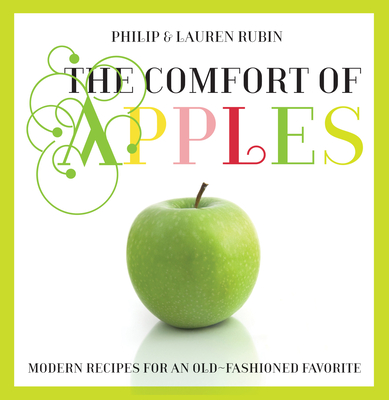 $19.95
Email or call for price.
Description
---
Nearly 100 surprising and savory recipesfor a favorite fruit The idea for The Comfort of Apples came to chefs Philip and Lauren Rubin when, after an afternoon spent picking apples at a local orchard, they looked at each other and wondered, "What do we do with them?" With the abundance of apples filling farmer's markets, supermarket produce sections, and orchards every fall, it is a rare soul who doesn't wind up with a veritable bounty of apple varieties filling their larder for at least several months out of the year. And yet many cooks don't realize that apples have infinite cooking applications beyond sauces, crisps, and pies. As this beautifully illustrated book shows, they can be julienned raw in a salad; poached whole in wine; used in the form of cider as a deglazing or braising liquid; fermented into warm drinks; or juiced and turned into sorbet. The list goes on. Excited by the many uses for the humble apple, the authors here share nearly one hundred original recipes that will take the home cook beyond the basics--recipes for breakfast, appetizers, entrees, and desserts. In addition, they suggest the best apples for certain recipes, including many unconventional varieties that are showing up at greenmarkets and farm stands across North America. Some of the mouthwatering recipes include Poached Eggs and Apple Butter; Crostini with Clams, Bacons, and Apples; Oysters with Apple and Lime Granite; Crisp Pork Belly with Lentils and Applesauce; Gnocchi with Cauliflower, Peas, and Apples; and Applesauce Spice Cake with Penuche Icing.
About the Author
---
Lauren Rubin is a graduate of the University of Michigan and the Institute of Culinary Education in New York City, where she earned degrees in both the culinary arts and restaurant management. Following graduation, she cooked at the restaurants Union Pacific and Tribeca Grill, then moved on to working in the food department at Good Housekeeping magazine. She is now a personal chef along with her husband, Phil Rubin. Together, they own 2 Peas & A Pot, a Manhattan catering company that specializes in private parties. They have expanded from cooking, staffing, and planning intimate, elegant affairs to doing the same for larger, equally high-end dinners, buffets, and cocktail parties for more than 100 people. Their events have included dinners for Indiana senator and presidential candidate Evan Bayh, former treasury secretary Henry Paulson, Broadway producer Roger Berlind, Gloria Steinem, and others. Their in-home cooking classes have been featured in the Wall Street Journal, and they were the subjects of a full-length feature in BizBash magazine, the premier trade magazine for event planners.
Praise For…
---
As a native of the Big Apple who has opened many restaurants there, I have always been fascinated by the imagery of the apple and by the wonderful sweet and savory tastes of this favorite fruit. Now, with The Comfort of Apples, Philip and Lauren Rubin present an engaging and comprehensive book about all things Apple. I learned so many things I didn't know about apples, and the recipes are diverse and wonderful. The definitive answers to the often asked question, How do you like them apples?' are in this great book."
 Drew Nieporent, restaurateur (Tribeca Grill, Nobu, Corton, Centrico)
THE COMFORT OF APPLES: Modern Recipes for an Old-Fashioned Favorite
By Philip & Lauren Rubin (Lyons Press, 2010)
Q: How did you come up with the idea for this cookbook?
A: A while ago, we took our family apple picking, an experience common to many. After trekking down rows and rows of trees, filling our baskets with crisp fresh apples, we encountered the apple picker's dilemmawhat to do with them.
            The solution, it turned out, was not to make a score of pies but rather a discovery of a different sort, which was right under our noses. Several of our oft-used staples originate with the apple and are supermarket big sellers: fresh apples, juice, cider, vinegar, applesauce, apple butter, and calvados (found at the wine store).
            The apple's cooking applications are equally infinite: it can be julienned raw in a salad; poached whole in wine; dried or fried as a garnish for cocktails or as a canapé base; simmered into a compote; puréed as a side to latkes; used in cider form as a deglazing or braising liquid; fermented into warm drinks; caramelized for desserts; juiced and reduced into a glaze; the list goes on.
Q: What does cooking with apples mean to you?
A: The apple is the ultimate comfort food, resonant of thanksgiving and changing leaves and a warm fire. By taking it a step further, from basic to more complex combinations and applications, we're helping the home cook to begin to appreciate the versatility of not just the apple but of all foods. Greenmarkets all over are introducing people to the unconventional types of applesNorth American has more than 1,000 varieties!
Q: Who is this cookbook for?
A: The Comfort of Apples is a terrific cookbook for anyone even remotely near a farmers market, of which there are 4,600 nationwide. Health-conscious consumers, cookbook readers, and enthusiastic home cooks will also be surprised and pleased by the broad variety of recipes and essays in this book.
Q: Why are you the right authors for this book?
A: Having cooked professionally for years, we've discovered that our passion is to develop an index of flavors which work well together. It's how we form seasonal menus for our clients. Writing a book based on a single ingredient is a lengthy extension of our menu-writing process. Most of the time we stayed true to classic tastes, but in a reworked and hopefully more interesting form. For instance, crab, bacon, and apple are familiar friends, which we juggled into a crostini of sauteed clams with bacon and apples. The book is a successful experiment in culinary trial and error, which we have always enjoyed.
Sample recipe:
Salmon Burger with Apple Corn Slaw
Burgers inspire heated arguments. Some require a hefty patty where the juice runs down your arm. Others prefer a moist but more manageable package. A properly done salmon burger is a good meat substitute, and cooked to medium rare, it straddles the line: it's both moist and meaty, but not dripping with juice. A tart apple is perfect as it cuts the fatty salmon and the sweet corn.
Ingredients:
4 tablespoons olive oil
2 pounds salmon, skin and bones removed
1 tablespoon minced shallot
1/4 cup chopped parsley
1 cup fresh breadcrumbs
1 egg, beaten
Salt and pepper
4 hamburger rolls, split and toasted
1 recipe Apple Corn Slaw
Procedure:
1.   Line a baking sheet with foil and spread with 2 tablespoons of the olive oil. Chop salmon finely with a knife. In a large bowl, combine the salmon, shallot, parsley, breadcrumbs, egg, and salt and pepper to taste. Fold together to combine, but don't overmix. Form patties about 3 inches wide and 1 inch thick. Refrigerate on prepared sheet pan for at least 1 hour. Meanwhile, prepare apple corn slaw.
2.   Heat the remaining oil in a large sauté pan over medium-high heat. When oil shimmers, add the patties and cook 3 minutes per side.
3.   Top bun with burger, then slaw and serve.
Serves 4
Apple Corn Slaw
1 cup peeled and finely julienned apples
1 ear corn
3 tablespoons mayonnaise
1 teaspoon cider vinegar
Salt and pepper
Place apples in a small bowl. Stand the corn upright and cut off the kernels. Add to the apples. Using the back of the knife, scrape down the cob to extract its milk," the sweet juice inside. Add along with the mayonnaise and cider vinegar to the bowl and season with salt and pepper.