The Cello Suites: J. S. Bach, Pablo Casals, and the Search for a Baroque Masterpiece (Paperback)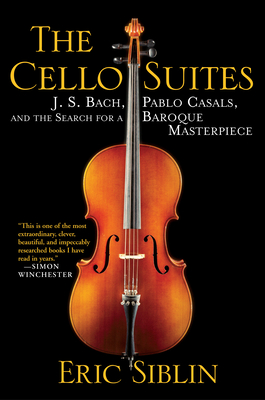 $16.00

Probably On Our Shelves Now! Wait for us to confirm availability.
Description
---
One evening, journalist Eric Siblin attended a recital of Johann Sebastian Bach's Cello Suites and began an epic quest that would unravel three centuries of intrigue, politics, and passion. Winner of the Mavis Gallant Prize for Nonfiction and the McAuslan First Book Prize, The Cello Suites weaves together three dramatic narratives: the disappearance of Bach's manuscript in the eighteenth century; Pablo Casals's discovery and popularization of the music in Spain in the late-nineteenth century; and Siblin's infatuation with the suites in the present day. The search led Siblin to Barcelona, where Casals, just thirteen and in possession of his first cello, roamed the backstreets with his father in search of sheet music and found Bach's lost suites tucked in a dark corner of a store. Casals played them every day for twelve years before finally performing them in public. Siblin pursues the mysteries that continue to haunt this music more than 250 years after its composer's death: Why did Bach compose the suites for the cello, then considered a lowly instrument? What happened to the original manuscript? A seamless blend of biography and music history, The Cello Suites is a true-life journey of discovery, fueled by the power of these musical masterpieces.
About the Author
---
Eric Siblin is an award-winning journalist and filmmaker, and the former pop music critic at the Montreal Gazette. The Cello Suites is his first book.
Praise For…
---
This is one of the most extraordinary, clever, beautiful, and impeccably researched books I have read in years. A fascinating story deftly toldand, for me at least, ideally read with Bach's thirty-six movements playing softly in the background; a recipe for literary rapture."Simon Winchester, author of the New York Times best-seller The Professor and the Madman

Vividly chronicles [Siblin's] international search for the original, and unfound, Bach scoreMr. Siblin's book is well researched, and filled with enough anecdotes to engage even the classical-music aficionadobut the book is best distinguished by its writing. To vivify music in words is not easy. But Mr. Siblinrises to the taskRead The Cello Suitespreferably with their melodious hum in the backgroundand you will never look at a cello in quite the same way again."The Economist

This is rich terrain, and Siblin's book is an engrossing combination of musical and political history spiced with generally vivid descriptions of the cello suites themselves[Siblin] has given us a compelling portrait of a passionate, prickly Bach, of Casals, a musician who was also politically engaged, and an engrossing cast of secondary characters. Best of all, The Cello Suites makes us want to pop in a CD and really listen to those cello suites. Awesome."Wynne Delacoma, Chicago Sun-Times

A work of ever-percolating interest. Mr. Siblin winds up mixing high and low musical forms, art and political histories, Bach's and Casals's individual stories and matters of arcane musicology into a single inquisitive volume."Janet Maslin, The New York Times

The ironies of artistic genius and public taste are subtly explored in this winding, entertaining tale of a musical masterpieceSiblin is an insightful writer with an ability to convey the sound and emotional impact of music in words."Publishers Weekly

Engaging and imaginativea charming narrative."Melinda Bargreen, The Seattle Times

The author has done a wealth of research in pursuit of his new passion, and he writes engaginglythis intrepid writer has worked hard to interest readers in his musical obsession, and there is a great deal to chew on here."Priscilla S. Taylor, he Washington Times

It's not often that one begins reading a book with mild interest and then can't put it down, which happened to me with this beautiful book."Diana Athill, author of Stet and Somewhere Towards the End

pitch-perfectThe Cello Suites is, on all counts, a superior book."
-QWF McAuslan First Book Prize Jury citation

an ambitious, carefully researched, and inventively constructed book written with clarity and verve."Mavis Gallant Prize for Nonfiction Jury Citation

A delightfully quirky questEric Siblin seamlessly weaves together the tale of how Bach's lost and mostly forgotten manuscript came to be discovered a century later by Pablo Casals, and finally became Siblin's personal passion."Governor General's Literary Award Jury Citation

A book of extraordinary charm, insight, and widespread literary appeal."BC National Award for Canadian Nonfiction Jury Citation

Siblin firmly believes Bach is what you make of him'and his book represents just thatNo matter what the great composer means to readers, they will surely enjoy Siblin's fun, fast-paced journey from pop-music scribbler to Bach aficionado."Christian Science Monitor

A book that will fascinate anyone who loves Bach's music. . .engaging. . .Many of the facts woven into textual fabric glitter like metal threads as Siblin shifts the reader's focus from one protagonist to the other. The result are rich depictions of Bach in his 18th-century milieu and Casals in his 20th-century sphere. . . The author's colorful prose conveys substantial charm, and reveals a first-rate travel writer's sense of place. . .sets biographical and musicological details neatly in context."David Lander, Stereophile