A Ballet of Lepers: A Novel and Stories (Hardcover)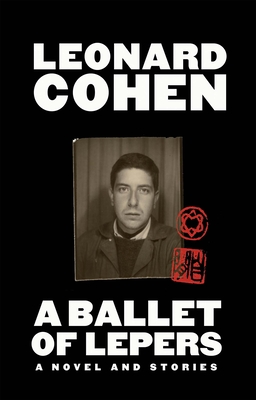 $27.00

Probably On Our Shelves Now! Wait for us to confirm availability.
Description
---
A never-before-published early novel and stories by the legendary musician, songwriter, and poet Leonard CohenBefore Leonard Cohen's worldwide fame expanded to fourteen studio albums, Grammy awards, and late-career global tours, he yearned for literary stardom. The Canadian songwriter of iconic hits like "Hallelujah," "Suzanne," and "Famous Blue Raincoat" first ventured into writing in his early twenties, and in A Ballet of Lepers: A Novel and Stories, readers will discover that the magic that animated Cohen's unforgettable body of work was present from the very beginning of his career. The pieces in this collection, written between 1956 and 1961 and including short fiction, a radio play, and a stunning early novel, offer startling insights into Cohen's imagination and creative process. Cohen explores themes that would permeate his later work, from shame and unworthiness to sexual desire in all its sacred and profane dimensions to longing, whether for love, family, freedom, or transcendence. The titular novel, A Ballet of Lepers--one he later remarked was "probably a better novel" than his celebrated book The Favourite Game--is a haunting examination of these elements in tandem, focusing on toxic relationships and the lengths to which one will go to maintain them, while the fifteen stories, as well as the playscript, probe the inner demons of his characters, many of whom could function as stand-ins for the author himself. Cohen's work is meditative and surprising, offering playful, provocative, and penetrating glimpses into the world-weary lives of his characters, and a window into the early art of a storytelling master. A Ballet of Lepers, vivid in its detail, unsparing in its gaze, reveals the great artist and visceral genius as never seen before.
About the Author
---
LEONARD COHEN was born in Montreal in 1934. Soon after graduating from McGill University, he published his first collection of poems, Let Us Compare Mythologies, in 1956. He would go on to publish a dozen more volumes of poetry, including Book of Longing; two novels, The Favourite Game and Beautiful Losers; and, most recently, a posthumous collection of poems, drawings, lyrics, and drawings in The Flame. A hugely influential and critically acclaimed singer and songwriter, Cohen released fourteen studio albums between 1967 and 2016, the last being You Want It Darker, the title track of which posthumously won him the Grammy for Best Rock Performance. Cohen died in Los Angeles in November 2016.