This is Not Miami (Paperback)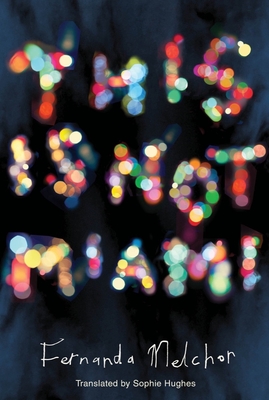 $15.95

Probably On Our Shelves Now! Wait for us to confirm availability.
Description
---
A searing collection of true stories from "one of Mexico's most exciting new voices" (The Guardian)
Set in and around the Mexican city of Veracruz,
This Is Not Miami
delivers a series of devastating stories—spiraling from real events—that bleed together reportage and the author's rich and rigorous imagination. These narrative nonfiction pieces probe deeply into the motivations of murderers and misfits, into their desires and circumstances, forcing us to understand them—and even empathize—despite our wish to simply label them monsters. As in her hugely acclaimed novels
Hurricane Season
and
Paradais
, Fernanda Melchor's masterful stories show how the violent and shocking aberrations that make the headlines are only the surface ruptures of a society on the brink of chaos.
About the Author
---
Born in Veracruz, Mexico, in 1982, Fernanda Melchor is "one of Mexico's most exciting new voices" (The Guardian). Her novel Hurricane Season was shortlisted for the International Booker Prize, longlisted for the National Book Award, and was a New York Times Notable Book.

SOPHIE HUGHES has translated numerous Spanish-language authors, including José Revueltas and Fernanda Melchor for New Directions.
Praise For…
---
Melchor evokes the stories of Flannery O'Connor, or, more recently, Marlon James's A Brief History of Seven Killings. Impressive.

— Julian Lucas - The New York Times

While her writing turns an unsparing eye on the dysfunction and violence of her native Veracruz, Melchor makes clear that it is neither her job nor her intention to explain her homeland. Her novels are less portraits of Mexico than they are literary MRIs, probing unseen corners of the human heart and finding that many of its darker shades are universal.
— Benjamin P. Russell - The New York Times

Fernanda Melchor has a powerful voice, and by powerful I mean unsparing, devastating, the voice of someone who writes with rage and has the skill to pull it off.
— Samanta Schweblin

Melchor draws empathetic portraits of deeply unsympathetic figures, forcing her readers to understand the mindsets of monstrous characters.
— The Millions

Some of the most wrenching prose to come around in years. Skillfully translated by Hughes, this is a book that's as gorgeous as it is dark, and it proves that Melchor is one of the finest writers working today.
— Kirkus Reviews

Melchor writes unjudgementally and with great respect for her interlocutors. Even when her narratives are fragmentary or end abruptly, she teases out the diversity of life in Veracruz—from the mysterious, and the ordinary, to the gruesome. In the introduction she writes that "a city cannot tell its own story." Luckily, for that we have Melchor. 
— Daniel Rey - Americas Quarterly

Many of the stories in this collection by an author hailed as the next big thing in Latin American literature are written in a genre known as cronica, a blend of reportage and interpretation that has no obvious equivalent in English. Set in and around Veracruz, Fernanda Melchor's hometown, each is spare and grippingly devastating in its own way, as with the tale of a glitzy carnival queen who, in 1989, murdered her two young boys and buried their remains in planter pots on her balcony.
— Emily Donaldson - The Globe and Mail

Melchor aims to understand the world out of which violence transpires: the airlessness of poverty, the frustrations of thwarted ambition, the desire for power and freedom. … Melchor writes a new kind of folklore that allows us to hear the ferocious reality of contemporary violence.
— Jess Cotton - Jacobin

Faced with tragedy, Melchor holds a steady gaze, focused tightly on the individual; rather than give a bird's-eye view, her instinct is to always get closer.
— Laura Adamczyk - The Nation

Over the course of This Is Not Miami, a picture emerges of the Zetas' takeover of Veracruz. Melchor moves through this world, compelled by macabre and mysterious stories, while always standing a little outside of them. This wider perspective implies that the current violence, the shadowy machinations in high places, will pass or change.
— Philip Luke Johnson - Los Angeles Review of Books